The Red Wings edge the Baby Leafs 4-2: Leafs Rundown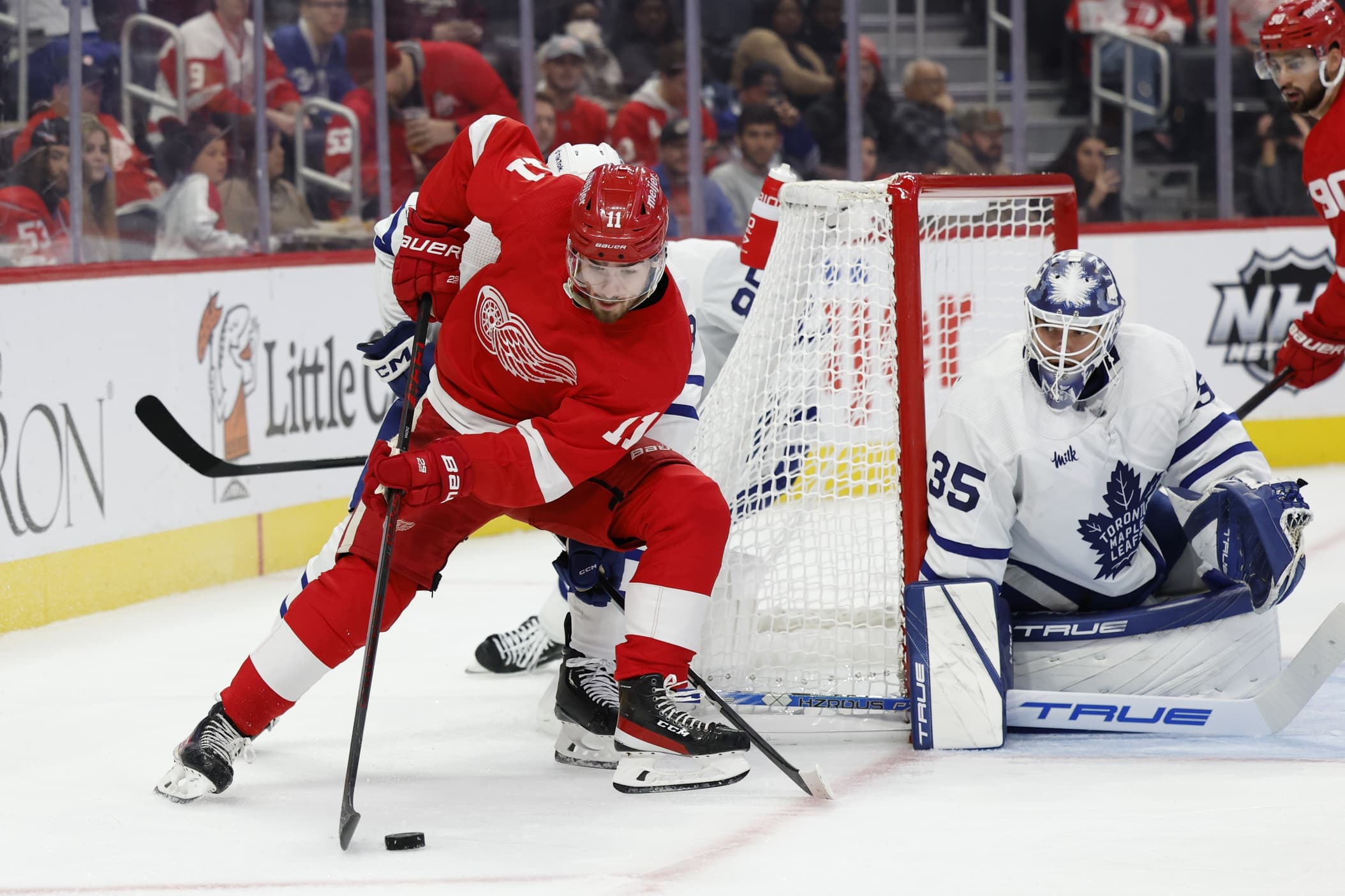 Photo credit:© Rick Osentoski-USA TODAY Sports
The Leafs got off to a hot start by scoring two quick goals in the first period, but Detroit would turn the tides as the game progressed and took control from the second onward as the Red Wings went on to win 4-2 on Friday night.
What went right
The Leafs got off to a hot start in the first period by cycling the puck well and getting high-danger chances off. Their first two goals were due to some crisp passing, with Nick Abruzzese's coming from the slot and Rasmus Sandin's off the point. Even if the shots didn't find twine, they still ended up being tough ones for Alex Nedeljkovic to stop.
Aside from Sandin and Samsonov, Friday night's lineup was full of players looking to either secure a roster spot or move up higher on the call-up rankings. The strong effort all throughout was commendable to see and further reinforces that the team has a lot of quality depth. Hell, even Kyle Clifford and Wayne Simmonds were generating quality looks in this one.
On the power play in the second period, the Leafs were able to maintain possession for a long time and get a lot of good looks in spite of failing to capitalize. Sandin was on the ice for the majority of it and was doing an exceptional job manning the point, getting shots through traffic, and dictating the pace. With sequences like that, he should have little trouble securing the defensive position on the second unit.
What went wrong
After Toronto's hot start, things naturally started to tilt in favour of Detroit. While Ilya Samsonov did his best to weather the storm, the dam was not going to hold forever and eventually burst.
On Tyler Bertuzzi's goal, the Leafs allowed him to have an open lane to make his way to a prime scoring position to score. The exact same thing happened on Elmer Söderblom's goal, only his was deep in the offensive zone and he was able to get to the front of the net with minimal resistance.  If you're going to give up a shot, try and make it from a low percentage area and don't make it easy for them to get in a better position to bury one.
Samsonov had a mostly solid night, but some of the goals he surrendered were ones he would like to have back. That is especially the case on the game-winner where he could not stop a Joseph Veleno goal from along the boards. While it is true that he was screened in front of the crease, there could have been a better job of making it easier for Samsonov to track the puck.
Who stood out
Sandin may have said that he was not at his best, but he was the Leafs' best player in this one. He was moving his feet well and making plays at both ends of the ice. Sheldon Keefe granted him big special teams and Sandin rewarded his coach with some encouraging play that should earn him a longer look as the year progresses. Getting a goal early in the first was the cherry on top.
Nick Robertson got another point to end a successful reason and was making plays all night long. Denis Malgin was noticeable as well, generating scoring chances and landing a big hit along the boards. Adam Gaudette had his best game yet as he was getting good chances offensively and helped set up Abruzzese's goal. Semyon Der-Arguchintsev's playmaking abilities were on full display in the latter half of the game after getting reps with Robertson, while Filip Kral had a steady performance. Mac Hollowell spent the majority of the game alongside Sandin and
looked good
doing so while
also making a key save
.
Despite giving up three goals he would like to have back, Samsonov had an otherwise stellar game in this one. He was making numerous
quality stops
that helped keep his team in it and responded well after giving up a tally by staying calm and regaining focus. The tweet above showcases his best one, still can't believe that one did not go in. Hard to pin the loss on him because he did everything he could to keep the Leafs in it.
By the numbers
Highlight of the Night
If this is the kind of production we get on a night Sandin claimed to be rough, then we will be in for great things when he is at his best.
The celly afterwards
was just as nice, if not more so.
Final Notes
It goes without saying that the preseason goes on for way too long. It feels weird that meaningless hockey was still being played while the regular season started overseas in Europe, but I digress.
Roster cuts will be happening tomorrow, which marks the end of the preseason for the Leafs who host the Red Wings for a rematch. You can catch the game on TSN4 with puck drop scheduled for 7 p.m. EST.