The short-term solution to the Maple Leafs' goaltending situation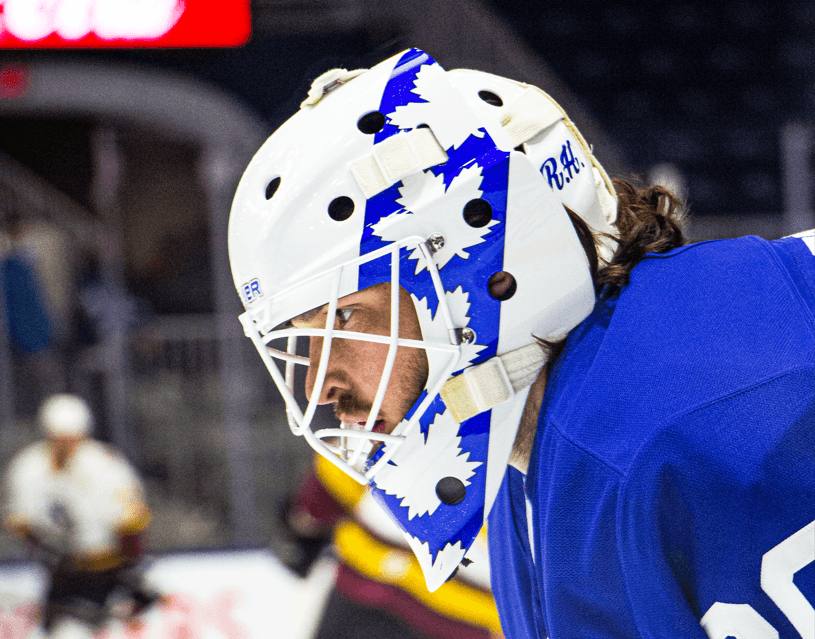 Photo credit:Nick Barden
I didn't think I'd ever say this, but Erik Källgren and Michael Hutchinson could be the Maple Leafs netminders for the short-term future.
Yes, you read that right.
The Toronto Marlies are in Abbotsford for a set of games against the Canucks. After Petr Mrazek suffered an injury on Tuesday night in Boston, Hutchinson, who was supposed to start for the Marlies was held out of their game.
Next in line would've been Keith Petruzzelli,
who's currently under an AHL contract
and has spent time with both the Marlies and Newfoundland Growlers. (If he was to be signed, he wouldn't be able to go back down to the Marlies this season.)
However, he was also held out of this game due to precautionary reasons because of an illness. You also might be wondering where Joseph Woll might be, well, he's also out with a shoulder injury.
So, the Marlies entered Tuesday night's game in Abbotsford with two EBUGs (Emergency Back-Up Goalie).
Tavin Grant last played in 2017 with the Prince George Cougars of the WHL, posting a .892 SV% in 37GP. Talor Joseph is coming from Trinity Western University, where the 27-year-old had an .876 SV% in 12 games this past season. Each were signed to ATOs on Tuesday.
Funny side note: Joseph was called in on Tuesday afternoon to join the Marlies for their game in Abbotsford later that night. And after Mrazek was injured in Boston, Joseph found out that he was going to make his pro debut with the Marlies.
He found that out just as they were arriving to the rink in Abbotsford, said Todd Crocker during the Marlies broadcast.
Looking at the Maple Leafs goaltending situation now, they have seven goaltenders under contract this season, and only two of them are currently healthy. A good thing for Toronto, though, is that Jack Campbell, who hasn't played since March 8th, is now day-to-day. He could return to the Maple Leafs lineup at any day.
But for now, it's Källgren and Hutchinson.
"It's tough, obviously, I mean, we already have Jack out," said Keefe of Mrazek after Tuesday's game in Boston. "Petr's been getting some traction here and playing well, so it's tough. But, he's been through these kinds of things before. So, we don't know the severity of it, we'll get a greater sense of what the situation is in the coming days. But it looks like he's going to miss some time."
If I had to guess, I'd say that Källgren will get the start for the Maple Leafs in their game against Winnipeg on Thursday and Hutchinson will back up. After that, it's a mystery.
There's no chance that Campbell goes to the Marlies for a conditioning stint now with the number of injuries. That, and the fact that the Marlies are on a western-Canada road-trip and won't be back until April 4th.
The Maple Leafs' next game after Winnipeg on Thursday is against the Philadelphia Flyers on Saturday. A matchup against an opponent further down in the standings sounds like the perfect recipe for a Campbell return.
I will also say that I don't think the Maple Leafs should rush Campbell back with this situation unfolding. Källgren has shown that he's a capable NHL netminder and can hold down the fort until the 30-year-old is ready.
Once Campbell returns, Hutchinson, I believe, will be sent back down again the the Marlies with the rookie netminder staying up with the Maple Leafs.
Until that happens, though, it's Källgren's world, and we're just living in it.