The structure of Rasmus Sandin's next contract is becoming more evident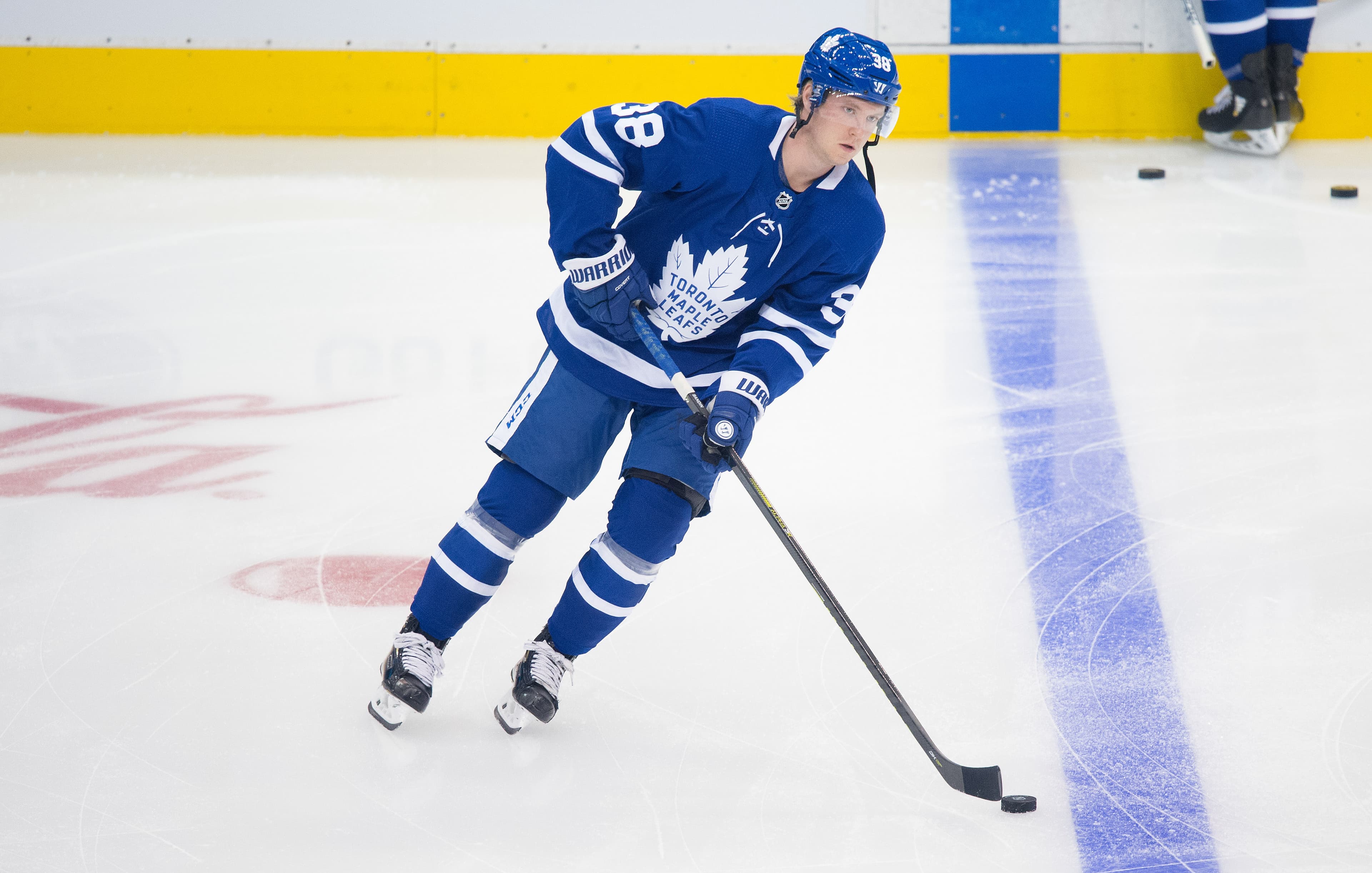 Photo credit:© Nick Turchiaro-USA TODAY Sports
Training camp is fast approaching and @Rasmus Sandin remains without a contract.
The RFA defenceman has been unsigned for weeks and there are no clear signs a resolution is coming soon. His agent, Lewis Gross, said
that the negotiations have gone nowhere
and that remains true nearly a month later.
It remains to be seen when the two parties will agree to a new deal or if this can be done before games are played. Meanwhile, his comparables are beginning to sign their respective extensions and the market for what Sandin's next contract might look like is becoming more evident.
@Sean Durzi is the latest RFA defenceman to get signed and his new deal can be seen as a benchmark for Sandin's next contract. He is the third defender over the past week to be signed with all three contracts having a similar structure in terms of length and salary:
| | | | | |
| --- | --- | --- | --- | --- |
| Player | GP |  Career PPG | xGF% | New Contract |
| DURZI | 64 | 0.42 | 51.79 | 2 years, $1.7M AAV |
| ANDERSON | 117 | 0.17 | 50.41 | 1 year, $1M AAV |
| BRANNSTROM | 116 | 0.27 | 46.51 | 1 year, $900K AAV |
| SANDIN | 88 | 0.32 | 55.17 | TBD |
While Durzi only has one NHL season under his belt while the rest have participated in at least three, all four have played about the same amount of NHL games and have produced offensively at a comparable rate.
Players that did sign for over $2 million a season are either significantly better players compared to Sandin or were locked in for at least two years. So there is no chance of him getting a contract in the ballpark of @Noah Dobson, @Erik Cernak, @Jonas Siegenthaler, or even @Mikhail Sergachev.
Related:
Aside from Sandin,
the only other RFA defenders
that still don't have a contract are @Nicolas Hague and @Parker Wotherspoon. The former is
mired in a contract stalemate
with the Golden Knights while the latter will likely sign a two-way contract. While it is true that Hague is the only comparable left that has yet to be signed since he stacks up to the four aforementioned players in the chart (142 GP, 0.30 PPG, 53.39 xGF%), Sandin's party continues to lose leverage as the offseason wraps up.
It would be remiss if I didn't mention
rumblings that Sandin is hesitant to sign
because of the lack of clarity of where in the lineup he will play and how much ice time he could get on any given night. He could have easily accepted an offer sheet from another team that would guarantee him a spot but that has yet to materialize, leaving me to believe he likely wants to remain in Toronto just as much as the team wants him to stay.
Puckpedia
lists the Leafs at around $1.5 million over the salary cap, so it is clear the only way to get Sandin signed is for a salary dump, yet there have been no indications that the Leafs are due to trade a player like Alex Kerfoot or @Justin Holl to create some wiggle room. Something has to give with training camp fast approaching because I am sure Kyle Dubas would want to avoid another @William Nylander situation.
This has all the makings of Sandin getting a bridge deal for no more than two years and an AAV between $1.5 and $2 million. With how things have faired for both his and Liljegren's development, this should help set them up nicely for a bigger payday and role once @Jake Muzzin, TJ Brodie, and @Mark Giordano's contracts expire in 2024. While it will no doubt be frustrating for the Leafs' front office to have such a large gap between signing their two young defencemen, things should work out okay in the long run.
It remains to be seen when talks between Sandin and the Leafs will reach a resolution, but recent developments with other RFA defenceman is helping paint a picture of what we could expect his next contract to look like. We will see how this plays out as the sense of urgency begins to increase.