The three likely Maple Leaf candidates and their case to be taken by the Seattle Kraken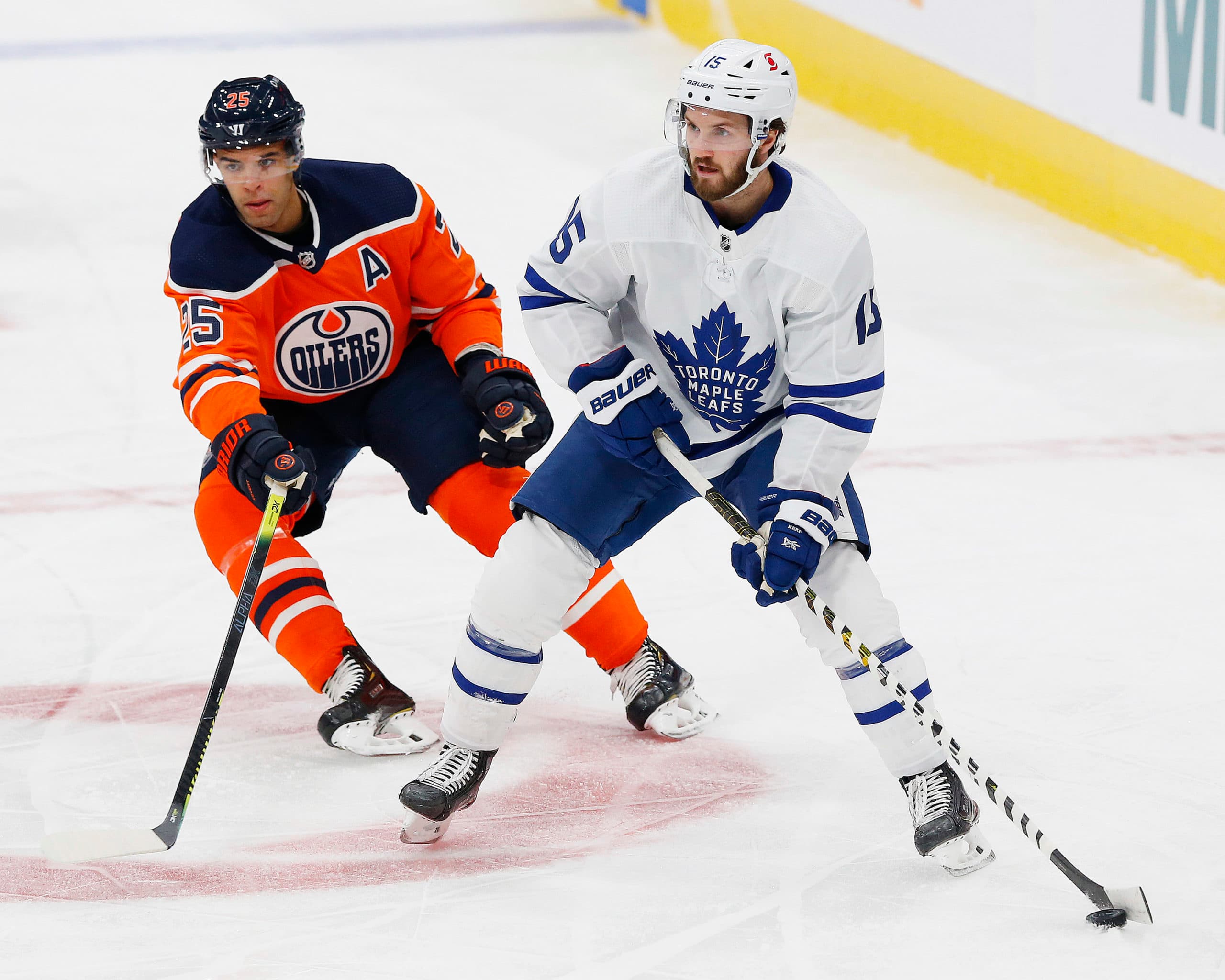 Photo credit:Perry Nelson-USA TODAY Sports
Sunday morning, the expansion draft protection lists of all the NHL teams, minus the Golden Knights, were released for everyone to see who their favourite team protected and exposed in this year's 2021 Seattle Kraken expansion draft. By now, we know the Toronto Maple Leafs went the 4-4-1 route protecting four forwards, four defensemen and one goalie. The only other route they could've gone was 7-3-1, and that's what a lot of fans were thinking they were going to do after the acquisition of Jared McCann, Saturday afternoon.
With the news coming out that the Maple Leafs only protected four forwards and protected an extra defenseman, fans immediately went to Twitter to question the move here by Kyle Dubas and staff, and to be honest, I don't blame them because it doesn't make sense to expose a player you just traded for not even 24 hours prior. However, there were numerous reasons by multiple people on Twitter that made sense as to why Dubas exposed both McCann and Kerfoot.
Toronto's protection list
If you haven't already seen the protection list, here are all the players the Toronto Maple Leafs protected and all the players they exposed in this Seattle expansion draft.
Protected: Marner, Matthews, Nylander, Tavares (NMC), Brodie, Holl, Muzzin, Rielly and Campbell
Exposed: Agostino (UFA), Anderson, Brooks, Engvall, Foligno (UFA), Galchenyuk (UFA), Hyman (UFA), Kerfoot, Kossila, Malgin (RFA), McCann, Nash (UFA), Noesen (UFA), Petan (UFA), Sabourin (UFA), Simmonds, Spezza, Suomela, Thornton (UFA), Bogosian (UFA), Dermott, Hutton (UFA), Marincin, Rosen (UFA), Andersen (UFA), Hutchinson and Rittich (UFA)
By the looks of the list of protected and exposed players, I think it's safe to say we all kind of expected this or at least expected something very close to it with maybe the only player we didn't expect to be protected was Justin Holl, however, the Maple Leafs went with protecting him and exposed both McCann and Kerfoot to Seattle which is stressing some people out right now.
With that said, let's dive into the three players the Seattle Kraken are most likely going to choose from the Toronto Maple Leafs Wednesday and have a case as to why they might get selected by the 32nd NHL franchise.
Alex Kerfoot – 26 years old – C/LW
This was an absolute no-brainer that Alex Kerfoot was exposed by the Maple Leafs as they're more than likely going to want to shed his cap hit off this team one way or another this off-season, whether that's through the expansion draft or even through a trade with a team. Kerfoot, who is 26 years old had trouble finding his groove with the Maple Leafs in the first two years here after getting traded by the Colorado Avalanche in the Nazem Kadri deal. From getting a concussion to breaking his jaw to being put in a shut-down role on the third line, Kerfoot slowly found the perfect role for himself which is a middle-six scoring winger and we've seen glimpses of that when he was on the wing this season.
Kerfoot is coming off this 2020-21 season putting up 23 points in 56 games while averaging 14:27 of ice-time a night and Seattle might be interested in selecting him over guys like McCann and Dermott for more than one reason. For starters, he's under contract for this coming season and the season after that at a decent cap hit of $3.5M, however, he isn't owed that money as his contract has been paid mostly through signing bonuses and his base salary stands at a pretty attractive $750K for the next two years.
He's a player that can play both special teams if needed but mostly just played on the penalty kill while in Toronto and was a good contributor on that unit as well. Seattle may look at him as an intriguing player to select because he's the type of player that when put with the proper players and on the right line and act as a scoring winger, can be effective for your hockey team, on top of what I just said above as well with him playing special teams.
However, the Kraken could easily not select Kerfoot because the Maple Leafs have two other players exposed that may be more attractive to them and could pick on Wednesday. Both of the other players I'm about to mention come at a cheaper cap hit than Kerfoot and they are both younger than him as well so that all might play in as a factor when selecting a player from the Toronto Maple Leafs.
Jared McCann – 25 years old – C/LW
Jared McCann who was recently acquired by the Maple Leafs from the Penguins Saturday afternoon was left exposed in the expansion draft and this is why there are a lot of fans stressing out because they could potentially lose him for nothing. It was honestly a shock that Kyle Dubas left McCann exposed along with Kerfoot because after acquiring McCann, people immediately thought he would go 7-3-1 in protecting players on the team and then just trade Kerfoot after the draft to free up $3.5M in cap space.
Well, that's not the case and both forwards are left exposed for Seattle to potentially select in the draft, but I think there is a reason why Dubas did this and it kind of makes sense. For starters, if Toronto doesn't have a side deal with Seattle to select someone other than McCann, if it's either draft picks, prospects or even a cheaper roster player going to Seattle along with a guy like Kerfoot, then I think this was a risk Dubas was willing to take.
And what I mean by that is this, if you don't trade for McCann before the roster freeze you're more than likely losing Kerfoot in the expansion draft if you're Toronto, however, with the McCann trade it only cost Toronto a prospect and a 7th round pick in 2023 to expose another player on the roster and it gives them either a replacement if Seattle selects Kerfoot, or simply a decoy and Seattle doesn't pick Kerfoot and it's like Toronto's roster was never touched by the expansion draft other than losing a pick and a prospect to the Penguins.
It would honestly hurt if McCann was selected by the Kraken because I think he's a much better player than Kerfoot and he's someone that can play top-six or middle-six minutes along with the power-play and he's really strong defensively at 5v5 as well. He's someone that is younger, cheaper and better than Kerfoot so there are three reasons why the Kraken may take McCann over Kerfoot, but as I said earlier, Kerfoot has term and they might prioritize that more. It's also been rumoured by multiple people that Seattle has liked Kerfoot for a while now and might take him, but we're going to have to wait and see come Wednesday night to see what they do.
Travis Dermott – 24 years old – LD/RD
The last player the Seattle Kraken could potentially select from the Toronto Maple Leafs is defenseman, Travis Dermott. Dermott recently re-signed with Toronto on a two-year, $3M deal carrying an AAV of $1.5M. He's coming off this 2020-21 season not the strongest offensively, however, his game has been slowly transitioning into more defensive rather than offensive and that's never something to be upset about, especially if you're Toronto.
Dermott might be looked at as the most attractive player in this expansion draft on the Maple Leafs due to his age, contract and position. He's the youngest out of Kerfoot and McCann, he's the cheapest out of the three, as well has term on his contract too and lastly, he's a defenseman, and compared to some of the other defensemen exposed in this expansion draft, Seattle might want Dermott, especially with former Maple Leaf assistant, Dave Hakstol as head coach there too, he obviously knows Dermott very well.
The type of player Seattle could be getting is someone who is slowly transitioning into more of a two-way defenseman that has been more effective defensively than offensively the past couple of seasons. For Dermott, he's never really been able to solidify himself a permanent spot in the top four due to the other defensemen on this Maple Leafs team, but I think if he does get selected by Seattle and is given a shot to be in their top four, I think he can benefit from it with the more and more ice-time he sees and the tougher competition he sees as well.
He's someone that has a bite to his game and can play tough when needed. He won't take your head off like the other big bruising defensemen in the NHL, but he's someone that doesn't shy away from a little physicality and has been getting better and better defensively as the years go on. With a mix of that in someone games, along with the ability to skate with the puck pretty decently, he might be the most intriguing player for Seattle to choose here out of Kerfoot, McCann and Dermott, however, we don't know what Seattle has planned and if they already know the defensemen they're going to select in the draft.