The TLN Three Stars: Leafs nearly give up against Chicago; saved by Kämpf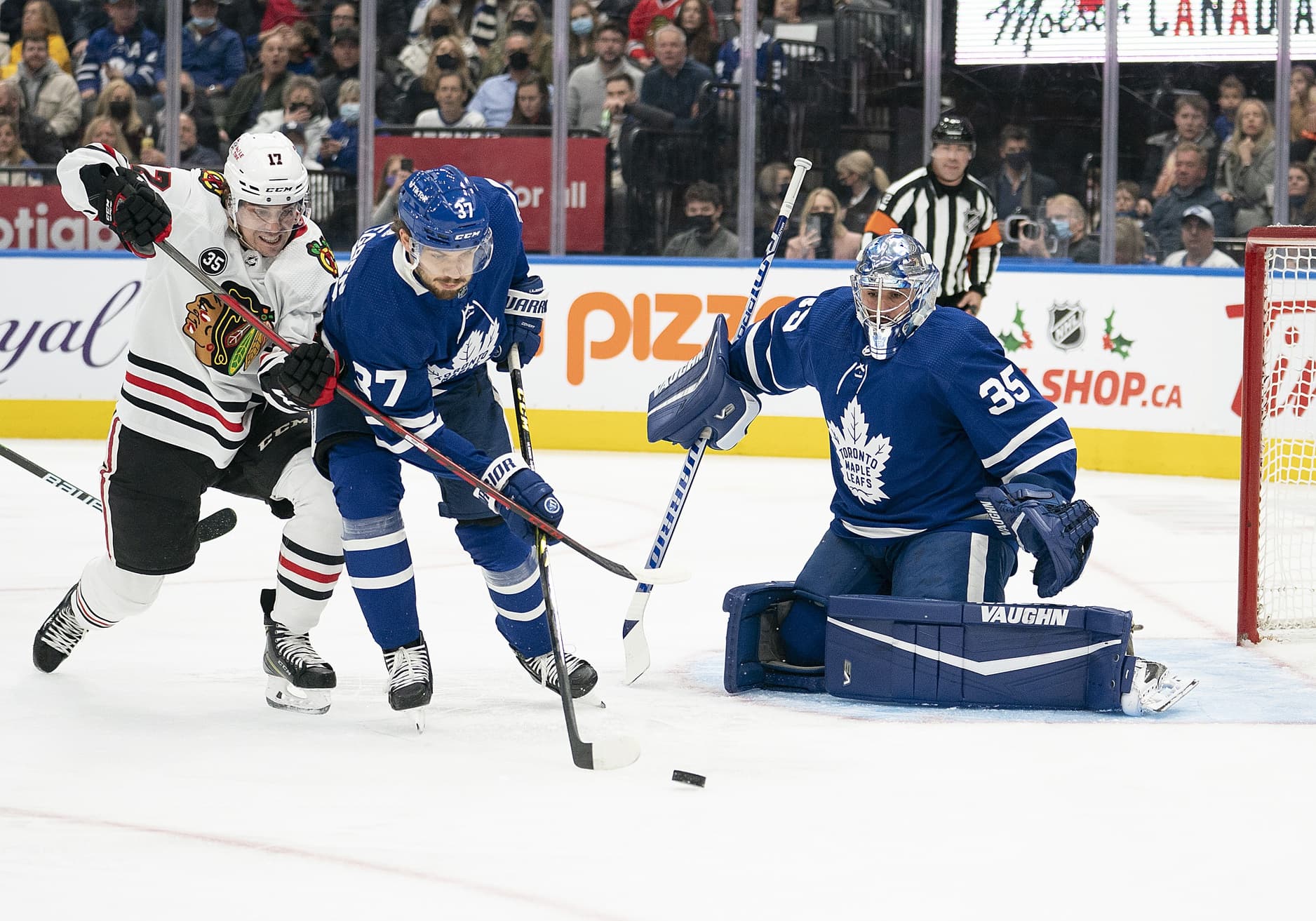 Photo credit:Nick Turchiaro-USA TODAY Sports
As the Leafs hosted Chicago, who they had their early season turn around game against, there was hope in the air that Chicago could again be a pivoting point for Toronto. Having lost 3 of their last 4 games, the Leafs looked to tonight to turn that around.
After an early goal for @Jonathan Toews, they went up to an early 4-1 lead, and it looked like they would walk away easily with a win. However, things weren't so easy. Chicago came back to make it 4-4 late in the third period, after pressuring the Leafs all game. It's hard to say what was score effects and what was Chicago just being more aggressive tonight than Toronto, but they ended up with a lead in the shot clock of 34 to 26 (29 to 22 at EV).
The Leafs did hold on with a crazy finish, as @David Kampf is able to bury a puck that comes off the glass to a fortunate location:
I tweeted this out as well, but a funny stat: David Kämpf now has a goal in each of the games he's played against Chicago. That gives him 1.0 goals per game against them, and 0.073 goals per game against every other NHL team.
Third Star: Petr Mrazek
The team was shaky in the second and third periods, and if it weren't for @Petr Mrazek, the Leafs would have lost their lead much earlier thin the game. His second period was great, with some fantastic saves, including this one:
Allowing 4 goals is never a great night for a goaltender, but Mrazek will take the win in his first game back since injury. He can hold his head up knowing that he had some moments of brilliance and, while things did come apart a bit in the third period, the team was able to save the W for him.
Second Star: John Tavares
With the Leafs' opening goal, shown below, and a great assist on Nylander's goal, shown later on in this post, the captain JT had himself a pretty good game.
He really looked like he was out for a career night in that first period, along with everyone else, and was a constant threat on the powerplay.
First Star: William Nylander
With a 3-point night, Willy is a great choice for 1st star tonight. He had a great powerplay goal, previously mentioned and shown below, as well as two assists.
Nylander was clearly Toronto's best player tonight, and it wasn't just the 3 points. He also had a great example of backchecking that helped to slow down one of Chicago's many rush chances in this game.
40th star: Justin Holl
This is the second straight game that @Justin Holl has earned himself the 40th star. He's very clearly not playing at the level he was last year when he was solidly in the top-four of Toronto's defence. Paired with @Kristians Rubins, his misplay directly contributed to two goals against, and when you combine that with not really being effective on the offensive end of the ice, he's really been a liability.
First, he fails to challenge the puck carrier on this chance, allowing Toews to easily pick his shot:
Then, he chooses to chase the guy @Kristians Rubins is also chasing, instead of covering the front of the net, where @Dominik Kubalik was wide open:
In closing
The Leafs will hope to have a stronger performance in their next game as they will kick off a 4-game west coast road trip starting with the Edmonton Oilers on Tuesday at 9pm Eastern time.