The Toronto Maple Leafs need to stay away from UFA goalie Martin Jones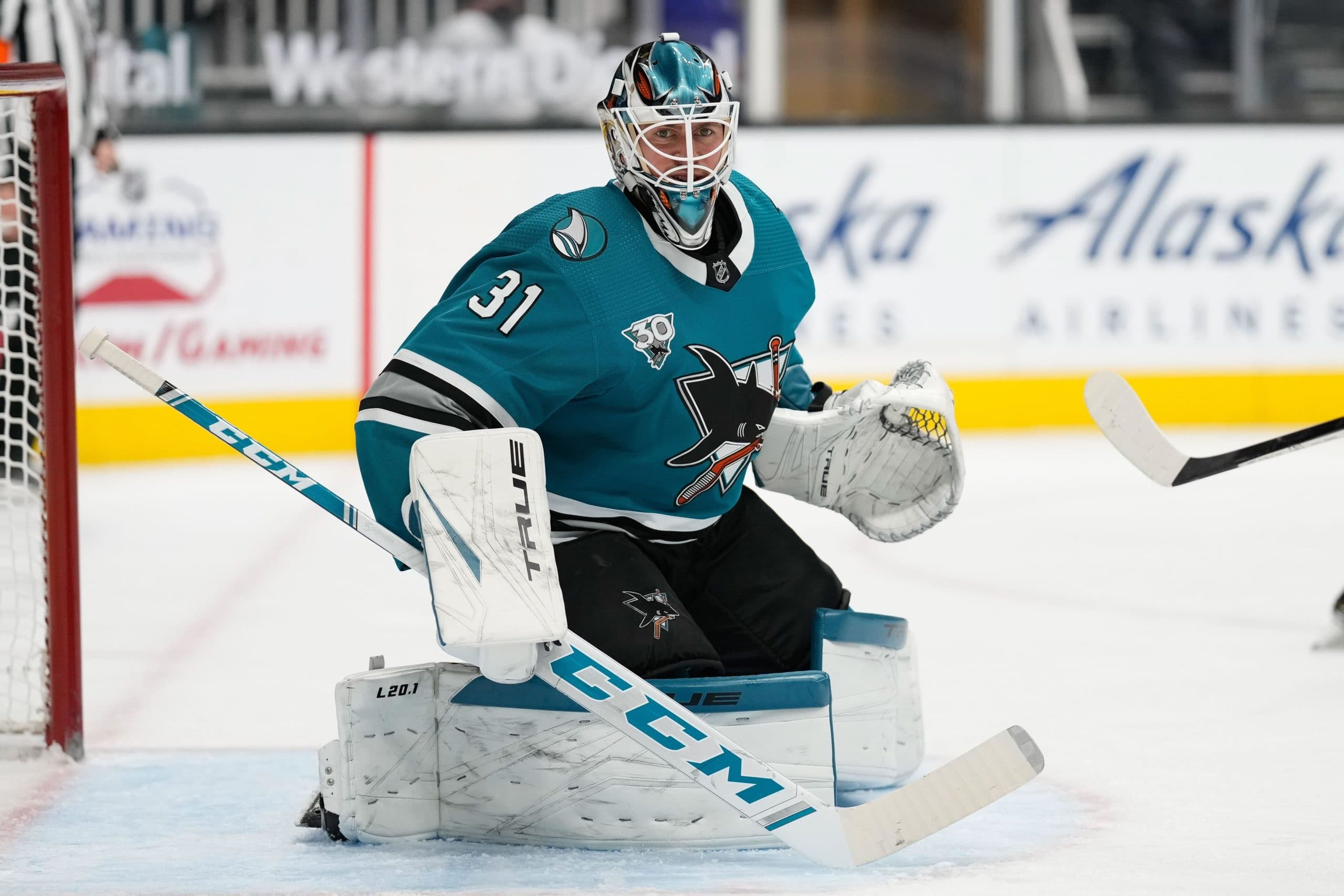 Photo credit:Stan Szeto-USA TODAY Sports
NHL free agency is less than 24 hours away, and for us hockey fans, it's one of the greatest times in the hockey world as we get to see big-name players change teams as well as keep track of what our favourite team is doing too. The off-season is just weeks old and we have already seen numerous trades, re-signings and buyouts along with the Seattle expansion draft and the 2021 entry draft.
With countless things happening right now in the hockey world before free agency opens up, there have been some pretty big-name players who have been bought out by their former team within the past couple of weeks, and one, in particular, is someone who I wouldn't say is a big-name anymore but it's someone who, at his best was a good goalie for the Sharks. It's Martin Jones.
Sharks buyout Jones
Earlier today, the San Jose Sharks bought out the final three years of goalie Martin Jones' contract which now sees him as a UFA heading to the open market once free agency opens up tomorrow afternoon. Jones, who has been on a decline for the past three seasons will probably find himself a new team and act as either a backup option or even a third-string goalie to whoever the team starting goalie is, however, there has been one team in particular linked to him and I don't think that's the right move for them.
As per Puck Pedia on Twitter, here is how the buyout will look like for the San Jose Sharks over the next six seasons.
Martin Jones' stats
Let's talk a little bit more about the goalie himself in Martin Jones. Jones, who has been a member of the Sharks organization for six seasons now has seen his play decline drastically and it wasn't a pretty sight if you were a Sharks fan and it isn't going to be a pretty sight for the fans of whatever team signs him this free agency. However, the Sharks themselves have been on a decline as well so it may not be all his fault, but for someone who put up a .896 SV% in the last three seasons after posting three straight seasons prior with at least a .912 SV% isn't exactly the greatest.
Here are Martin Jones' stats over his six seasons with the San Jose Sharks, per
Hockey-Reference.com
.
2015-16 – 37-23-4 – .918 SV% – 2.27 GAA
2016-17 – 35-23-6 – .912 SV% – 2.40 GAA
2017-18 – 30-22-6 – .915 SV% – 2.55 GAA
2018-19 – 36-19-5 – .896 SV% – 2.94 GAA
2019-20 – 17-21-2 – .896 SV% – 3.00 GAA
2020-21 – 15-13-4 – .896 SV% – 3.28 GAA
He had some solid seasons once he landed in San Jose, but after that, it just went downhill for him quickly. And if you're wondering, Joseph, where do the Toronto Maple Leafs come into play here? Well, I present you, a tweet from Darren Dreger himself.
Dreger says Martin Jones is one of the several goalies the Toronto Maple Leafs have given some consideration to. I don't know if it's just me, but for someone who has put up an .896 SV% for three straight seasons and someone who just got bought out by their former team, I don't think that's someone you should consider signing and letting him pair up with Jack Campbell for next season.
However, if the Maple Leafs actually go after Jones in free agency, sign him to a deal and he bounces back and I look stupid, then I will stand corrected and give him credit where credit is due. But until that happens, I believe there are better options out there via free agency and even trade for either a backup goalie or even a goalie who could split the crease evenly with Campbell next season and they can both act as a 1A/1B tandem.
As we already know, it seems like the Maple Leafs have been linked to a couple of goalies already, including Arizona's Darcy Kuemper who has just one year left on his deal carrying a cap hit of $4.5M. That's someone who I would feel more comfortable with between the pipes in Toronto, despite his injury history.