The trade deadline and beyond: what should the Leafs do with Matt Murray?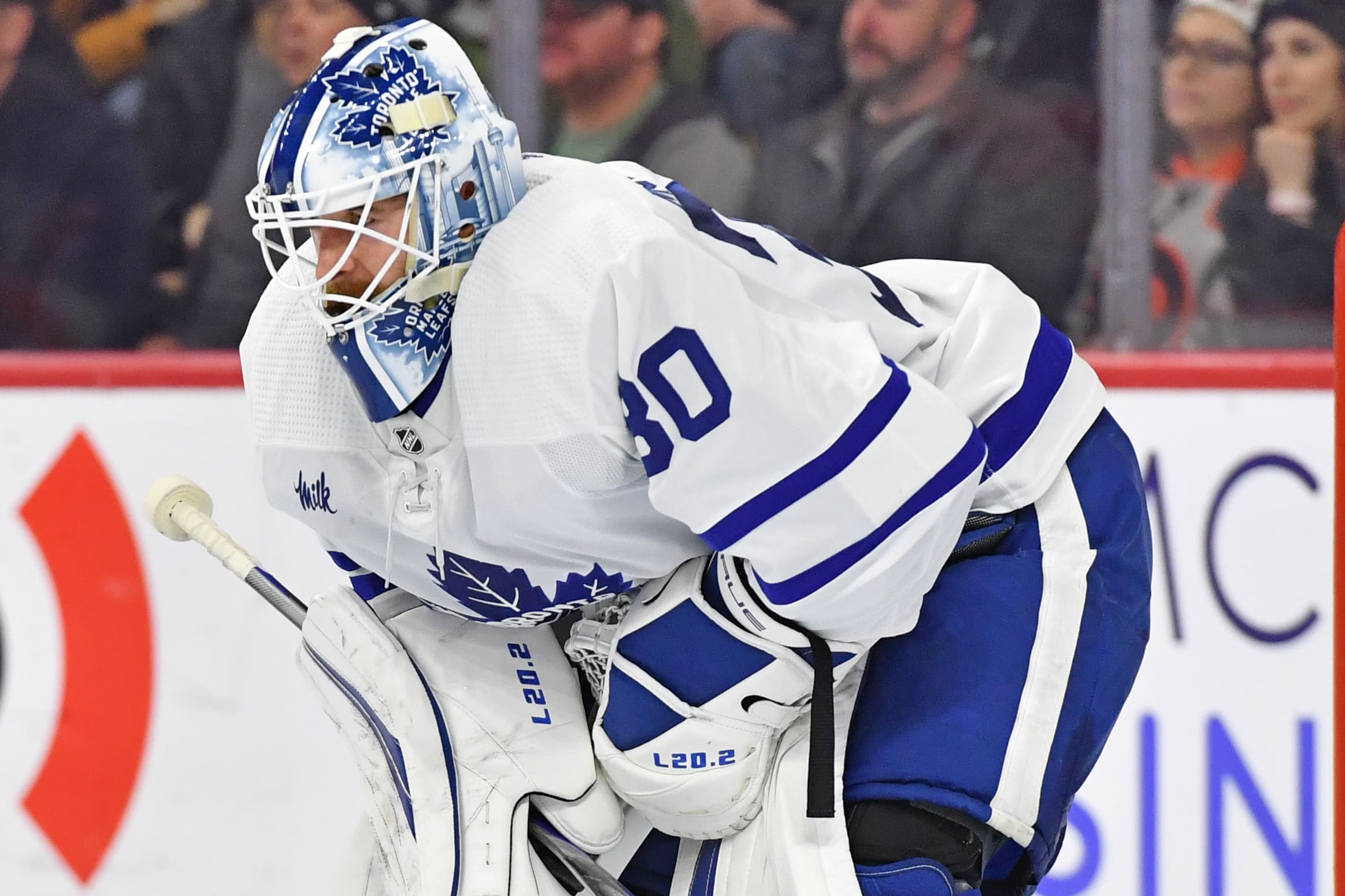 Photo credit:Eric Hartline-USA TODAY Sports
When Matt Murray was acquired by the Leafs last summer, many were skeptical of the move.
The Leafs, having made the decision to move on from Jack Campbell and Petr Mrazek, were in a position of great uncertainty in the goaltending position. The decision to acquire Murray, who's stint in Ottawa was characterized by (mostly) poor play and injuries, as the apparent solution, did not sit well with everyone.
Those defending the move pointed to Murray's resume as a Stanley Cup caliber goaltender, along with the fact that by many metrics, Murray's 2021-22 season was actually relatively strong. Further, much was made of the idea of a fresh start with familiar faces (Kyle Dubas, Sheldon Keefe, and Jon Elkin) helping Murray to regain form.
Detractors of the trade saw a goalie who, despite the resurgence in 2021-22, had played generally below league average over the last three years. Further, they saw a goalie who simply could not stay healthy; playing a total of 47 games over two seasons with Ottawa.
While this is a simplified view of the debate, the reality of Murray's performance thus far has fallen somewhere in between the two sides. Through 19 games this season, Murray has posted a .911 save percentage and 4.8 goals saved above expected (via Moneypuck). These are relatively strong numbers, however, Murray has struggled to stay healthy.
On October 15th, just a few games into the season, Murray suffered an abductor injury. He would return a month later, going on a hot streak before cooling off into January. On January 27th, Murray aggravated an ankle injury, sidelining him through February.
Bringing us to today, Murray appears to be preparing to return. With the trade deadline looming, and Ilya Samsonov having taken the starter role, some had speculated that the Leafs might hold Murray on LTIR for additional cap flexibility. This does not seem to be the case.
As it stands, Murray has played relatively well, but has struggled to stay healthy. He is in line to return as the backup to Ilya Samsonov, with Joseph Woll having played exceptionally at the AHL level and competently in his starts with the Leafs. Murray carries a cap hit of roughly 4.7 million for this year and next. As a cap strapped team, the Leafs must do everything to maximize player value per dollar spent. With that being said, what should the Leafs do with Murray?
Trade Deadline Options
With the option of stowing Murray away on LTIR rapidly fading, two options remain: trading Murray to open up space or retaining him for the rest of the season.
As mentioned previously, while healthy, Murray's results have been relatively strong. Upon returning from injury earlier in the season, he looked excellent, posting great results and moving/tracking better than he has in a long time. As time went on however, his mobility and positioning seemed to deteriorate, along with his results.
Was this a result of his ankle injury bothering him prior to being diagnosed? It's hard to know, but GM Kyle Dubas seemed confident in his recovery during his February 18th press conference. It's possible that Murray returns fully healthy, and plays well.
With Samsonov having had some rough outings as of late, and Woll still being an uncertain commodity, it may be nice to have Murray available to take over if necessary.
As for moving him, it's hard to see it making sense unless something unexpected happens. Using the current roster, when activated from LTIR, the Leafs will sit with just over a million dollars in deadline cap space. Moving Murray would move this number up to around five million, factoring in adding Joseph Woll to the roster. This is complicated by the potential add of Matthew Knies, but for simplicity's sake, let's move forward with these numbers.
At this point, it's hard to imagine that the Leafs could move Murray without giving up more assets from an already depleted reserve. There simply aren't that many suitors for a goalie at the deadline (the Kings and the Sabres maybe?), and even these teams would likely be looking for a goalie with less injury risk. Factoring in Murray's sizeable cap hit for this year and next and the fact that teams won't likely want to help the Leafs out, and we can conclude that the asking price to take him on would be significant.
Looking elsewhere on the roster, other players could be moved for cap flexibility if needed. Alex Kerfoot seems to be the primary candidate for this, as his $3.5 million dollar cap hit is currently being used on the fourth line. Further, Kerfoot would likely bring back positive assets in a trade, though nothing significant.
In my eyes, getting assets for Kerfoot and swapping him for a player with (likely) similar impact on the fourth line would be preferable to spending to move Murray, who could possibly be a contributor if needed.
Offseason Options
Regardless of what happens in the rest of this season, the Leafs will be faced with a tough decision when it comes to goaltending this offseason. Ilya Samsonov will be an RFA, looking for a new (and more expensive) contract. Joseph Woll, a rare homegrown goalie, is knocking on the door of the NHL. Matt Murray will still have one more year left on his deal at ~4.7 million.
As a team with limited cap space, the Leafs will not be able to afford to bring back both Murray and a more expensive Samsonov. Joseph Woll will be an extremely valuable asset to the Leafs as a seemingly NHL-level goaltender signed for roughly 750k. In all likelihood, the tandem next year will be one of Samsonov or Murray with Woll.
It is possible that Murray plays well enough to justify sticking with him next year and moving Samsonov for assets. However, at this point that reality seems to be unlikely. So, if the Leafs decide to go with Samsonov, what are the options for Matt Murray?
It may be more palatable to trade Murray in the offseason. Depending on how he plays (and if he stays healthy) upon returning from injury, the Leafs may even be able to move him for positive assets. As mentioned, his play this season has been relatively strong while healthy, and there will certainly be more suitors for a goaltender in the offseason.
If he plays poorly, or is injured once again, the options are much less favorable. In the past, the Leafs have paid significant prices for similar levels of cap relief in the offseason (think the Marleau trade). Further, the actual money owed on Murray's contract next year is $8 million, making him an unattractive cap dump. If his return goes poorly, the Leafs may have to look at buying out the final year of his contract.
A buyout of Murray's contract would cost the Leafs roughly $690k against the cap in 2023-24 and $2 million against the cap in 2024-25. This would provide the Leafs great cap savings in year one, but bite them significantly in year two.
A decision like this would have to be weighed against a number of factors. Firstly, the asset cost of moving him in a trade would have to be considered. Secondly, management's confidence level in re-signing Matthews and Nylander would have to be gauged. If they determine that next year, the final year of both Matthews and Nylander's current contracts, will have to be the final all-in year, then taking the cap hit the following year may be worth it for the cap savings it would provide in 2023-24. And all of this is assuming that they don't lose in round one again and blow it up.
Conclusions
It is pretty clear that Dubas and the Leafs expect Matt Murray to return in the near future. While any analysis of the upcoming offseason is bound to be messy due to all of the variables yet to be determined, analysis of this trade deadline is relatively straightforward.
To me, moving Murray at this deadline would not be the optimal move, barring any unforeseen circumstances. It is unclear whether the Leafs even intend to make an add significant enough to require extra cap space. If so, Alex Kerfoot would be the piece best moved when factoring in potential impact and asset cost.
The downturn in Murray's play coupled with his injuries and Samsonov's emergence has made people forget the strength of Murray's season thus far. Particularly when 100% healthy, Murray has provided the Leafs with above average goaltending. Having him on the roster this season provides the Leafs with significant insurance in the goaltending position, further protecting against poor play or injury from Samsonov.
If he returns and plays poorly or is injured, then the decision to move him in the offseason becomes clear. However, I expect him to return and play well, as he has while healthy for this season and last.
For now, Murray is, and should stay a Leaf. Let's enjoy his return, and cheer for him to play well.
THE DAILY FACEOFF TRADE DEADLINE SHOW
Join us on March 3rd for the Daily Faceoff Live: Trade Deadline edition as Frank Seravalli and the panel break down all of the latest rumours, news, and rumblings from around the NHL. The show will be live on 
YouTube
, 
Facebook
, and 
Twitter
 from 12 PM – 4 PM ET to keep you up to date on all things trade deadline no matter where you're watching from.