'This is what you play for': Marlies embark on postseason climb with Calder Cup at peak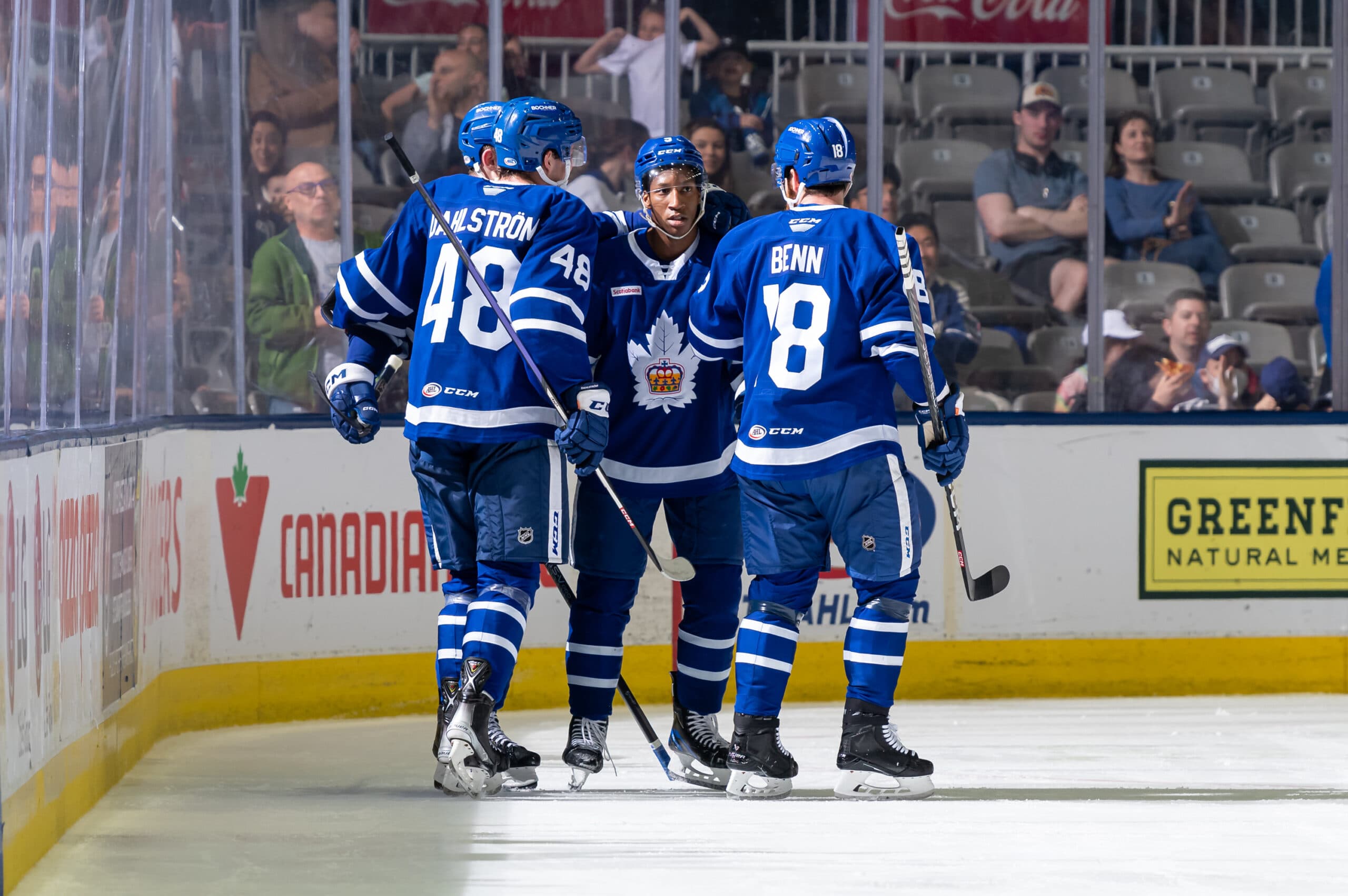 Photo credit:Christian Bonin / TSGphoto.com
On Thursday night while the Maple Leafs try to slay the dragon that is the Tampa Bay Lightning, the Marlies will be embarking on that same mission just down the street at Coca-Cola Coliseum.
It's been 1432 days since Toronto last step foot in a Calder Cup Playoff game. Two pandemic seasons and a missed opportunity last year were the reasons for such a long layover.
Not a single player from Toronto's 2019 playoff roster is on this team, though the Marlies are still riddled with veterans. Logan Shaw, Kyle Clifford, Joseph Blandisi, Jordie Benn, Carl Dahlstrom, and Radim Zohorna each have experience in the AHL or NHL postseason, which'll help a younger team.
Clifford, as we all know, has won two Stanley Cups to his name, Zohorna has won two championships in the Czech Extraliga, and Pontus Holmberg was the SHL Playoff MVP back in 2021 with the Växjö Lakers when they won the SHL Championship.
Although the Marlies aren't full of players who've experienced AHL playoff hockey, they are filled with players that know what they want. And that is the Calder Cup.
"Some guys have never had a taste of playoff hockey yet," Marlies captain Logan Shaw said. "It's okay to have the butterflies. I mean, this is 10 years for me and I'm still going to have the butterflies (Thursday) night. But it's a good thing. It means you care, it means you want to win, you want to play in the right time of the year."
Toronto is set to take on the Utica Comets in a five-game series, with the Marlies having home-ice advantage. Utica, though, has been fortunate enough to have already been in a playoff series, defeating the Laval Rocket in two games to advance to the second round.
Defensively, the Comets have been sound as they lead the North Division with the least amount of goals against (222). However, Toronto has been just as good, only allowing 225 goals this season.
Offensively, Toronto scored 229 goals this season, which is more than Utica, who only had 215, the 11th lowest in the AHL. It's not the biggest difference in goals for and against, so special teams might play a big role in this series.
And that's where the Marlies have the edge. Toronto had the second-best power play in the entire AHL this season at 23.6%, while Utica struggled, only scoring 15.8% of the time while on the man advantage.
Toronto's penalty kill, at 81.5% (good enough for 13th), also ranked higher than Utica's 77.4% PK, which was 27th in the AHL.
But how much of that really matters?
Playoffs, in whichever league it might be, are filled with pressure. One wrong play and it can shift the momentum for the opposing team. In hockey, that wrong play could even result with the puck in the back of your own net.
"It's always an important first game," said Zohorna one day before it all begins. "I think we need to have the pace, be physical and dictate the game and how we want to play because we got an opportunity to play (at) home."
The playoffs always have a different feel than the regular season. And so they should. Everything is on the line. But what is there to say to a player who's never experienced a game in the postseason at the professional level?
"Enjoy it." Shaw said. "Every year, the first 20 minutes is just try to get into it and try to be physical, try to get involved in the game, and the rest does take care of itself once you kind of settle into it."
When it comes to who'll be in the lineup and who won't, as it stands currently, both Ryan Tverberg and Roni Hirvonen (who just joined the Marlies from Finland) are projected not to play. Each player watched the team practice on Wednesday from the stands.
Dmitry Ovchinnikov hasn't played since April 1st due to an upper-body injury, and he was absent from Marlies practice for a while, likely meaning he's further away from a return.
Bobby McMann's status still remains a mystery. With him being injured up with the Maple Leafs, there'll likely be no update from Moore as to how he's recovering after suffering an injury in New York on March 21st.
The good news is that Mac Hollowell is back. Moore, on Wednesday, confirmed that the 24-year-old is "cleared to play." But the head coach elected to keep Hollowell's status — and the rest of the lineup — a mystery.
Hollowell did have a consistent spot in the Marlies' line rushes on Wednesday, though.
Braeden Kressler, who joined the team recently after his playoffs with the OHL's Flint Firebirds came to an end, also took part in Marlies practice. However, he does project to be a scratch for Game 1.
Marlies lines during Wednesday's practice:
Blandisi-Shaw-Abruzzese
Steeves-Zohorna-SDA
Clifford-Holmberg-Johnstone
Cruikshank-Slaggert-Chyzowski
Extra: Kressler
Benn-Niemela
Rifai-Dahlstrom
Pietroniro/Kral-Hollowell
Hoefenmayer-Villeneuve
Petruzzelli & Hildeby
When it comes to a starting goaltender for Game 1, Moore said he and the coaching staff have "decided" but that everyone else will have to find out tomorrow. Dennis Hildeby has only played in 1.5 AHL games, so my money is on it being Keith Petruzzelli.
Game 1 of the series between Toronto and Utica is set for just after 7 p.m. on Thursday night. They'll then play a Game 2 on Saturday night. Both games will be played at Coca-Cola Coliseum in Toronto.
If you're looking to watch either of the home games, they'll be on AHLtv or the Maple Leafs' app.
It's going to be a great series, and it'll showcase what team wants it more. But I'll tell you now, although the Marlies haven't seen game action for 10+ plays, they seem as hungry as ever to get this series started.
"This is what you play for." Shaw said. "You play to try to play at this time of the year and you want to go as long as you can. We want to play right until June 20th, or whatever the final game is. It starts (Thursday) night."