This Maple Leafs team is built different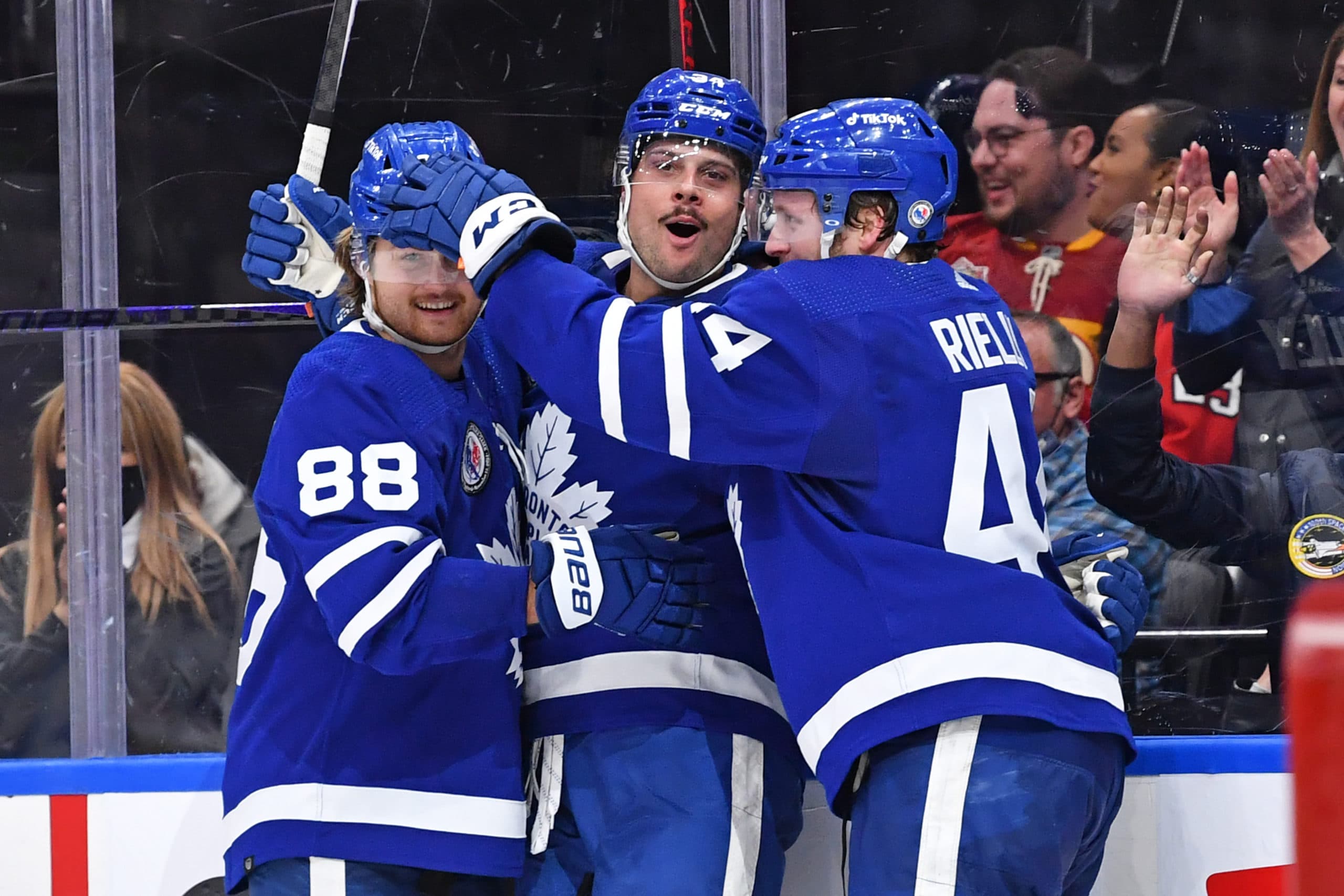 Photo credit:Gerry Angus-USA TODAY Sports
The term 'built different' is one I don't particularly like to use personally. The origins of the saying are unclear, but it has gained traction in recent years as a meme used to describe how someone is uniquely different. And it is most often overused by people who frequent the gym or create TikToks, sometimes both.
One story that has been bubbling under the surface of this Leafs season is becoming clear: this Toronto Maple Leafs team is built different from those we've seen in years past.
Recent slide and disturbing trend of blowing leads aside, the Leafs have been playing at a near-historic pace this entire season. They have found ways to win games despite missing many key players at various points of the year. More so than in any season in this current era of Leafs hockey, the team appears to have 100% bought in to the vision of management and coaching. There are no spare parts on this team taking up space, even players that have been highly criticized in past seasons like Pierre Engvall and Ilya Mikheyev have adapted and become key contributors.
Beyond strict on-ice performance, the attitudes of the players on the team have clearly shifted. The first time I really noticed this was during the game against LA in late November, when Auston Matthews was mic'd up:
When have we ever heard a reaction quite like this before? Goal celebrations are usually just a combination of the player going "Woo" or dropping expletives, but here we get Matthews hyping up his teammates more so than celebrating his own goal. To me, this is a sign that, as an entire unit, the focus of this team has changed. And the seeds of this may have even been planted in the offseason, when the captain brought most of the team to his cottage for a weekend.
This is not to say the teams of years past hated each other or anything like that, but there was a definitive clash of personalities, whether you want to point to Joe Thornton's lackidasical attitude during a leadership meeting on the All or Nothing docuseries, Mike Babcock's constant sabotaging of the lineup during his time as coach, or even a briefly discussed dispute between Keefe and Matthews (also brought up in All or Nothing) this team has not always been on the same foot.
But no more. This year, the team seems as though each and every player is truly playing for each other and for the logo on their chests.
And this includes players keeping each other accountable for holding up a higher standard of play, as seen in this early-season clip:
This love and support extends even to guys who are not day-to-day players, none more so than Nick Ritchie. Right from the start of a season, a concerted effort has been made to get the struggling winger going and keep his spirits up during the long stretches where his game was just not coming together. And when things do work out for him, the response from his teammates is extremely vocal:
While this newfound mentality may have taken root during the previously mentioned team visit to Tavares' cottage, it may also be the early returns-on-investment of bringing in mental-skills coach Greg Harden, someone who Mitch Marner in particular has credited with getting him in a better headspace this season.
And of course, maybe the shift in mentality is simply a result of Jack Campbell and Jason Spezza's infectious life-loving attitude and never-ending support for their teammates:
No matter where the new attitude came from, it's a refreshing look for a team that has been mired in so much misery for so long. Hockey at it's core root is a game, and games are meant to be fun. This team is having fun, and the wins are racking up.
Of course, the most important question still lingers: Will this team-first mentality really amount to anything tangible, such as, dare I say it, actual success in the playoffs? Logic says no, there is no scientific evidence that any sort of intangible factor actually weighs into a team's results, but all I can say is strange things happen when a group comes together united for a common cause. And from what we have seen of the Leafs through this first half of the year, they are definitely standing united.