Thompson extended, Golden Knights and Sharks make a trade, Sullivan staying put: Around the NHL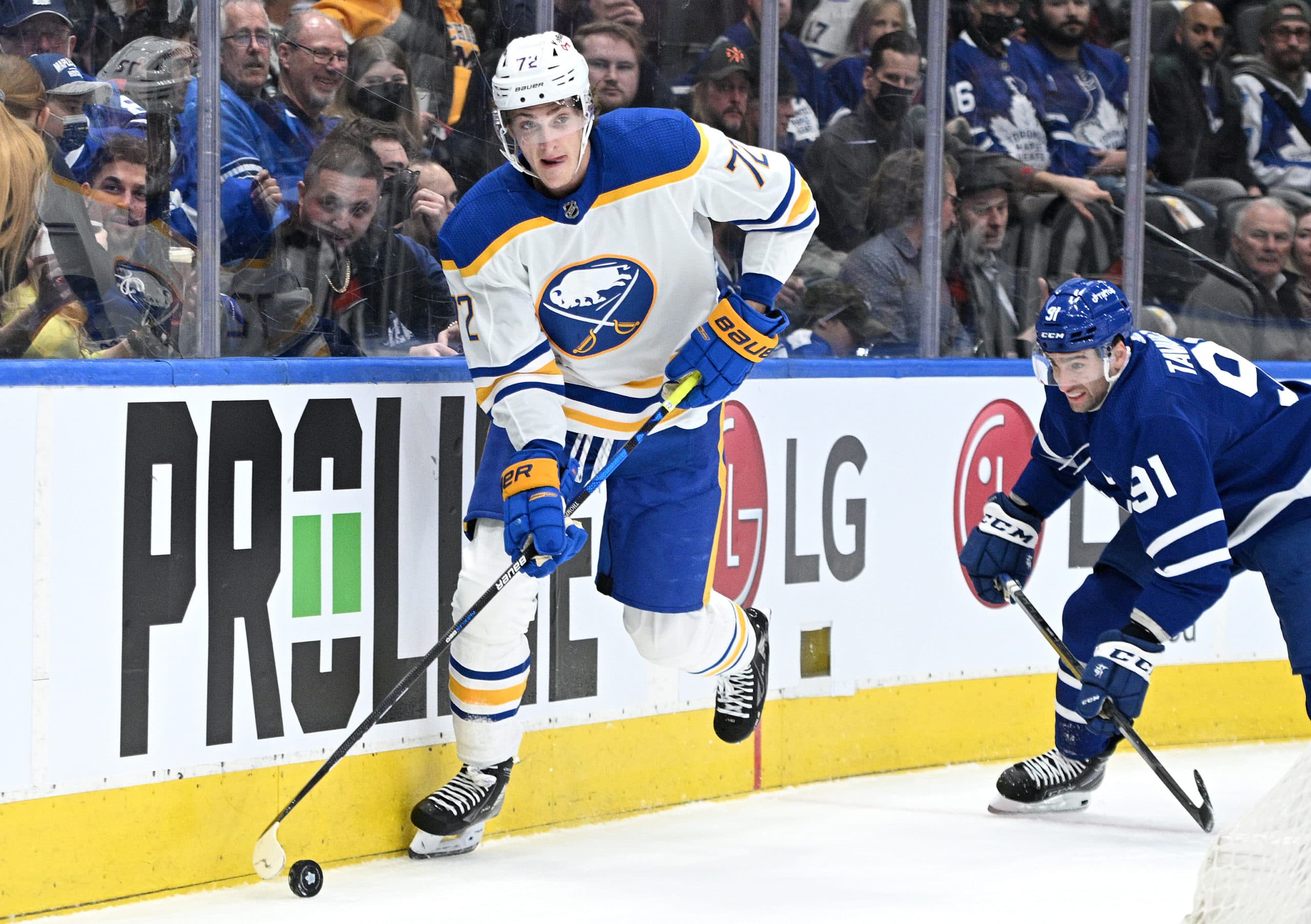 Photo credit:Dan Hamilton-USA TODAY Sports
NHL training camps are just a couple of weeks away and the free agent list is getting slim. Over the past week a breakout star signed a massive deal, there was a trade between division rivals, a long-time head coach was extended, and a few depth players landed new contracts.
Thompson contract
The Buffalo Sabres' leading scorer from the 2021-22 season will be staying put for the foreseeable future. Tage Thompson agreed to a seven-year deal on Tuesday that will pay him 50 million dollars. The contract carries a cap hit of just under 7.15M.
Thompson exploded onto the scene last year scoring a team high 38 goals and 68 points in 78 games. The 24-year-old center shattered his previous career highs of eight goals and 14 points.
Without any track record of consistent scoring this contract could end up being a mistake for the Sabres but if he continues to score at this pace, it will be well worth it.
Hill traded to Golden Knights
In a rare trade between division rivals the San Jose Sharks traded goaltender Adin Hill to the Vegas Golden Knights for a 2024 4th round pick. The Golden Knights will be without their starting goalie Robin Lehner for the 2022-23 season due to hip surgeries.
Just days after announcing they were going to enter the 2022-23 season with the tandem of Logan Thompson and Laurent Brossoit Vegas blindsided their goalies yet again.
A former Arizona Coyote, Hill's time in San Jose lasted just one injury hampered season. In 25 games for the Sharks he posted a .906 SV% and a 2.66 GAA.
This trade allowed the Sharks to get under the salary cap and down to two NHL goalies on their roster. James Reimer and Kaapo Kahkonen will split time between the pipes for San Jose.
Sullivan extended
The Pittsburgh Penguins have extended head coach Mike Sullivan for three more seasons. Sullivan has been the head coach of the Penguins since 2015 and helped them to back-to-back Stanley Cup championships in his first two years with the club.
His time in Pittsburgh has been successful overall as the team has qualified for the playoffs in each of his seven years at the helm but they have failed to make it out of the first round for the last four. It's clear their core of Sidney Crosby, Evgeni Malkin and Kris Letang are happy with him staying put though it's easy to speculate whether or not he will be there for the entirety of this contract if they don't advance in the playoffs soon.
Depth signings
Phil Kessel is the most notable player to sign in the last week. He agreed to join the Golden Knights on a one-year contract worth 1.5 million. At 34 years old Kessel was still productive for a dreadful Arizona Coyotes team last season. He scored eight goals and 52 points in 82 games in 2021-22.
Kessel is also on pace to break free agent defenceman Keith Yandle's ironman streak. His 982 consecutive games played trail Yandle by just seven. He hasn't missed a game since the 2009-10 campaign, his first season with the Toronto Maple Leafs.
Other signings this week include Sam Steel to the Minnesota Wild for one-year at 850k, Cale Fleury re-signing with the Seattle Kraken for a year at 750k and Jonah Gadjovich re-signing for 750k in San Jose.