Three teams the Leafs should consider making a trade with this summer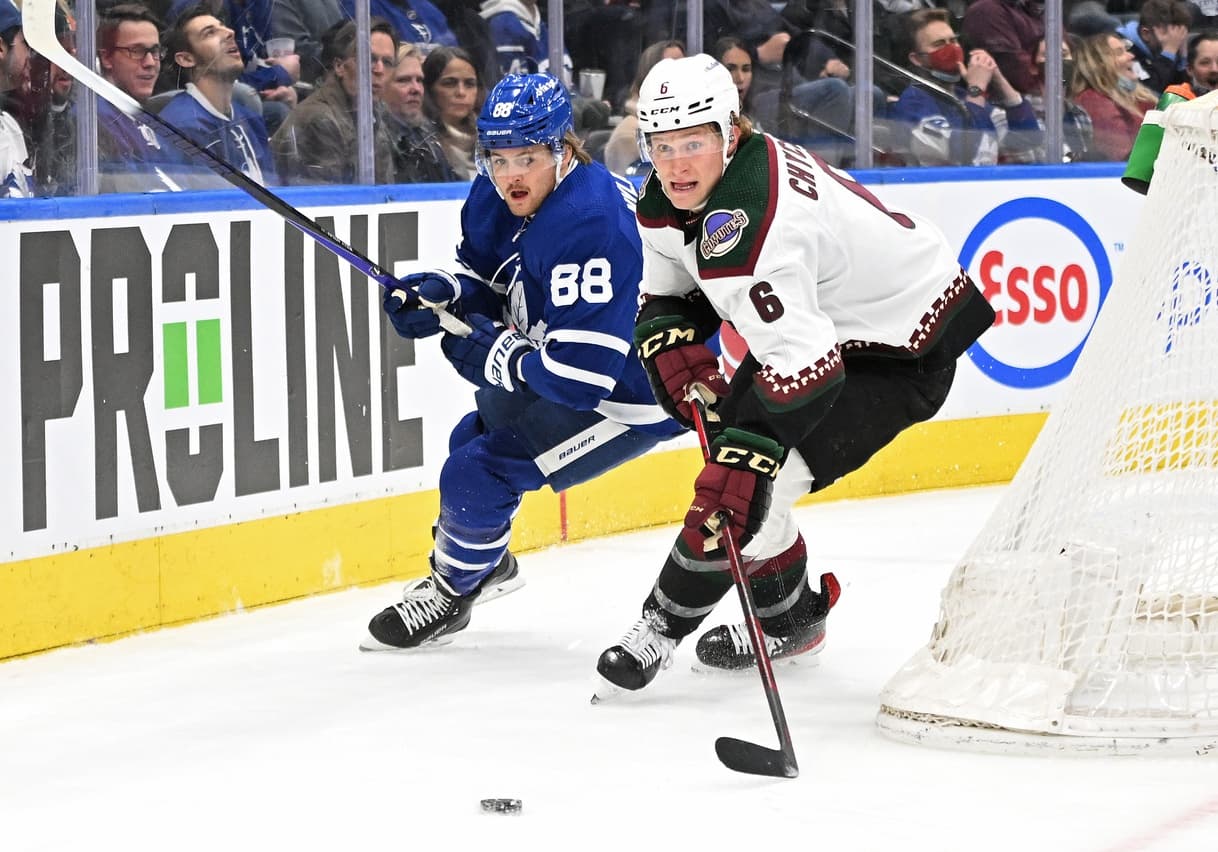 Photo credit:© Dan Hamilton-USA TODAY Sports
There is no question that the Leafs are going to be in for quite an eventful offseason.
While the Big Four pieces and the upper management are likely to remain intact for the 2022-23 campaign, there will likely be some changes to the lineup to result in a slightly different-looking group. A portion of the roster that played in Game 7 against the Lightning may not be part of the organization once the dust settles on Free Agent Frenzy and the last big moves are made. Changes mean moves will be made by Kyle Dubas over the summer to try and put the Leafs in a prime position to make a deeper postseason run for the first time in nearly two decades.
Toronto has a number of directions in which they can take the team and a few intriguing pieces that could be swapped out to bring in a new batch to change the Leafs' makeup and identity. Guys like Alex Kerfoot, @Jake Muzzin, @Justin Holl, and @Petr Mrazek could find a new home in the weeks ahead. Whether it is to clear room for someone within the organization, acquire an established player, or create some cap flexibility, the Leafs have so many possibilities for what to do with some of their tradeable assets.
But to make a trade, you first need to find a trade partner. And while there are plenty of teams that have players they are rumoured to be connected to (the Ducks being a prime example), I believe there are three in particular that the Leafs should look to call and strike a deal at some point this summer.
Arizona Coyotes
In the meantime, the Coyotes will be looking to put together a compelling case that the team deserves to remain in Arizona by giving fans reason to believe they are heading in the right direction. That means looking for players who are under contract for more than a season and could potentially be flipped later on for future assets or grow with the team. While the current state of the organization has likely put them on many player's NTCs, Arizona will need to be active in accumulating talent to be over the salary cap floor and bring some excitement back to the fanbase.
Therefore, it makes logical sense that the Leafs could look to the Coyotes to try and take on some of their more expensive contracts to create some breathing room. Alternatively, they could try and make a big splash by trying to pry away Jakob Chychrun in a blockbuster deal. Beyond him, Arizona has a few intriguing targets that could provide a different element in comparison to their current options (Lawson Crouse and Dysin Mayo as an example).
This hypothetical move wouldn't be the first transaction between the two teams in this calendar year, as they made a trade in February that resulted in the departure of @Nick Ritchie and the arrival of @Ilya Lyubushkin. It might be a good idea for the Leafs to make another deal with @Auston Matthews' boyhood team.
Potential Targets: @Jakob Chychrun, @Lawson Crouse, @Nick Schmaltz, @Dysin Mayo
Seattle Kraken
The NHL's youngest franchise did not fly out the gate as hot as the Golden Knights did in their inaugural season. Seattle finished dead last in the Pacific Division, saw some concerning regression from some of their biggest acquisitions from the expansion draft and free agency, and is set to select a top-five pick in this year's draft.
It seems apparent that the Kraken has opted to take a more gradual ascension towards contention and are a few years away before they legitimately compete for a playoff spot (although anything is possible in their division). That means some of their more established players could be hold-overs until the first crop of prospects makes their way up to the top club. So it makes Seattle an ideal team for the Leafs to make a deal with over the summer.
Much like the previous team listed, there has already been a transaction between the two clubs. The trade deadline acquisition of @Mark Giordano and @Colin Blackwell granted the Kraken with some draft picks to add to their stockpile. It certainly helps that Dubas and Ron Francis have a good working relationship and Kraken coach Dave Hakstol would have familiarity with recent members of the Leafs' lineup.
Considering both teams got good value out of the most recent deal, it would only make sense that a second one will likely follow in the weeks to come.
Potential Targets: @Yanni Gourde, @Joonas Donskoi, @Vince Dunn, @Carson Soucy
Philadelphia Flyers
It's not sunny in Philadelphia right now. Fresh off a rough campaign that saw their netminders struggle mightily, their players either regress or run into injury troubles, and the departure of @Claude Giroux at the deadline, the Flyers took a major step back in 2021-22.
After over a decade of inconsistent results that resulted in just one appearance where they made it past the first round, the future of the team remains up in the air. Chuck Fletcher seemed to have indicated that the team
may look to go for an aggressive retool
, but it would also make sense to begin anew after Giroux's departure.
The lack of clarity surrounding the future direction of the Flyers makes them an ideal trade partner for the Leafs. With Philadelphia
reportedly on the hunt for some scoring
, it would make them an ideal landing spot to move Kerfoot's cap space. Toronto could also try and acquire Travis Konecny, who would provide some additional feistiness that was lacking on the second line this season. Even though he just finished the first year of a five-year deal, Scott Laughton also makes a ton of sense for the middle-six.
With Fletcher under pressure to get the Flyers back on track, it would be in Dubas' best interest to give him a call and make an offer.
Potential Targets: @Travis Konecny, @Cam Atkinson, @Scott Laughton, @Travis Sanheim
POINTSBET IS LIVE IN ONTARIO
PointsBet Canada has officially launched in Ontario! Get a $25 free bet just for 
signing up right here!