It's time to try Ilya Mikheyev with Matthews and Marner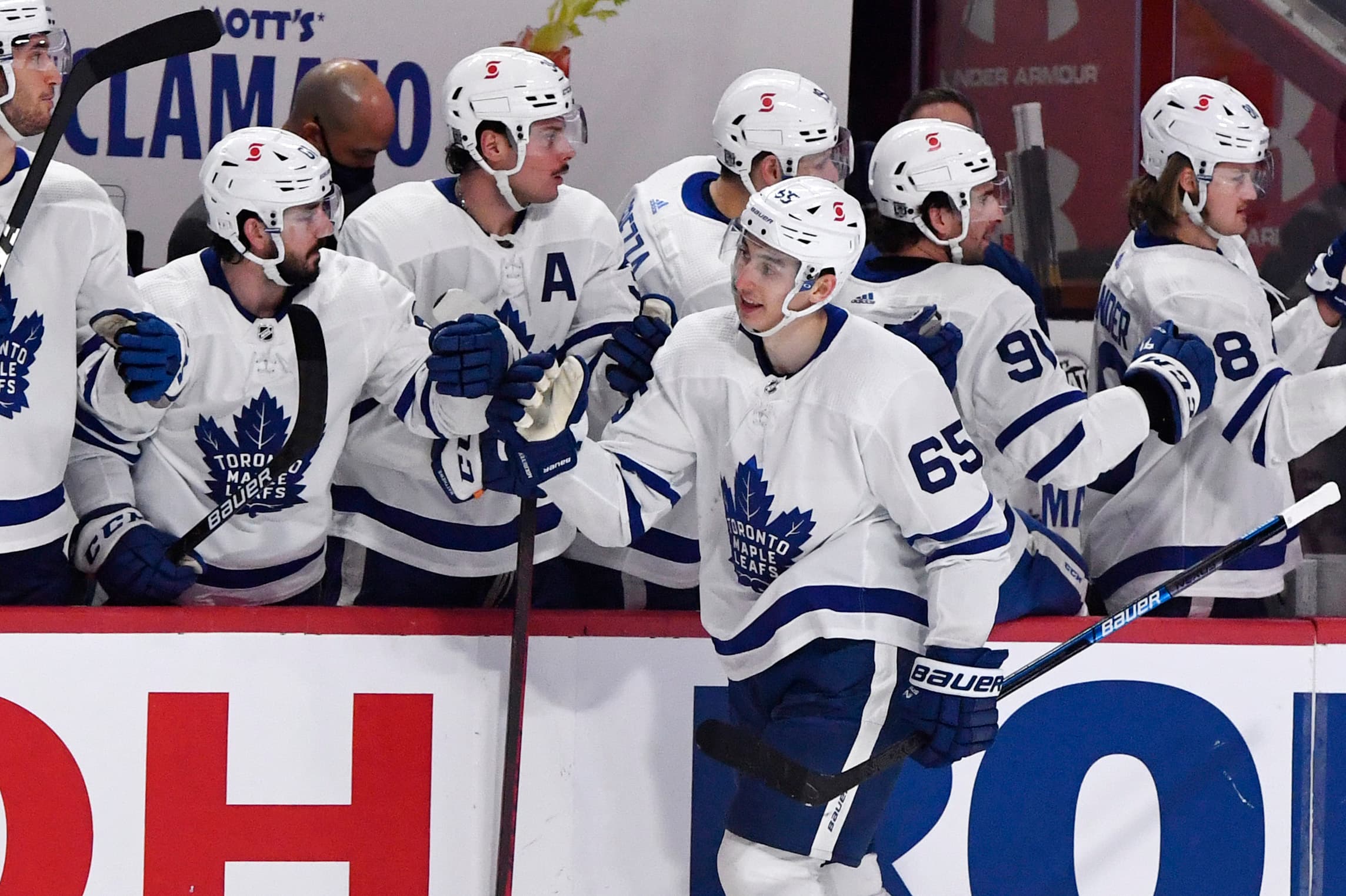 Photo credit:Eric Bolte-USA TODAY Sports
Only one more day until the Toronto Maple Leafs announce their training camp roster. It's come very quickly, I know.
With it
approaching so fast
, I thought this would be my last chance to give my thoughts on what could be an intriguing idea. I'll be honest — it's
different
.
When you look back at last season, one of the big storylines was @Ilya Mikheyev and his production. Starting his NHL career, he was a 0.58 points-per-game player. That was enough for Kyle Dubas to give him a contract at $1.645 million for two years. And since signing that contract, it's safe to say that Mikheyev hasn't lived up to it.
After sustaining a wrist laceration in December of 2019, it was clear to provide him with a free pass for the near future. A lot of fans appeared to do that.
Coming into the 2020-21 season, though, it was time for a change. And looking back at it now, people didn't get one.
Mikheyev struggled to score last season, only beating a goaltender seven times in 54 games. The 26-year-old was coming from the KHL, where he scored 23 goals in his final 62 games.
He finished off the 2021 season shooting at 6.5%, a 1.7% downfall from the season prior. There may be plenty of reasons for that — coming off a wrist injury to that extent, plus a pandemic may have been very difficult.
After being denied a trade by Kyle Dubas, though, Mikheyev needs this to be a massive year. There's no sugarcoating it. However, where he plays could decide the rest of his future in the NHL.
Mikheyev-Matthews-Marner?
Many people believe that @Michael Bunting and @Nick Ritchie fit well within the top-six. I think it's worth trying Mikheyev beside @Auston Matthews and @Mitch Marner, though. Part of that is because I believe change is good.
There will be a difference with the Matthews line either way. However, for Mikheyev, I think it would be a breath of fresh air, which could benefit the Leafs overall.
Bringing him there could improve an already defensive line. Putting Mikheyev alongside Marner may also contribute to more scoring chances for the Russian forward. He'd have to score on most of those opportunities, but this could be a scary line if these three found chemistry.
That's the most
significant element for Mikheyev
— scoring on his chances. On many occasions last year, we got to observe the 26-year-old miss on his opportunities. It was difficult to watch.
In this play, it seems as though Mikheyev was hesitant to finish his chance. He spots @Alexander Kerfoot coming, but by that point, it's too late. Then, @Carey Price has the time to re-position and make the save.
Throughout this video, Mikheyev is not scoring on any of his chances. He's his own nemesis when it attains to scoring goals. We either see the complete miss of the puck, the shot into the goalie's pads, or just overthinking an opportunity.
Mikheyev has to score on those occasions, so why not give him a chance to see if he can do that with Matthews and Marner?
I don't know how much
the second line
will give him in terms of opportunities. Neither one of @John Tavares or @William Nylander can provide him with the same type of chances that Marner would. It could also benefit Mikheyev that the top line carried a 5v5 SCF% of almost 60%. I believe he could capitalize on more opportunities if he gets them.
That's the hope, at least.
Even the third line at this point won't provide him with those same opportunities. Playing him with Matthews and Marner will give everyone another look at the 26-year-old. It could tell us that he was just struggling, or if it's something more serious.
A massive detail, though, is that the Russian needs to earn the spot. If Mikheyev believes he should be higher in the lineup, now would be a great time to prove it. And that will come in training camp.
You have Matthews' scoring, along with Marner's passing ability, while also possessing someone who's not afraid to work hard for the puck. I think it's a line that's worth putting together at some point, just to see if it works. It may not be at the
beginning of the season
, but if there's a chance, I think Sheldon Keefe should test it out.
If it doesn't work, we don't need to see it ever again.
(All stats from naturalstattrick.com & hockey-reference.com)