Timmins week-to-week, updates on Klingberg & Jarnkrok: Maple Leafs news and notes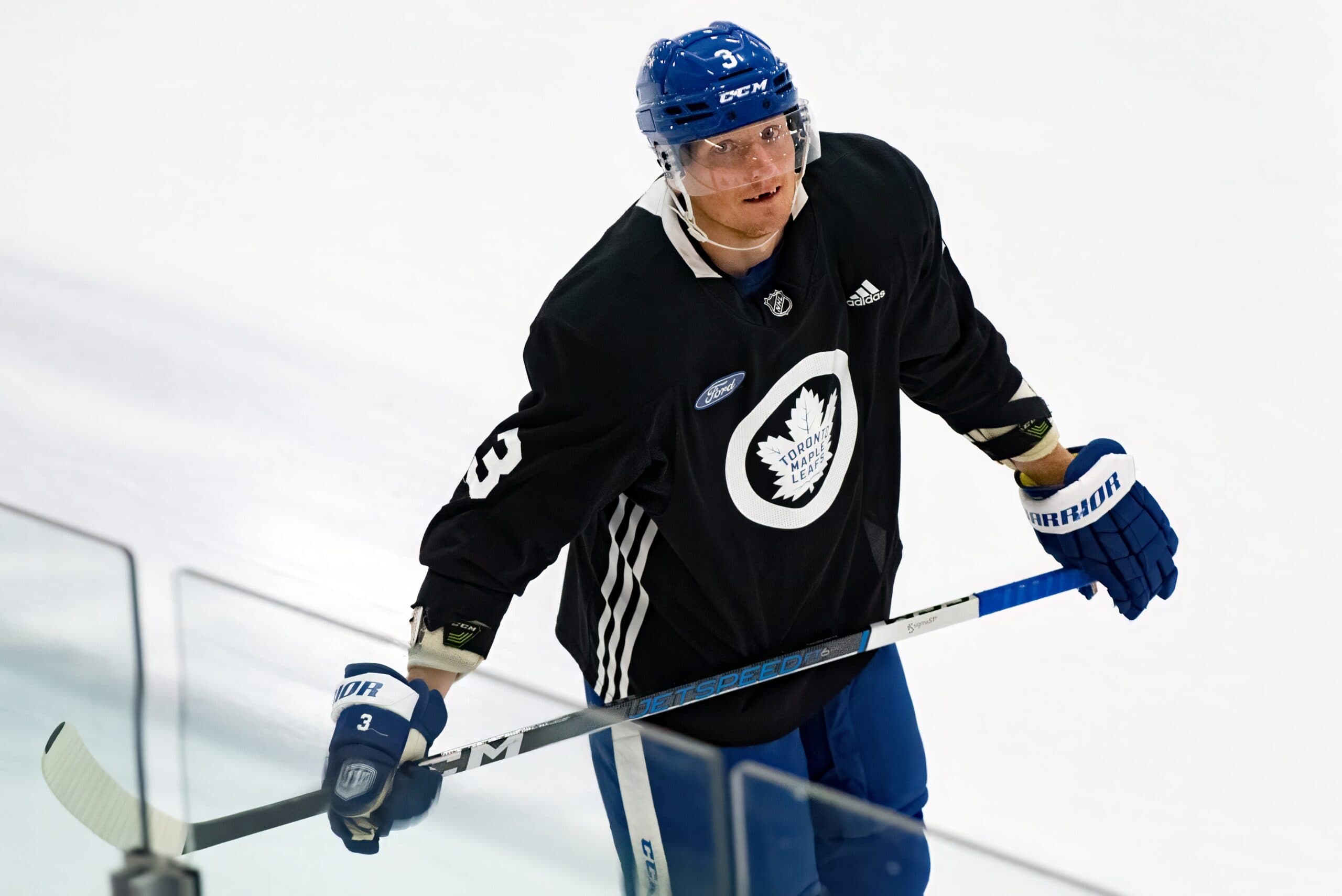 Photo credit:Steven Ellis/Daily Faceoff
With just three games remaining in the preseason schedule, we are nearing the end of training camp, and the injury bug has already hit the Toronto Maple Leafs.
As opening night is just days away and the Maple Leafs are set to open their season next Wednesday at home against Montreal, it's a bad time to have some of your everyday players on the shelf right now due to injury.
However, that is the case we're dealing with after an update from Sheldon Keefe and some players from today's practice.
Conor Timmins:
Timmins, injured in the first game against Montreal over the weekend, has a significant lower-body injury, according to head coach Sheldon Keefe, and is currently week-to-week.
It's unclear when exactly he sustained the injury, but after watching the game Friday night, it looks like it may have come on this hit along the boards.
It's unfortunate for Timmins, he has dealt with his fair share of injuries throughout his young career and was having a strong preseason to this point. It's unknown how many weeks he'll miss with this lower-body injury, but for someone who was fighting for a top-6 spot on the blue line come opening night and is now sidelined, it's certainly not ideal.
We saw what he could do in a sheltered offensive role last season, and he impressed us. That and his performance in the preseason had him on track to fight for that spot on the blue line.
John Klingberg:
Klingberg, who is also dealing with an injury, is believed to have a minor one, according to Keefe.
It's not known when he first got injured, but he didn't play a ton against the Sabres in St. Thomas. After the game, it was announced that something tightened up on him, and he was day-to-day.
All that Keefe said was it's a minor injury that he is currently dealing with, but he hasn't been on the ice for five days now, Luke Fox of Sportsnet said on X.
Calle Jarnkrok:
After a ton of speculation over the past week with fans wondering if a trade was imminent for Calle Jarnkrok, it was finally revealed that he was dealing with an injury sustained in practice.
According to Mark Masters of TSN, Jarnkrok said he twisted his neck in practice but now feels good and hopes to play in one of the final two preseason games after tonight's game at home.
Whenever Jarnkrok gets back into game action, he'll most likely slot back on a line with Max Domi and William Nylander.
The Maple Leafs and Canadiens play at Scotiabank Arena
tonight
at 7 pm Eastern time.