Timothy Liljegren is determined, confident and impacting the Leafs already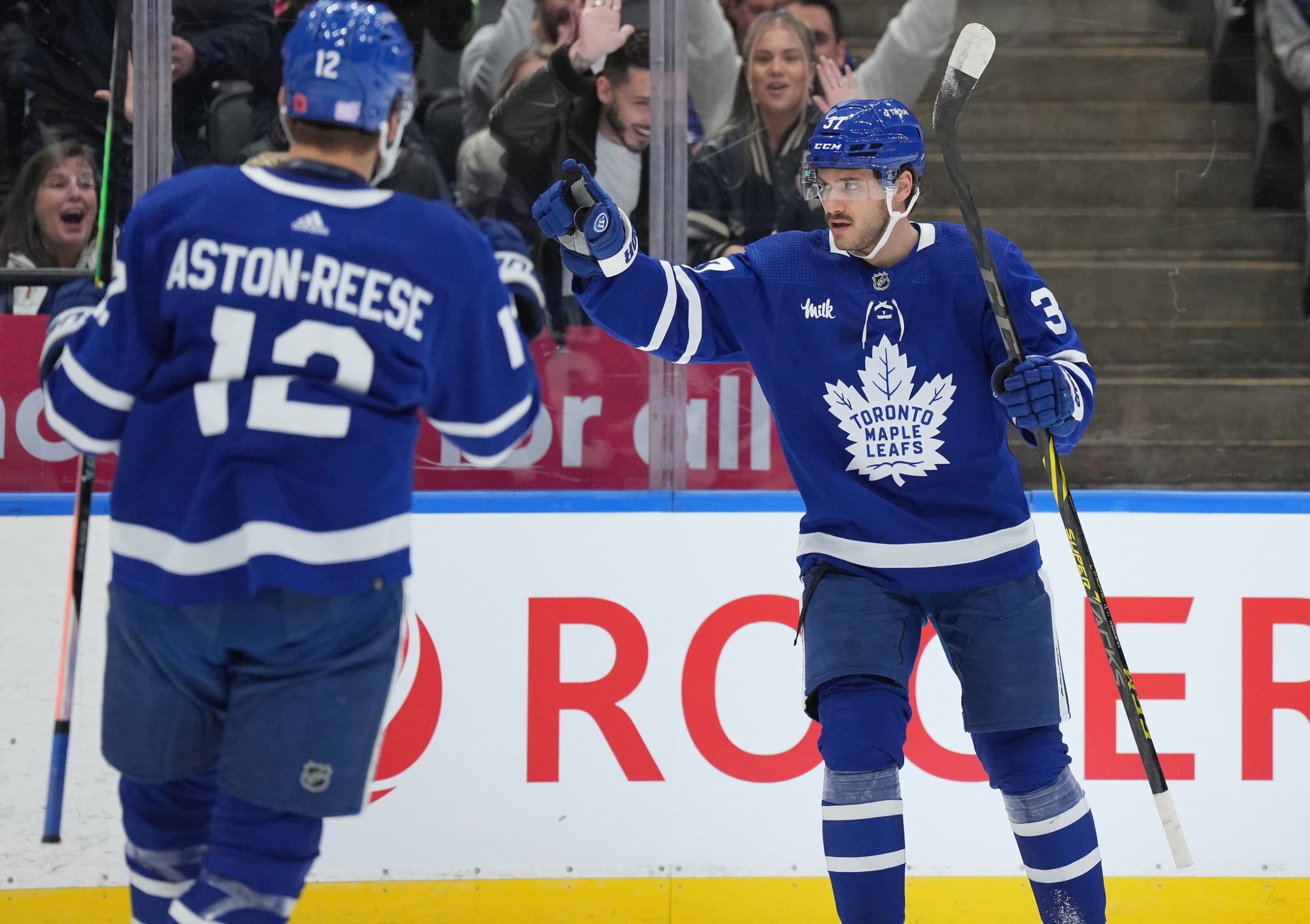 Photo credit:Nick Turchiaro-USA TODAY Sports
It took about two shifts of Timothy Liljegren's first AHL game with the Toronto Marlies this season to prove he was ready to step back up to the big club.
He was dominant with the puck, forcing Syracuse to make mistake after mistake and looked like a proven veteran. That's what you'd expect from someone that played 61 NHL games the year before. And after a successful two-game conditioning stint, Liljegren was back with the Leafs for his first game on Saturday against Boston. Coach Sheldon Keefe eased him in – he had some moments in his first two games, but he wasn't all there just yet. The AHL is one thing – everyday NHL action after a six-month layoff is another.
But Liljegren's performance on Tuesday against Vegas – a two-goal night against one of the best teams and one of the best goalies – showed be was TRULY back. Liljegren had never scored twice in a game during his NHL career, but he looked like as confident and strong with the puck as ever. And after the mess of a start to the year it has been for Toronto's blueline, mainly due to injuries, it's a welcome sight. The Leafs ultimately lost 4-3 in overtime, but Liljegren impressed with a season-high 18:42, which included some short-handed time.
Liljegren scored Toronto's first of the game at the 5:05 mark to answer back from Nicolas Roy's first-minute goal. He then made an egregious giveaway to Jack Eichel to set up Vegas' second of the night late in the first. He eventually scored his second of the night late in the second, taking a Mitch Marner feed and sending it past Logan Thompson for the 3-2 goal – a lead that lasted until the 51-minute mark.
That's how you answer for a mistake.
"It was nice to see him get (two goals), especially the second one. Imagine, puck's on his stick there and give up one there at the end of the first period," Keefe said. "Young players, you want them to keep their confidence… It was a pretty dominant sequence and shift for us there offensively, the puck lands on his stick and he just pounded it into the net. I love to see that."
Liljegren said he doesn't see himself as a goal-scorer – Tuesday was his first multi-goal game of his career, and he has just seven through 77 games. But Liljegren's performance was a popular one, regardless of the final score.
"He's been playing some good hockey recently, he's getting those pucks off quickly. He was in some great spots for both of those goals," Marner said post-game.
Liljegren's player early on is exactly the type of effort you'd want to see from someone who missed significant time. Sports hernia surgery in September kept Liljegren off the books for a couple weeks before he eventually returned to casual skating in early October. His first game with the Marlies, on October 26, was the first real action he'd seen since Game 2 of Toronto's first-round playoff matchup with Tampa last May.
We're seeing a refined, focused and more established defenseman in Liljegren. The 23-year-old signed a two-year extension worth $1.4 million per season over the summer, giving the team inexpensive defensive depth. And while we're talking about a player that's just three games into the season, it's been a solid three games. Having the team's No. 1 defenseman in Morgan Rielly as a linemate doesn't hurt, either, especially since Rielly can make up for any mistakes in Liljegren's game.
And at this point, expecting a few a night makes sense. He's still young and trying to establish his place in the lineup long-term. Losing the start of the season to an injury didn't make things any easier, but it's like he hasn't missed a beat.
Jake Muzzin's long-term injury left a big hole on Toronto's blueline, which has already seen various players placed on injured reserve this season. They're mostly at full health after the return of Liljegren and Jordie Benn, but they're still looking for everyday stability. Maybe, given Toronto's patient development curve with Liljegren – a first-round pick in 2017 – will eventually pay off in a big way for the Leafs. It's still a petite sample size, but the ball's in Liljegren's court in terms of where he takes his game moving forward.