Timothy Liljegren's strong play should not go unnoticed during Maple Leafs' success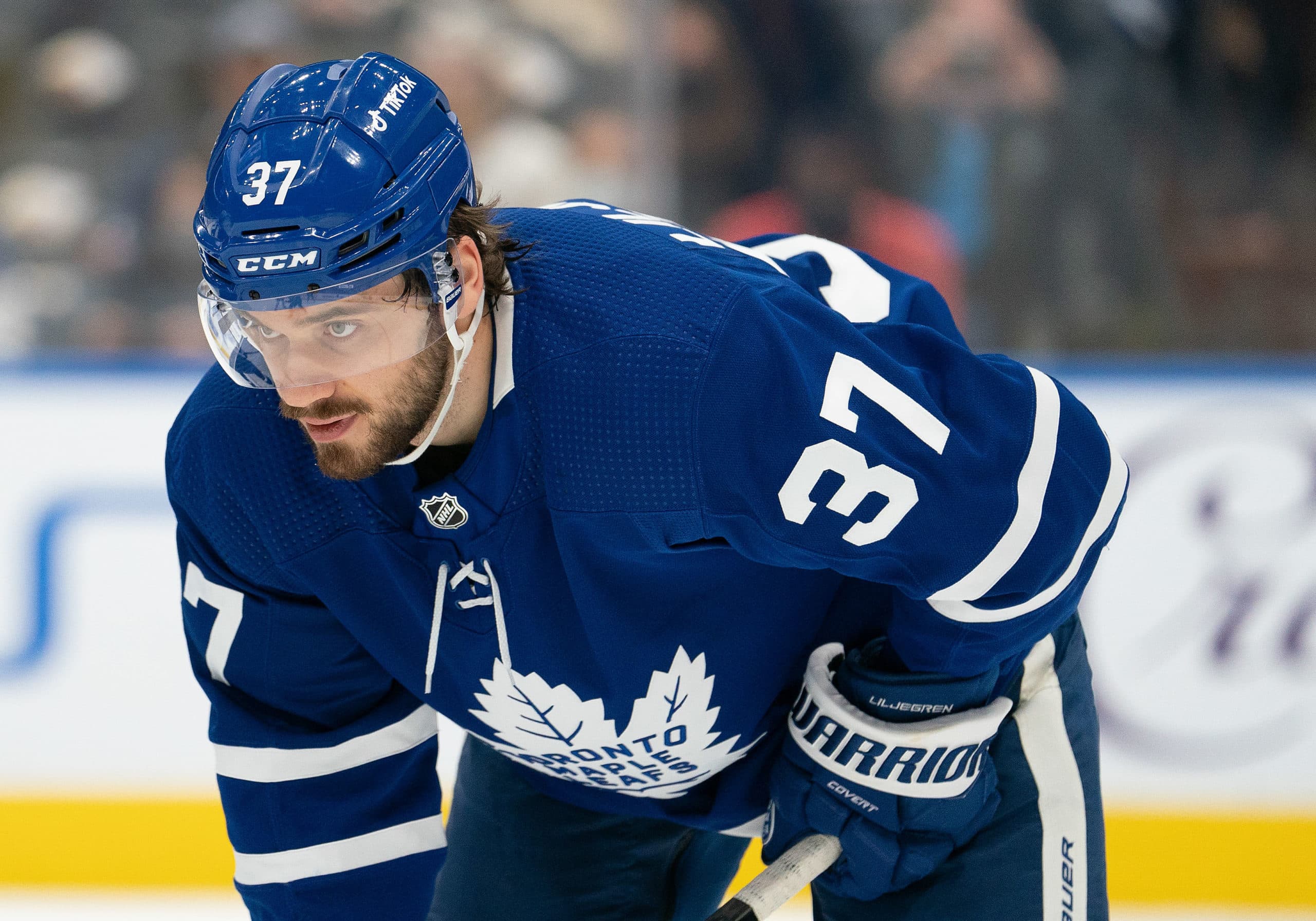 Photo credit:Nick Turchiaro-USA TODAY Sports
Having success in the NHL means a lot has to go right, but also that the player has to rise up to the occasion.
Timothy Liljegren didn't know how much time he'd be getting with the Maple Leafs this season, but many knew he was done in the American Hockey League. For a few months, he was bouncing in and out of the lineup, not getting the full look he deserved from his strong play in the season prior.
After the departure of Travis Dermott to Vancouver, and injuries to Jake Muzzin and Rasmus Sandin, Liljegren is finally getting his chance.
And he's running with it.
The 22-year-old has been paired up with a number of players this season, but no one like Norris-Trophy winning defenceman Mark Giordano. After the 38-year-old arrived in Toronto, he was first paired up with Liljegren. The pair played so well that Maple Leafs head coach Sheldon Keefe kept them together for five games.
Through those five games, the two had an 78.30 xGF% at five-on-five, playing against some of the opposing team's top lines. What's more interesting, though, is that the pair had those stats, plus a 62.35 CF% at five-on-five, while also having an on-ice SV% of 85.71.
Liljegren and Giordano also only gave up one high-danger scoring chance through the 53:19 they played together at five-on-five.
"I was really impressed playing with him," said Giordano of Liljegren after their first game together as a pairing. "For a young guy, he's got super poise with the puck, he makes really, really good decisions out there. You don't really get a sense of how complete his game is on TV. I was really impressed with positioning and all the little plays he makes."
It's not just the play with Giordano that's made Liljegren such a successful defenceman. Throughout this entire season, the 22-year-old has improved little by little, and to me, is not getting enough recognition for his defensive abilities.
Among Maple Leafs defencemen who've played over 100 minutes this season at five-on-five, Liljegren leads in CF% (56.99), SF% (56.80), GF% (56.25), xGF% (61.99), SCF% (60.37), and HDCF% (60.80).
"That's an area I feel I've been getting better at," the 22-year-old said last week about his poise with the puck. "I think that comes with experience and just the more games you play, you get more comfortable, and obviously I've played some games this year and that's helped me out a lot."
Looking back to last season with the Marlies, one of the elements Liljegren wanted to improve was his offense. He knew he had the ability to be a strong two-way defenceman, he just had to show it. The 22-year-old proved it in the AHL last season and is doing it in the NHL this year.
Scoring this goal on Thursday night was a sweetener to the offensive improvements he's made this season, but the clip below shows his poise in the o-zone. This is something he did frequently in the AHL last year.
His ability to make strong plays at the opposing teams blue line allows the Maple Leafs to have more time in the zone, but it also sets up for some scoring chances as well. Like Giordano said, too, his defensive game is strong, but he's even brought the physicality.
Every element of Liljegren's game has improved throughout this season, and it's looking more and more like he's becoming the defenceman Toronto thought he would be back in 2017.
The most important piece to all of this is that once Muzzin, Sandin, and Ilya Lyubushkin return to the Maple Leafs lineup, there's going to be a lot of decisions that need to made. They're not easy either.
But game after game, Liljegren seems to be making those decisions even more difficult. I think with his strong play, there should be no reason that he's taken out of the lineup once each player returns from injury.
For the Maple Leafs sake, they are a much better team with Liljegren out on the ice.
(Stats via naturalstattrick.com)