TLN Prospect #3: The rise of Topi Niemelä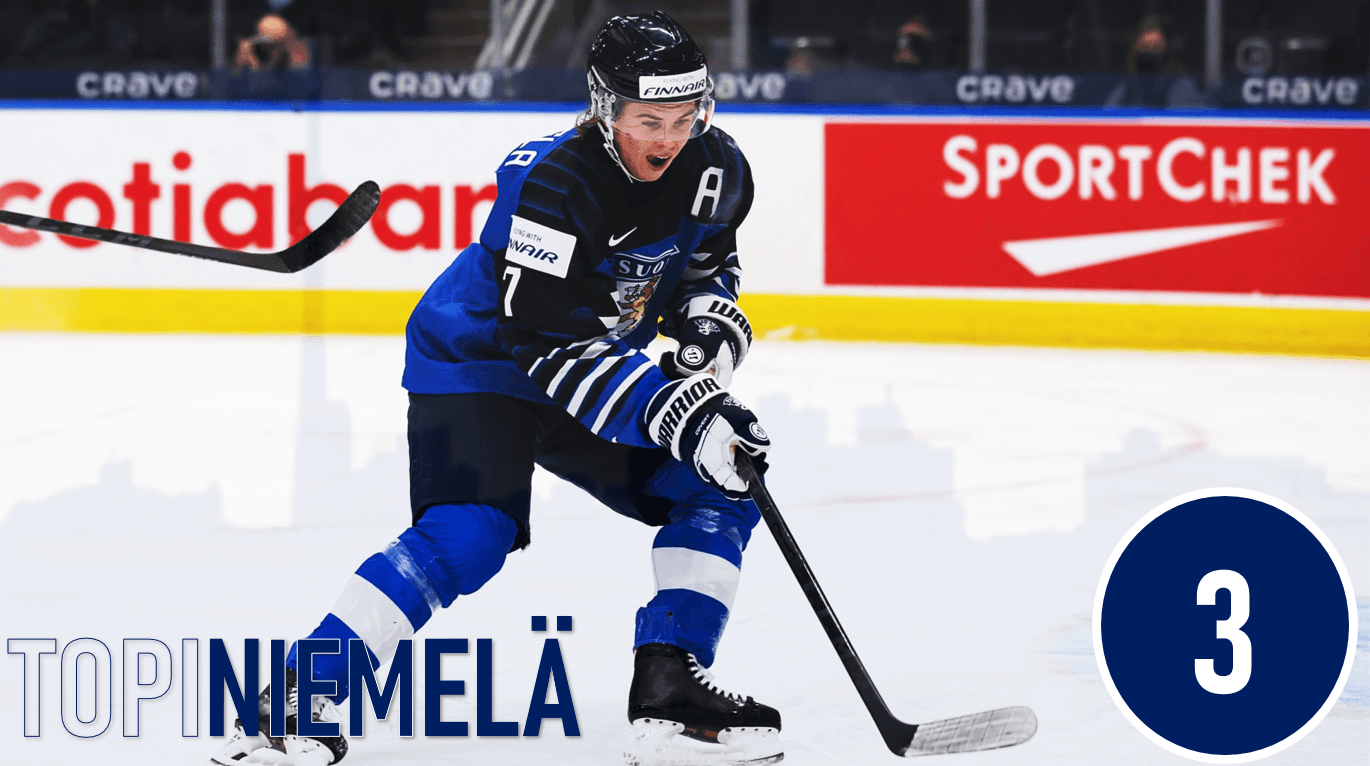 Topi Niemelä has been on a steady climb towards the top of the Leafs' prospect pool ever since he was selected in the third round of the 2020 NHL Draft.
When he was drafted, he profiled as a modern-day defensive defenseman and the organization raved about his off-puck instincts. In the two seasons since then, Niemelä's offensive game has progressed in a big way and he is now considered among the best young blueliners playing outside the NHL.
His coming out party was the 2021 World Junior Championships, where he tallied eight points in seven games on his way to being named the tournament's top defenseman, and he has only continued to build off of that performance. He is currently representing Finland once again at the World Juniors reboot in Alberta and, as of this writing, has four assists through four games.
Climbing two spots from number five on last summer's list, Niemelä is now the top-ranked defensive prospect in the Leafs' system after Rasmus Sandin and Timothy Liljegren both graduated to the NHL full-time last season.
Topi Niemelä
D | Kärpät (Liiga) | Age: 20 | 5-foot-11 | 170 lbs | Shoots: R
Acquired: 2020 3rd Round, 64th Overall | 2021 Ranking: 5
Niemelä had a massively productive 2021-22 season. In fact, his 32 points were the most ever by a U20 defenseman in Liiga. Overall, his 10 goals were the fifth most in the entire league among defensemen, and he finished with the eighth highest point total as well. He played fewer games than everyone who finished ahead of him, however, and his mark of .67 points per game was the second best among all Liiga blueliners who played more than 10 games.
Niemelä graded out near the top of the league in just about every offensive category in 2021-22, and he was particularly impactful at even strength. Of the 32 points he recorded on the season, 20 of them came at even strength, including nine goals. He wasn't simply racking up secondary assists either and was directly involved in creating a lot of offense for his team, with 22 of his points being either a goal or first assist.
He took on a sizeable workload for such a young player, and though his goals against numbers were slightly below average relative to both his teammates and the rest of the league, his ability to drive offense from the backend still helped him finish near the top of the league in relative goals for percentage.
Some shooting regression should be expected moving forward, but Niemelä does such a good job of finding quality looks and his shot is good enough that his goal scoring from the back end should be somewhat sustainable.
Niemelä's greatest attributes are his overall intelligence and his ability to read the play on both sides of the puck. He is proactive defensively and kills a lot of plays before they even get started, be it by smothering a passing option in the neutral zone or jumping into a lane and closing it off as the opposing player attempts a pass. He isn't necessarily an explosive skater but he has good edge work and lateral mobility, which allow him to play a tight gap in defensive transition.
We see defenders concede the blue line all the time but Niemelä consistently does a good job of limiting time and space off the rush. Watch how he scans the oncoming attack on this play, identifying the center lane drive by the opposing forward before stepping up at the line to break up the pass and quickly put his team back on the offensive:
Here is another good example of Niemelä blanketing an attacking forward off the rush and making a calculated decision to step up and kill the play at his own blue line:
Niemelä processes the game at a high rate and has a knack for quickly identifying oncoming threats. He also uses his stick really well to disrupt opposing chances, which helps to mitigate some of his physical disadvantages. In the clip below, he recognizes his backchecking teammate letting his man go and fades back toward the middle to pick him up. A quick stick check breaks up the chance and Niemelä is able to start the breakout in short order.
Niemelä is still a physically immature player and can be overmatched at times, though it isn't for lack of effort. Despite that, he regularly shows off his poise with the puck in situations where he is facing pressure. He is still prone to the odd ill-advised dump out or low-percentage pass attempt but for the most part, Niemelä takes good care of the puck while looking to make a play.
Here, he gets in front of the puck being directed at his net and prevents any second chance opportunities, and instead of just chipping it off the glass and out, he cuts away from the forechecking forward to find a better option on the breakout:
The same proactive nature that makes him an effective defender began to translate to his offensive game with more consistency this past season. He will activate into the rush to create odd-man advantages for his team, skate himself into open space in the offensive zone, and keeps his feet moving to make himself available for return feeds after he draws attention and dishes the puck.
Watch how he basically leads the rush on this regroup, taking the lane available to him in the middle of the neutral zone to facilitate the clean zone entry and ensuing scoring chance:
Niemelä is active in the offensive zone as well, employing intelligent routes and spacing off of the puck. In the clip below, he makes a nice short-area pass to keep the puck in at the line, and when he realizes his check has overcommitted at the point, he jumps into the vacated space in the high slot before making a slick deke and pass that eventually leads to a goal for his club.
His decision-making is refined for such a young player and he does a great job of picking his spots to push for offense. He rarely takes himself out of the play but he isn't conservative by any means, either. Watch this play where he recognizes he has a step on his man as he is making the breakout pass and sprints up ice to create an odd-man rush before taking the pass in the slot and burying it:
Niemelä doesn't need to be up in the rush to score, however, and he is a legitimate threat from the point. He has a quick release on his wrister and gets it through to the net with consistency, and he has a bomb of a slapshot from the point:
You will often hear people in hockey talk about players being able to layer their skills on top of one another in order to maximize their potential, and that is what Niemelä started to do with regularity in 2021-22. He continued to show off his defensive instincts but was more efficient in how he would drive offense off of puck retrievals or opposing turnovers, putting his vision to work with the puck on his stick.
This past season was a huge step forward for Niemelä but there is still room for improvement in a lot of areas. The first thing is his obvious lack of size and strength – he is just under 6'0″ tall and needs to fill out his frame in order to handle the rigors of North American pro hockey. The smaller ice surface will also present a challenge for him when he makes the jump, as he will be forced to make quicker decisions and won't have as much room to navigate around opposing forecheckers.
Added strength may also help to make Niemelä into a more explosive skater. He is agile and elusive, able to stick with oncoming attackers or dodge opposing forecheckers, but he doesn't have that top gear to create separation or recover on the rare occasions when the play gets behind him.
Niemelä signed his entry level contract with the Leafs in the spring, but he isn't expected to begin his North American career just yet. Unless he makes the Leafs out of training camp, which is a long shot at best, he will be loaned back to Kärpät for another season. Already a prominent figure there, he should only see his role and responsibilities increase in what will be his third full season in Liiga.
The Leafs don't appear to have a whole lot coming through the defensive pipeline behind Sandin and Liljegren but Niemelä has comparable potential to both of those players. His game is well-rounded enough, and he has enough hockey IQ that he should be able to at least handle bottom pairing duty in the future, but he also has plenty of upside to grow into a top-four NHL defender down the road.
Coming in at #3 on TLN's 2022 Leafs Prospect Rankings, Niemelä fills the void in the prospect pool left by Sandin and Liljegren. With the consistent progress he has shown over the last couple of seasons, chances are he will get to join them on the Leafs' blue line one day.
(Statistics from EliteProspects.com)