TLN Prospect #5: Fraser Minten brings potential and projectability to the Leafs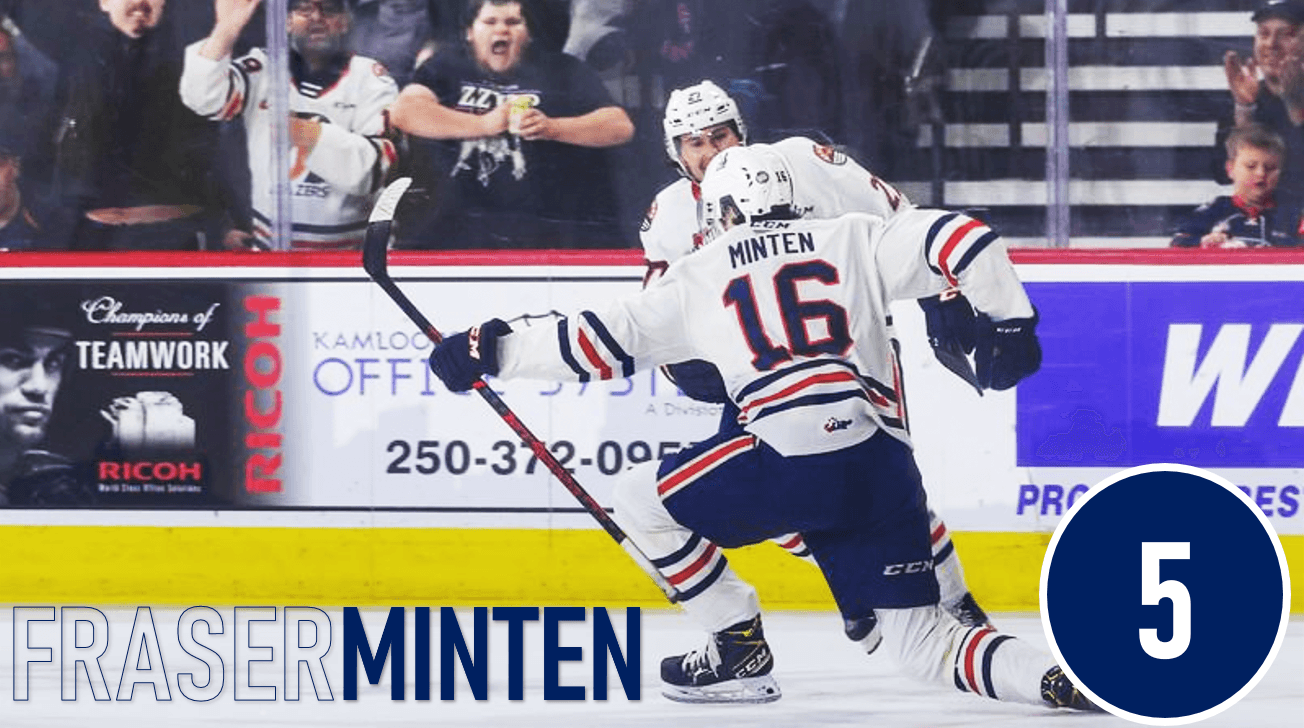 Ahead of the draft, I was of the belief that the
Leafs should be targeting more NHL projectability with their early picks
rather than just swinging on higher upside prospects who provided less certainty in their overall projections. Last year's selection of Matt Knies in the second round – a player with a relatively safe floor who still possessed some offensive upside – was a step in that direction, and the early returns have certainly exceeded expectations.
The Leafs went in a similar direction with their first pick of the 2022 draft after trading out of the first round, and while it was a bit of a reach in relation to most public draft rankings, the selection of Fraser Minten at 38th overall also offered an intriguing balance of potential and projectability.
One of the youngest players in the draft, Minten was a bit of a late riser in the lead-up to the draft, at least in terms of the buzz surrounding his name. Still, he went off the board much earlier than many were expecting, and the Leafs stood pat to select him rather than taking the chance and trading down again, illustrating the organization's belief in the player.
Given Minten's age, his already solid base of skills, and the fact that he has only been playing high-level hockey for a relatively short time, Kyle Dubas and the rest of the Leafs' front office believe there is plenty of untapped potential in their 2022 second-rounder. Making his TLN Prospect Rankings debut at #5, Minten will be looking to reward that faith and propel his way up the organizational depth chart.
Fraser Minten
C | Kamloops (WHL) | Age: 18 | 6-foot-1 | 185 lbs | Shoots: L
Acquired: 2022 2nd Round, 38th Overall | 2021 Ranking: N/A
Minten actually bears a few similarities to Knies. Both players were considered to be "safe" picks due in large part to their physical tools, and both players also had strong second halves after slower starts to their respective draft years.
Minten finished the 2021-22 regular season with 20 goals and 35 assists for 55 points in 67 games – respectable numbers but not eye-popping. Breaking down his season, however, you can see that he really turned it on and elevated his game down the stretch. He played at a point per game pace in the final 25 games of the regular season, notching nine goals and 16 assists, and carried his strong play into the postseason, where he added six goals and 10 assists in 17 games to help lead Kamloops on a deep playoff run.
As a younger player on one of the WHL's best teams, Minten still managed to carve out a prominent role as the season wore on, and he was able to post positive goal share numbers, even relative to his teammates. Part of that is due to his solid two-way game but the numbers show that Minten was one of the league's better creators, ranking in the 89th percentile in even strength assists per estimated 60 minutes of ice time. It is worth noting, however, that he picked up more than a few assists from low-percentage shots that found their way onto a teammate's stick around the net.
Minten generates shots at a high rate but is sometimes prone to settling for shots from low-danger areas, evidenced at least partially by his below-average shooting percentage.
"In terms of his shot generation, Minten's 13.6 shots per estimated 60 ranked top 20 in the WHL among forwards. What is especially notable about this is that of that group of 20, Minten had the lowest shooting percentage, down at 9.4 per cent.

The average shooting percentage of the top 20, excluding Minten, was 14.2 per cent. Had he scored at that rate, that would have added another 10 goals to his season total of 20."
He was much more dangerous on the powerplay, however, and was among the best in the WHL at converting with the man advantage. He has a quality release, and when he has more time and space to let it go from dangerous areas, he can be a real weapon.
Despite his seemingly pedestrian numbers, a deeper look at Minten's statistical profile lends credence to the idea that he was worthy of the swing the Leafs took on him in the second round. He generates a lot of offensive opportunities and there is probably some positive regression coming in the form of his shooting percentage, and over 85% of his 35 even strength points were of the primary variety (a goal or first assist). Combine that with his strong defensive game, leadership qualities, and willingness to play a physical brand of hockey, and you can start to see why the Leafs are so high on him.
Watching Minten play, his abundance of raw tools is apparent. When he has everything clicking together, he can impact the game in a number of ways on both sides of the puck.
He is a strong shooter who constantly funnels pucks towards the net – sometimes to a fault – but when he has time and space, or the puck finds him in a dangerous area, there is a good chance he is going to bury it.
He likes to get pucks off the wall and into the middle of the ice, and with all the extra room provided on this two-man advantage opportunity, Minten is able to beat the opposing netminder cleanly with a crisp release from the slot:
Minten makes a habit of getting to the dangerous areas of the offensive zone, and he has good puck protection skills along the boards, but he is also dangerous from the outside. Check out the power he gets on this shot when is able to get going downhill toward the net before picking his spot and firing:
He is also a dangerous player off the rush, but he doesn't typically do it with blazing speed or electrifying puck skills. Rather, he utilizes intelligent rush patterns and accelerates through crossovers to keep defenders on their heels. Instead of attacking the defender head-on and trying to beat him with a slick deke on this rush, Minten scans the play with his head up and gets the defender moving laterally as he protects the puck on his strong side to buy enough time and space to find the back of the net:
Here is another example of Minten getting the defense moving laterally in order to create lanes around the net, this time acting as the setup man. On this play, he does layer a slick deke into his attack before making the cross-crease pass:
One of the things that really stands out about Minten is his processing speed and ability to read the play as it unfolds around him. That is evident in the lanes he takes and in the way he utilizes his teammates in the give-and-go game, and he also makes quick reads with the puck on his stick. Watch how quickly he fires this cross-ice pass to an open teammate after picking up the puck along the wall:
A strong two-way player who consistently displays great awareness and responsible habits off the puck, Minten also has the ability to create offense from defense. He was a trusted penalty killer for Kamloops last season and proved to be a threat while down a man, picking up three shorthanded markers between the regular season and playoffs.
The clip below is a great scoring play that all starts in the defensive zone as Minten gets his stick on the cross-ice pass attempt and quickly turns play up ice. He fights off a check in the neutral zone to get the puck over to his teammate and then drives the far post to finish off the great return feed:
The addition of Minten to the Leafs' prospect pool also helps to diversify the organization's pipeline. The Dubas regime has earned a reputation for valuing raw skill above all else, and they have added a number of talented prospects to the system in the last few drafts, but they haven't added a ton of projectable physicality to the organization on the draft floor outside of Knies and
2020 seventh-rounder Ryan Tverberg
.
In Minten, the Leafs now have another high-end prospect with good size who likes to hit people. Currently listed at 6'1″ and 185 pounds, he should continue to get stronger as he matures physically, which should help him land hits like these ones at the pro level someday:
Minten isn't a great skater at this point in his development, but that is something that should also improve as he grows into his body in the coming years. He still manages to cover the ice effectively and displays solid technique for the most part, even if he can be a bit too upright and doesn't always maximize extension on his stride.
Besides working on his skating, the biggest thing for Minten will be continuing to layer all of his raw tools on top of one another consistently, as he started to do in the back half of last season. He has shown the ability to be a high-end facilitator on occasion but refining his decision-making and becoming a bit more dynamic as a playmaker would really take his game to another level. There is room for improvement in his shot selection and his ability to find soft spots in coverage as well, but those are minor concerns at this point, and I expect him to take significant strides in those areas when he returns to Kamloops this fall.
It figures to be a big year for Minten with Kamloops gunning for a Memorial Cup title as the host city in 2023. Lauded for his maturity and leadership skills by his teammates and Leafs management alike, he is primed to take on an even larger role for the Blazers than he did in 2021-22. Minten was also invited to the recent evaluation camp for Canada's 2023 World Junior squad, and a strong start to his WHL campaign would help to solidify his place on that team for the annual holiday tournament.
The Leafs' selection of Minten was a bit of a departure for this management group as there were a number of players available who were perceived – at least publically – to possess higher upside, but the organization is bullish on their newest prized prospect. While he was considered by many to be a "safe" pick who projects relatively safely to be at least a fourth line player in the NHL, he also has the tools and runway in front of him to become an effective two-way, middle-six center for the Leafs one day.
Dubas and his staff have placed a ton of faith in Minten, and now he will be looking to make a believer out of everyone else in his pursuit of living out his NHL dream.
(Statistics from EliteProspects.com)