TLN Prospect Rankings: Honourable Mentions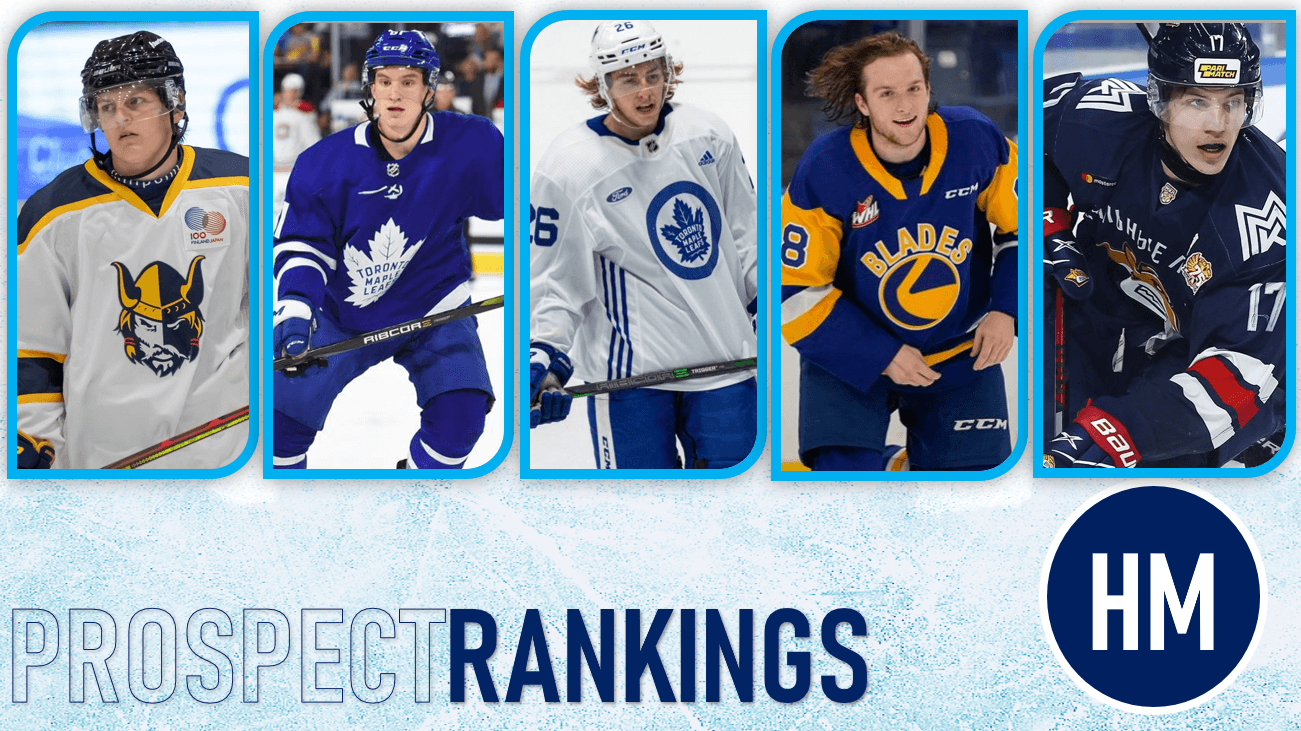 Our countdown of the top 20 prospects in the Maple Leafs' system gets underway on Monday, and having already examined the players who graduated from last year's list as well as the players who didn't receive a vote for this year's list, it is time to take a look at this year's honourable mentions.
The following five players failed to crack our top 20 this time around, but they all received at least one vote from our team for this year's ranking.
Brandon Lisowsky
W | Saskatoon (WHL) | 5'9″ | 172 lbs | Shoots: L 
Acquired: 2022 NHL Draft, seventh round, 218th overall | 2021 Ranking: N/A
The Leafs landed Lisowsky with their final selection in the 2022 draft at 218th overall, and while he is a long-term project, he has the potential to significantly outperform his draft slot over time. Many in the draft and scouting community had Lisowsky pegged to go much earlier than where the Leafs ultimately scooped him up – he landed in the 91st spot on TLN's consolidated draft rankings and was ranked as high as 53rd on McKeen's final list.
Lisowsky had a very productive draft year for Saskatoon, and his 33 goals were more than all WHL draft-eligibles aside from Matthew Savoie (9th overall) and Jagger Firkus (35th overall). He finished the year with 58 points in 68 games before adding another three goals and two assists in five playoff games.
Lisowsky's calling card is his goal-scoring ability, featuring an expansive repertoire of shots that he uses to beat goaltenders in a variety of ways. He has a powerful snap shot and a heavy curl-and-drag wrister, but he can also adjust on the fly and release the puck with accuracy from different stances or hand positions.
He is undersized, and while there is room for improvement in his overall skating ability, he has a quick first step to burst into open space and great edge work that allows him to make quick cuts around defenders and create room to shoot. Lisowsky competes hard and hunts pucks in the offensive zone, but he can be physically overmatched at times, so adding core strength will be key to his development in the coming years. Another area of focus will be diversifying his straight-line attacking style and utilizing his teammates more efficiently to drive offense.
As is the case with any player selected this late in the draft, Lisowsky is a long-term project, but he is the exact type of player teams should be swinging for with their late-round picks. He has already proven to be an impactful player at the junior level, and if he is able to build upon his impressive draft year when he returns to the WHL this fall, he will likely land well inside next year's top 20.
Mac Hollowell
D | Toronto (AHL) | 5'9″ | 170 lbs | Shoots: R
Acquired: 2018 NHL Draft, fourth round, 118th overall | 2021 Ranking: 13
Hollowell's offensive production rebounded this past season after a down year in 2020-21, but it wasn't enough to keep him from falling off our list after being ranked 13th last summer. Set to turn 24 years old in September, he now has three AHL seasons under his belt and his time to break through to the NHL may be running short.
After registering just two goals and eight assists in 27 games in 2020-21, Hollowell chipped in with five goals and 21 assists in 45 games for the Marlies this past season. He finished 13th in team scoring and second among blueliners behind Joey Duszak, who notched 52 points in 61 games.
Hollowell is a smooth-skating defenseman who drives play from the back end. He can beat opposing forecheckers with his speed and agility or with a solid first pass to lead the breakout. Hollowell has outstanding edge work that allows him to quickly change direction in order to elude opposing players and find space to make a play, but he can occasionally be forced into poor decisions under pressure. He is a decent defender and, despite his lack of size, is willing to engage physically, but his true strengths shine through on the offensive side of the puck.
Those strengths, however, haven't been enough to overcome his physical and defensive limitations and break through to the NHL roster. He will return to the Marlies for the 2022-23 season and will be looked to as a leader for a defensive core that will include plenty of fresh faces, but his chances of becoming a regular NHL appear slim at this point. That said, a strong start in the AHL could eventually earn him a look if there are injuries to the Leafs' more offensive-minded blueliners.
Axel Rindell
D | Toronto (AHL) | 6'0″ | 176 lbs | Shoots: R
Acquired: 2020 NHL Draft, sixth round, 177th overall | 2021 Ranking: Unranked
Rindell got off to a slow start with Jukurit in Liiga this past season, but an early move to Kärpät seemed to spark his offensive game, at least early on. After registering just five assists through 16 games with Jukurit, he managed a goal and eight assists in his first 11 games with Kärpät, but his role and production diminished as the season wore on, and he would add just three more assists in 15 more games.
With his rights set to expire this summer, the Leafs opted to sign Rindell to a two-year entry level contract that will begin this coming season. He shares some similarities with Hollowell as an offensive-leaning blueliner who has good mobility, but he has a more pro-ready frame at 6'0″.
Rindell is a legitimate scoring threat from the back end with his heavy one-timer and ability to create lanes to unleash his powerful and accurate wrist shot. He shows confidence – sometimes to a fault – with the puck on his stick and isn't scared to attempt creative plays to beat defenders. He has the puck skills to do it and displays poise under pressure, but his panic threshold might be a little too high, and he will have to continue to refine his decision-making.
There is no questioning Rindell's offensive abilities from the blue line, but it will be interesting to see how he handles the adjustment to North America, where he will be provided with significantly less time and space than he is used to seeing in Finland. He should push for a role on the powerplay during his first season with the Marlies, and a strong season could see him crack our top 20 next summer.
Nikita Grebenkin
W | Magnitogorsk (KHL/MHL) | 6'2″ | 183 lbs | Shoots: L
Acquired: 2022 NHL Draft, fifth round, 135th overall | 2021 Ranking: N/A
Grebenkin was passed over in last year's draft, but his strong season at the Russian junior level was enough for the Leafs to take a chance on him with their fifth-round pick in the 2022 draft. He just turned 19 in February and got into one game for his KHL club last season but was extremely productive in the MHL, finishing third in team scoring with 17 goals and 47 assists in 58 regular season games. He went on to add two goals and 11 assists in nine postseason contests.
Grebenkin is a versatile offensive threat who does most of his damage as a playmaker. He is a great puck handler, able to manipulate and beat defenders with skilled moves, and he displays good creativity and vision with the puck on his stick. He processes the game well and can string slick dekes into accurate passes to set up his teammates in scoring areas, but he can also take the puck to the net himself, where he has plenty of skill to finish scoring plays of his own. Grebenkin also has good puck protection skills, particularly along the boards, where he is able to maintain possession while looking for an option before making a play off the wall and into the middle of the offensive zone.
The main areas of focus for Grebenkin as he develops will be cleaning up his stride while becoming a bit more explosive and solidifying his play away from the puck, both offensively and defensively. Magnitogorsk had a strong KHL squad last season, and it will be difficult for Grebenkin to force his way into regular playing time, but he has the offensive skill set to make an impact at that level if given the opportunity. As a late-round selection, he is a bet on upside, but there is a lot to like about his offensive potential.
Braeden Kressler
C/W | Flint (OHL) | 5'9″ | 165 lbs | Shoots: R
Acquired: Signed as an undrafted free agent in 2021 | 2021 Ranking: N/A
Perhaps a victim of the OHL's Covid shutdown in 2020-21, Kressler went undrafted in his first year of eligibility. He was invited to the Leafs' development camp, however, and made good on the opportunity to earn himself a three-year entry level contract with Toronto.
He got off to a solid start for Flint after being assigned back to the OHL, but a UCL injury in January limited him to just 28 games for the season, in which he registered an underwhelming five goals and 11 assists. He was back in time for the playoffs and rebounded to help lead the Firebirds all the way to game seven of the conference finals, notching six goals and four assists over 17 playoff contests.
There is more to Kressler's game than raw offensive production, though. He lacks size and strength but makes up for it with his tenacity and work ethic. He doesn't shy away from the dirty areas and competes hard along the boards to help sustain possessions for his team. Kressler is more shifty than he is fast, but he should become a more explosive skater as he continues to mature physically. He has a deceptive release on his wrist shot which should also become more powerful as he adds size and strength in the coming years.
Kressler's development has been disrupted by the OHL's canceled season and the injury he suffered last season, so he will be eager to get back to work with Flint this fall. There is more offense in his game than he was able to show last year, and if he is able to layer that upon his energetic style of play with more consistency, he has a shot at becoming a bottom-six forward at the NHL level someday.
(Statistics from EliteProspects.com)