TLN Rumour Recap: Potential Robertson trade, Garland deal close, Blue Jackets moving a defenceman?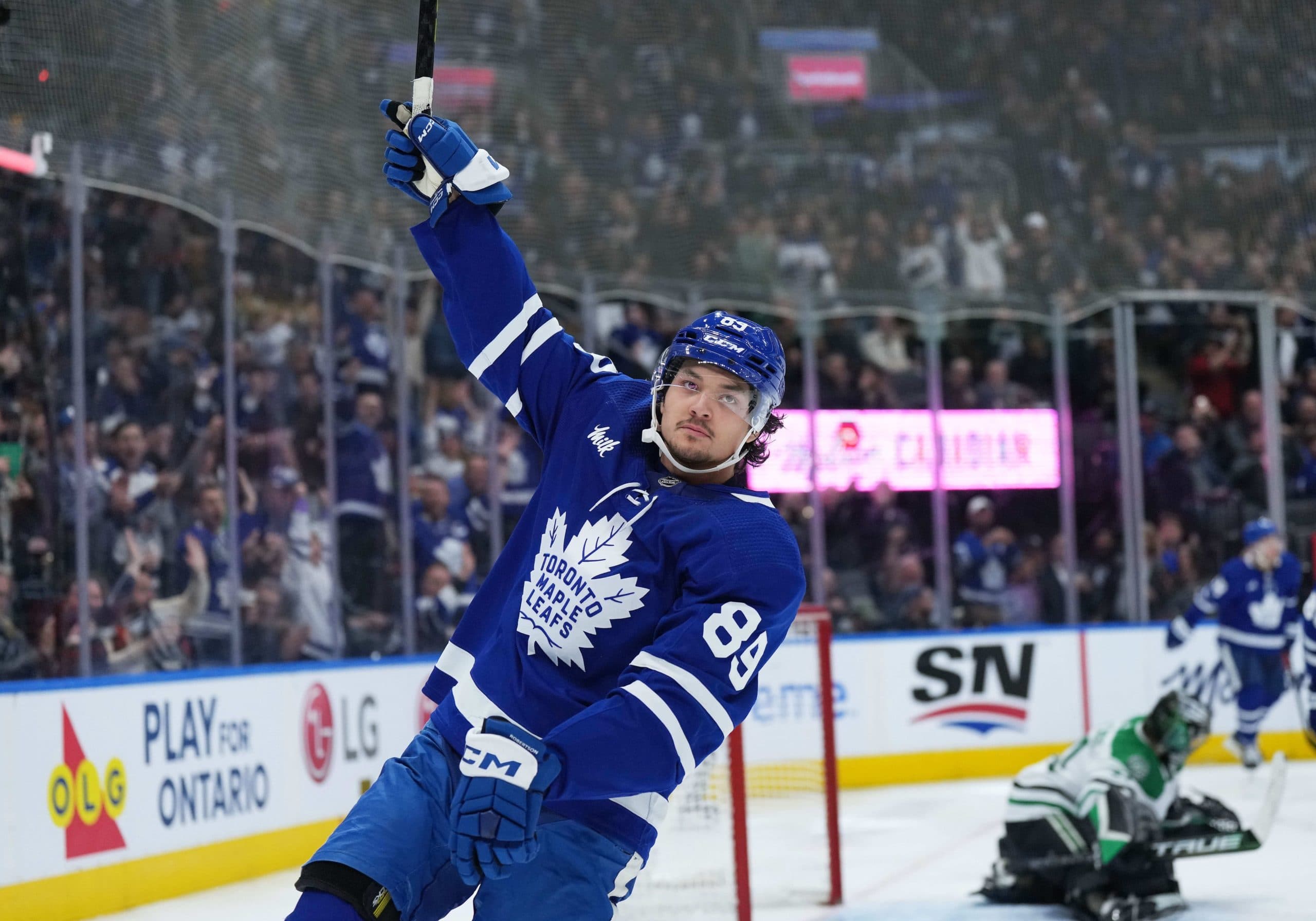 Photo credit:© Nick Turchiaro-USA TODAY Sports
Last week we introduced you to the TLN Rumour Recap, our latest project to keep you informed with the very latest buzz from around the NHL and we're happy you're back for week two.
Nick Robertson Happy in Toronto…For Now?
Robertson is off to a hot start with the Toronto Marlies, recording five points in his first two games. He's chomping at the bit for another shot with the Leafs, and if Fraser Minten gets sent back to junior in the next week or so, there could be a roster spot open with Robertson's name on it.
Let's hope for Minten's sake he sticks it out for the entire season, however at this point there hasn't been much of a case for it. The thing is, Minten is a centre and Robertson plays the wing so getting called up is linked to who plays third-line centre for head coach Sheldon Keefe. No chance William Nylander gets moved back there for another look after the start he's having – why would you take away ice time after seeing how much he's dominating to start the year? Robertson is in a tough spot and hopefully for him, Max Domi gets a look down the middle and he can then slide into the third-line left wing.
The very latest buzz around Robertson came from hockey insider
Elliotte Friedman
in his latest 32 Thoughts. Friedman mentioned "It wasn't easy for him to go back to the Marlies, but all you can do is produce and he's started right. Apparently, it was pointed out to him that the Maple Leafs carry the minimum 12 forwards, so there will be opportunity for him if something happens. You can also see a situation where if this goes too long, he might ask for a fresh start." Could Robertson get moved for some help on defence? We'll see how things shape up over the next few weeks.
Vancouver Canucks and Conor Garland Headed for Divorce
Kevin Weekes confirmed
the Canucks are willing to retain up to 30% of Conor Garland's $4.95 million cap hit that runs through the 2025-26 season. With a new agent running the ship now, we'll see how long it takes for a a deal to be finalized. It feels like he's been linked to trade rumours since day one in Vancouver and it appears he'll finally be able to put it all past him soon. At 27 years old and with a few seasons left on his deal, a fresh start with a consistent role could do wonders for his career.
Garland's put up decent numbers with 98 points in his first two seasons as a Canuck and has scored once in three games to start the year. He's slightly undersized, doesn't play a very physical game, add that to the fact not many teams can afford his contract even at a reduced rate, and it's not surprising it's taken this long to have a trade materialize. Some teams who
reportedly have interest in acquiring Garland
include the Columbus Blue Jackets, Nashville Predators and Washington Capitals.
The Maple Leafs make no sense as a trade partner for the Canucks as the Leafs are in great shape when it comes to forward depth. Even with Minten potentially heading back to junior, the likes of Pontus Holmberg, Bobby McMann and Nick Robertson are all chomping at the bit for a callup. The good news is Holmberg is the most expensive of the three at just $800,000 against the cap.
Garland's name has been linked to Toronto in the past, but that's just not the case anymore. If the Canucks and Leafs pulled off anything this season it's likely to include a defenceman joining the Leafs. It's no secret Treliving and company have interest in adding to the blue line, preferably those who are long, lanky and physical atop the wish list. Defensemen are like pitching in baseball, you just can't have enough.
Do Tyler Myers or Ian Cole on expiring contracts move the needle? Meh. Depending on where the Canucks sit in the standings in a few months, they could be actively selling before the trade deadline. Patrik Allvin has already been busy making moves and his work will continue with the Garland trade in the works.
Blue Jackets Defencemen Continue to Make Headlines
Columbus brought in defenceman Damon Severson on a eight-year $50-million deal this past summer, so it's a touch surprising to see him benched three games into the season. Severson sat the third period of the Jackets loss to the Detroit Red Wings thanks to this pizza he threw up the middle which ended up in the back of the net:
The team and player have moved on. There has been some chatter around other defencemen in Columbus being available on the trade market. Daily Faceoff's
Frank Seravalli named
Andrew Peeke, Adam Boqvist and Jake Bean as potential trade candidates.
Not likely names who are jumping off the page for Treliving and company. Peeke plays a physical game but he was -41 last season, and it doesn't matter how dumb the stat is, a 41-goal differential is concerning. Could that easily change on a much stronger Maple Leafs' team? Perhaps.
180 hits, 197 blocked shots and an experienced penalty killer, stranger things have happened. Peeke is signed through 2025-26, at $2.75 million per season.
Jake McCabe is off to a tough start and could become a potential area of concern. His $2 million cap hit, thanks to some slick stick-handling from Kyle Dubas holds some trade value for Treliving. McCabe owns a seven-team no-trade clause, so he does have a little bit of say in the matter. Certainly something to monitor as the Leafs begin their five-game road trip. It doesn't feel like Treliving will make a significant trade anytime soon, so take it easy on McCabe if things continue to go south.
There we have it folks, another recap in the books. The Maple Leafs start to the season has certainly been entertaining on many levels and it sounds like it could be picking up steam. It's setting up to be one hell of a season in Toronto. Thanks for stopping by.