TLN Three Stars: Load Management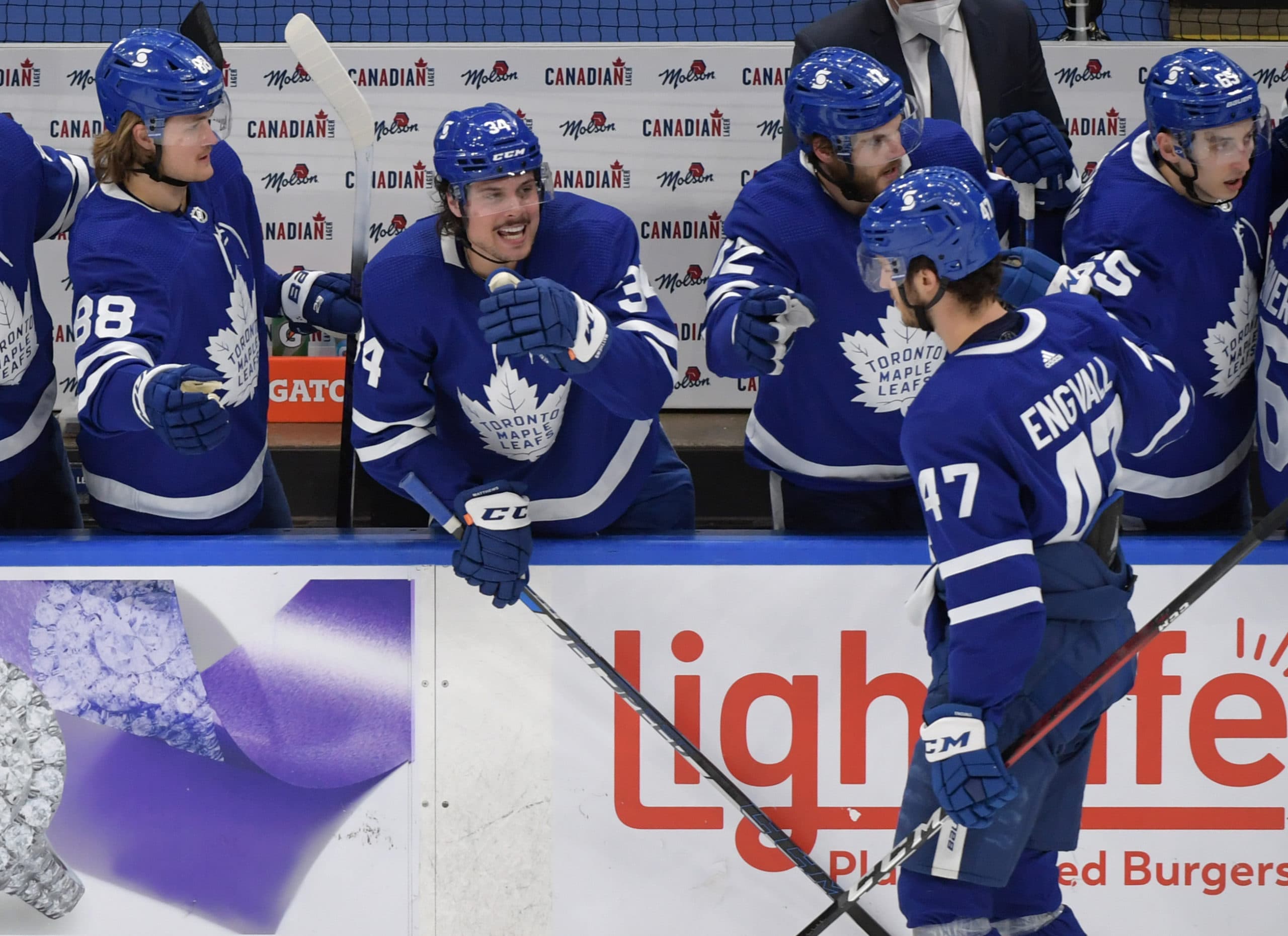 Photo credit:Dan Hamilton-USA TODAY Sports
The Toronto Maple Leafs defeated the Vancouver Canucks by a final score of 4-1 on Thursday night.
@William Nylander, @Auston Matthews, @Pierre Engvall and @Mitch Marner scored for the Leafs while JT Miller scored for the Canucks. @David Rittich recorded his first win as a Toronto Maple Leaf tonight, stopping 16 of 17 shots.
In the first period, @Wayne Simmonds got revenge for @Zach Hyman…
Kudos to @Alex Edler for "fighting" and answering the code.
The man they call Willy Styles opened the scoring for Toronto off of a Quinn Hughes turnover. @Alex Galchenyuk fed Nylander off the turnover and Willy was able to sneak his shot five-hole on Braden Holtby.
In the second period, Matthews continued his quest for a 40-goal campaign and also his first Rocket Richard. Matthews created a turnover in the defensive zone and chipped the puck to a streaking Marner for a 2on1 rush. Marner made a sweet saucer pass over to Matthews who rockets home his 36th goal of the season to make it 2-0 Leafs.
Not long after, @Jason Spezza led a rush into the offensive zone and dropped to @Rasmus Sandin at the blueline. Sandin walked in and fed Pierre Engvall who ripped a shot up under the bar to make it 3-0. Great play from Sandin to join the rush as F3 and a helluva shot from Engvall, who played like a guy fighting for his job tonight.
Late in the third period, Holtby received the puck behind the net and passed it right to @Alexander Kerfoot, who slid the puck over to Marner for the back-door tap-in to seal the game for the Leafs and make it 4-1.
Three Stars
3rd Star: Ben Hutton/Timothy Liljegren
With @Jake Muzzin and @Morgan Rielly scratched tonight, I thought their replacements @Ben Hutton and @Timothy Liljegren stepped up admirably tonight.
Hutton was acquired from Anaheim at the Trade Deadline for insurance and made his long awaited Leafs debut tonight. I thought Hutton kept the game simple, retrieved pucks and got them into the forwards hands. He was physical and did a good enough job at boxing the Canucks forwards out. All in all, can't ask for much more from a depth defenseman.
Liljegren made his season debut for the Leafs tonight and looked much more like the Liljegren we've previously seen on the Marlies. It was apparent he was still adjusting to the pace and physicality of the NHL game, but I thought Liljegren got better as the game went on and made some nice tape-to-tape passes tonight. I think all Liljegren needs now is consistent minutes in the NHL for him to really blossom at this level. The seeds have been planted with him.
2nd Star: Pierre Engvall
After getting demoted from third line center to fourth line center and then straight up replaced by @Adam Brooks as the fourth line center. I thought Engvall finally should some desperation in his game. He had the nice goal tonight but was also forechecking hard and getting physical here and there.
Engvall is facing an uphill battle to get back into the lineup on a full-time basis. Brooks has seemingly replaced him and is developing chemistry nicely with Spezza and @Joe Thornton. @Riley Nash is also skating again and seems poised to return for the playoffs. Engvall has also found himself back in Sheldon Keefe's doghouse too, which is never a good place to be.
1st Star: Auston Matthews
36 goals in 46 games is ridiculous. What we are witnessing with Matthews this season is special. Matthews was all over the puck in the first period, just missing on all of his scoring chances. Goal scoring is not an easy thing to do in the NHL. The fact that us fans can resaonably expect a Matthews goal per game or at least every other game is absurd. Matthews now has an eight-goal lead on @Connor McDavid (at the time of writing) in the Rocket Richard trophy race.
Tweet of the Night
That @John Tavares and Matthews are rolling at the same time is a major boon for the Leafs.
What's Next?
The Leafs are back in action on Saturday against the Canucks once again. Puck drop at 7:00pm EST.