TLN Three Stars: Maple Leafs fall victim to a couple of Ryans and strong goaltending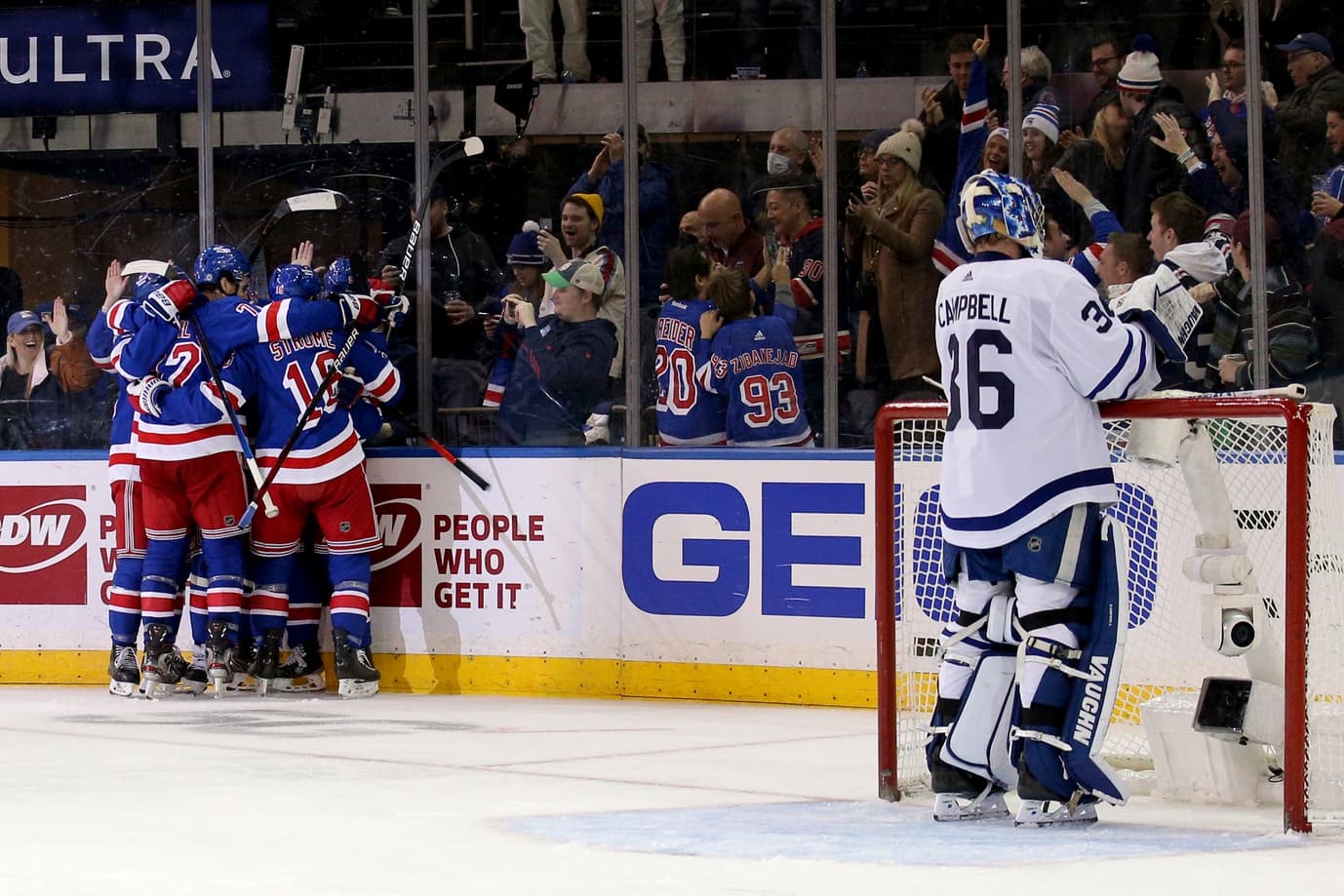 Photo credit:Brad Penner
@Ryan Reaves scoring two goals tonight probably tells you everything you need to know about this game.
Much like a lot of this road trip, four out of the five games actually, the Toronto Maple Leafs found themselves with a multi-goal lead before blowing it. Twice they found themselves holding on for the win, and now twice they would eventually lose it. There's a lot of other circumstances involved, what with @Jack Campbell's play somewhat falling off and him likely getting fatigued, the Leafs now being almost two weeks deep into this road trip, an injured blueline, and also score effects are usually a thing that comes into play when you take a lead. And a lot of the goals the Rangers scored, including Reaves second and @Ryan Strome's, were some pretty weird bounces. But, it's also not the best thing to see happening over and over again.
The game also saw @Auston Matthews road goal streak come to an end right before tying the NHL record, despite a goal that got waived off for a kicking motion that almost started the Leafs comeback.
Three Stars
3rd Star: William Nylander
It wasn't his best game defensively, or even his line's, but Nylander mostly gets the third star for there not being a ton of options from this game, and also because he got point number 300. Here's to at least 300 more as a Leaf.
2nd Star: Mitch Marner
It wasn't his best game defensively either, but Marner finally got that elusive power play goal for the first time in 100 games. Hopefully this means that he'll score more on the power play from here on out and give the unit some more scoring threats (and less predictability)
1st Star: The Kämpf Line
While the defense overall was a mess, the old reliable shutdown line for the Leafs did it's job. They matched up against one of the league's best offensive stars in @Artemi Panarin, and held them to no goals (when they were on the ice), and had a 76.47% CF% and a whopping 92.47% xGF%. They even got the games opening goal and set what should have been the tone of the game.
40th Star: Kyle Clifford
What exactly is he doing in the lineup? I know there's some injuries, but I'd rather @Joey Anderson or @Brett Seney than Clifford, especially if he's going to hold back an otherwise dominant fourth line pairing in @Jason Spezza and @Wayne Simmonds, and not even do the one thing he's supposed to do, which is hit and fight people while the Rangers are running the Leafs over.
How well did I know the enemy?
I said in my
matchup preview
earlier today that the Rangers stars and goaltending will play a big role if they win, as their depth otherwise is pretty lackluster, especially their fourth line which was one of the worst in the league and hadn't scored a goal together as a unit. Aside from the fact that Reaves just came to my house to flip me off for the last part, @Adam Fox came to play and stepped up offensively in the comeback, and after allowing the third goal, @Igor Shesterkin was unbeatable, or legally unbeatable at least.
That said, I also mentioned that the Rangers rely a lot on lucky bounces, and that was how a few of their goals went in as well. So, I wasn't wrong in my entire analysis of the team, but the fourth line comments definitely came back to bite me. It felt like Gallant was mocking me putting the whole line on the power play late in the game.
By the numbers
Up Next
The Leafs put an end to this nightmare-fueled road trip in Long Island against the Islanders, where I'm sure the fans will be completely understanding of the long road trip the team has been on and be super kind to them. It's a Saturday night matchup as well, which means all eyes will be on how they finish off the road trip against a team last in their division. You can catch the game at 7 p.m. EST on CBC.