TLN Three Stars: Matthews and Tavares each pot two as the Maple Leafs drop the Bruins 5-2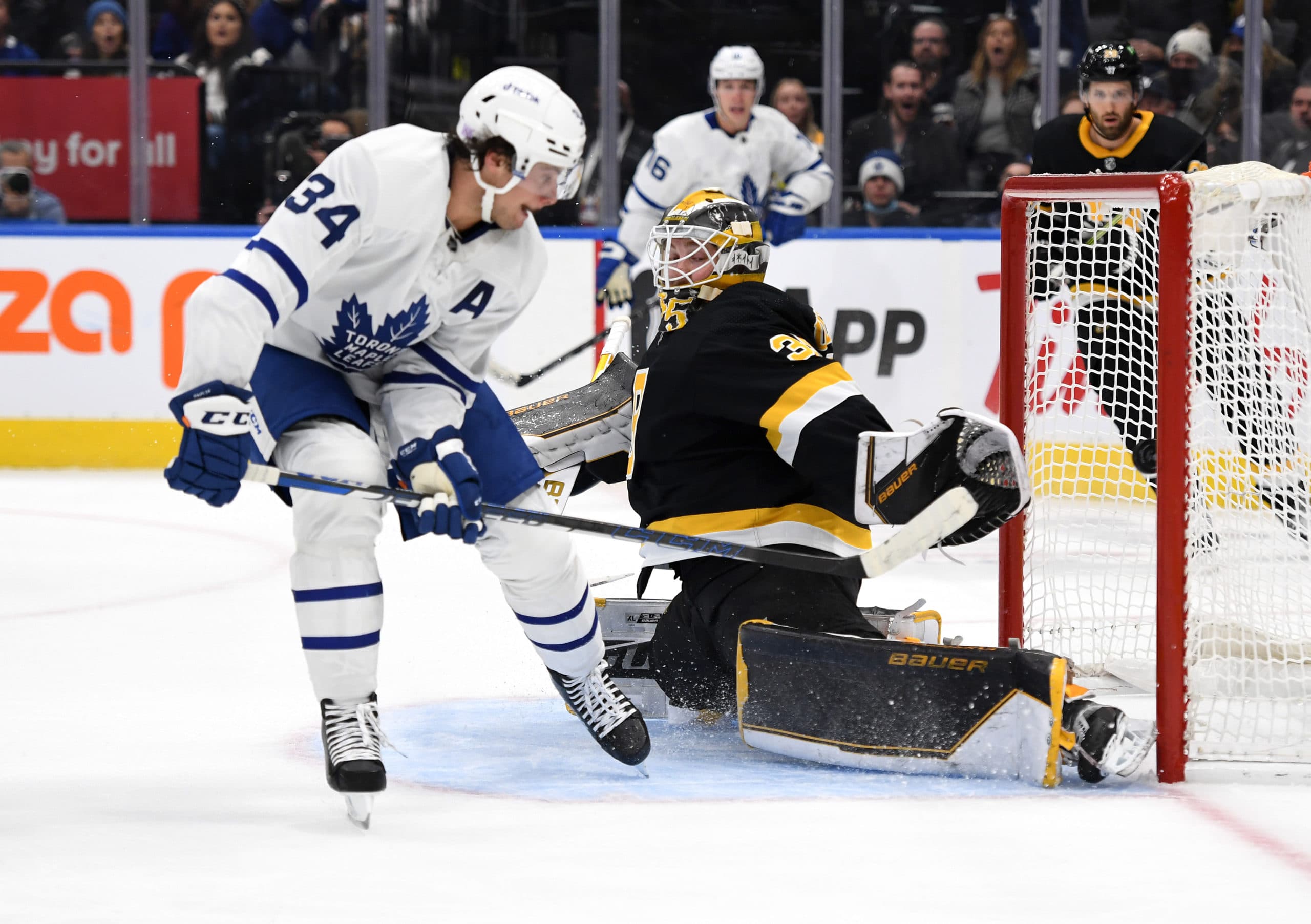 Photo credit:© Dan Hamilton-USA TODAY Sports
In what has become somewhat of a recurring theme this past week, the Maple Leafs rode contributions from their most important players to a 5-2 victory over the Boston Bruins. While it may look lopsided, this one was a much tighter affair than the score would indicate. The Maple Leafs came out strong early, though it was ultimately the Bruins that would break the ice on a Taylor Hall Powerplay marker.
The Buds didn't appear phased, however, which was nice to see given their long history of mental struggles against the Bruins, as John Tavares was credited with what was undeniably one of the strangest goals I have ever seen. 
Despite the net coming off its moorings, the review determined it was a good goal as the Buds would eventually head to the first intermission knotted up at 1-1.
The second period remained relatively quiet until late in the period when Matt Grzelcyk took a high sticking call, which quickly opened the floodgates. Auston Matthews quickly cashed in to break the deadlock on a nifty feed from Mitch Marner, then doubled up five short minutes later with another powerplay marker.
The start of the third period saw the Maple Leafs extend their lead to three goals after a big penalty kill on a rather
soft hooking call
, as John Tavares scored his second of the night and team-leading sixth of the season.
Up 4-1, a lead that the Maple Leafs have famously been very good at holding against these very Boston Bruins, the Buds took their foot off the gas and nearly paid for it. The Bruins did get one back thanks to a
rocket of a one-timer by David Pastrnak
, however, that would be all they would get as Jack Campbell slammed the door shut. Mitch Marner put the final bow on this one to seal the 5-2 victory on Hockey Night in Canada.
Third Star: John Tavares
It isn't often that you score two goals and wind up the third star, but there were simply too many outstanding performances that someone had to take the spot. John Tavares looked particularly good tonight, with him and his running mate Mitch Marner looking as engaged as they have been all season long. You could tell that the Maple Leafs had this one circled on their calendar, and Tavares undoubtedly delivered with a pair of goals. 
A special shoutout goes out to John for passing up the opportunity for a Hat Trick to feed Marner for the empty-net goal. If that doesn't demonstrate the leadership that he brings to this team, I'm not sure what else possibly could.
Second Star: Jack Campbell
Even though he allowed a pair of goals, Jack Campbell made a pretty strong case to be the first star once again as he stood mighty in the face of chaos. The Bruins had their chances throughout, but in the clutch moments, late in the third period, was where Jack Campbell really proved his worth. With a flurry of chances late, Campbell made several tremendous pad saves to keep the lead at two. That's not even to mention the myriad of other tremendous stops the 29-year-old netminder made throughout this evening's affairs. The man affectionately known as Soup was spectacular, and might just be the most important player on a hockey team full of superstars. Pay this man his money, Kyle!
First Star: Mitch Marner
I'll admit that I was one of many people across social media that was very critical of Marner's performance to start the season, however, he did nothing if not quiet the critics with a four-point performance tonight. Marner was all over the ice tonight, and you could see from early on that he had his dancing shoes on. He had his miscues, like a neutral zone turnover that led to a glorious breakaway chance for Jake DeBrusk, however, by and large, this was Mitch Marner's best game of the season. Notably, tonight's game gets Marner back to the point per game plateau, however, that perhaps underscores just how scorching hot this guy has gotten. During the Maple Leafs 5 game winning streak, Marner has a remarkable 11 points. I'm thinking this guy is back.
40th Star: The Refs
It's hard to pick on anyone in particular after such an awesome game all around by the Buds, but one team that was sloppy from early on was the Refs. A couple of soft and bizarre calls, a little bit of
opposing coach influence
, and a
sloppy out-of-play call
that resulted in a bogus defensive zone faceoff late in the game for the Maple Leafs are just some of their hits from tonight. Nothing was egregious by any measure, thank goodness, but I've certainly seen better-refereed games than this one by the Zebras, though thankfully it didn't end up costing the Maple Leafs.
Tweet of the Night:
Mmmmm…well, now I'm hungry.
By the Numbers:
Closing Thoughts:
The Maple Leafs certainly had their moments, but all things told, this was a strong game from the boys in blue across the board. Cleaning things up a bit at the end would have been nice, however, two points are ultimately two points, and as such there's not too much to complain about for this one. Special cheers to the Core Four once again,
who now account for the Maple Leafs' last thirteen goals scored
. I guess that's why you pay them the big bucks.
The Maple Leafs wrap up their five-game homestand on Monday against the surging Los Angeles Kings, themselves winners of four straight. You can catch that tilt at 7 PM EST on Sportsnet.