TLN Top 20 Leafs: #3 William Nylander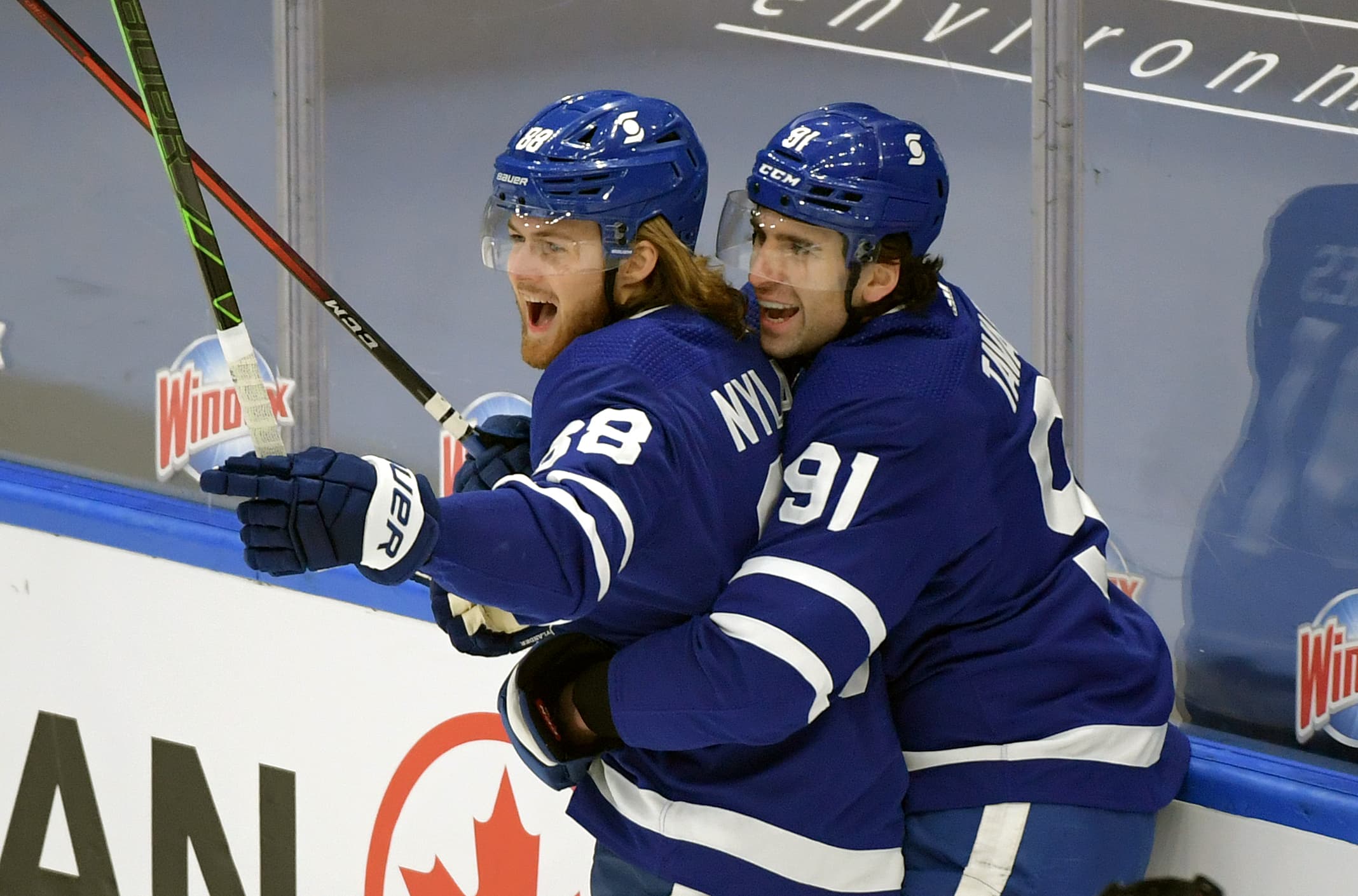 Photo credit:Dan Hamilton-USA TODAY Sports
As we've approached the top four of our player rankings, it should probably come as no surprise who numbers 1-4 are. But, I'm sure many are shocked at the order, particularly William Nylander getting ranked above John Tavares for #3. After all, the center position is an important one, and Tavares is one of the best second line centers in the league.
But, Nylander has also come a long way over these past few years after he'd fallen out of favour with plenty of Leafs fans with his contract holdout and then disappointing return in 2018-19. Since then, he's taken massive strides, scoring 31 goals in 2019-20, and following it up with a 27 goal pace in the shortened 2021 season, as well as a huge showing in the playoffs with five goals in seven games.
Much like Tavares, Nylander's rankings were all over the place, some coming as high as second, and some as low as fifth. While I may be a huge Nylander fan, even I didn't have him second, but actually right where he ranks at third. For me, it came down to the fact that a lot of the underlying numbers actually showed that Nylander drove the play on the second line this season, something that was shown in the playoffs when Nylander stepped up without Tavares on his line.
5 Stats
| | | | | |
| --- | --- | --- | --- | --- |
| 5v5 CF% w/o Tavares | 5v5 xGF% w/o Tavares | Tavares 5v5 CF% w/o Nylander | Tavares 5v5 xGF% w/o Nylander | Playoff Points |
| 55.33% | 55.93% | 48.79% | 52.5% | 8 points (7 games) |
I think many were expecting Tavares to start slowing down at some point, and still be a really good player, but not the elite threat he's been his whole career. What I don't think people were expecting was Nylander picking up the slack and carrying the line when it happened. Well, that's just what happened this season, and while it's concerning that Tavares' play has already started to drop off a little bit, it's nice to see that Nylander is masking the problem a bit. Of course, it could have just been an off year, but at 31, this is usually when we start to see the drop off.
While Tavares was far from bad without Nylander, it's very clear who does better without the other. This shouldn't be too much of a shock, as Nylander has been a consistent play driver his whole career (even in those stints where Mike Babcock would play him away from Matthews on the third line), but I don't think many were expecting him to drive play at an elite level without his elite center next to him. It's probably not the worst, as it allows Tavares to focus more on scoring goals and getting assists, and less on the heavier work to make that happen.
Nylander being the driver of that line are even apparent in Evolving Hockey's Regularized Adjusted Plus-Minus stat, which isolates a players stats from factors like teammates, competition, rink bias, and more. When you isolate both player's numbers, Nylander looks much more favourably, suggesting that he was the one running that line, especially defensively.
That's not to say that Nylander doesn't need Tavares. One way that Tavares' injury did impact Nylander was it basically made him the only scoring threat on the team, as the Montreal Canadiens were able to send their shutdown unit against Auston Matthews and Mitch Marner, knowing that when the second line came out, they'd just have to worry about Nylander, not Nylander AND Tavares.
That said, he tried his best to do it himself, as he managed five goals and eight points in the series, almost as many points as Matthews and Marner combined (they had nine between the two of them). There's a reason the Leafs were up 3-1 in the series, and some of that had to do with Nylander stepping up his game in the absence of the other big three (whether due to injury or being shut down).
Last season
Nylander had an excellent day one of the season, as he put up two goals and set up Jimmy Vesey for the game tying goal in a 5-4 OT win against Montreal, a sign of good things to come. He wasn't the most consistent throughout the season (he had 22 scoreless games out of his 51 this season), but when he showed up, he made sure to show up.
The biggest story for him during the season was his two week stint on the COVID list, due to him coming into close contact with someone who tested positive. Oddly enough, he was the only player to end up on that list for the Leafs, and he didn't even have the virus. Of course, it didn't slow him down, as he a goal and three assists in the two game series against Vancouver following his return.
And then, as I've already gone on and on about in this post already, he hit another gear come playoff time. He started the postseason with a goal in the first four games on route to a 3-1 series lead, but unfortunately, with Tavares out and Matthews and Marner kept quiet because of Montreal's shutdown unit, his performance wasn't quite enough to get the Leafs past the first round.
What to expect…
It doesn't feel like he's been in the organization this long, but Nylander is already 25 years old, which means he's in his prime years for the team. What this means for what to expect is that we're probably looking at something similar to what he's put up the past two seasons. Perhaps offensively he takes it to another gear and flirts with a point per game status, or maybe defensively he improves and becomes a really strong play driver for the Leafs. His ceiling isn't too much higher than what he is right now at this point, but neither is his floor.
One thing that could potentially boost his point totals is his new role on the power play. He often found himself on the outside looking in on the Leafs top unit last year at the expense of Joe Thornton and Wayne Simmonds, but he looks to have gotten himself a full time role, so the minutes alone should help. But not just that, he'll also be in a new spot, or at least on the loaded unit, as he'll be taking Marner's spot on the half walls instead of the net front. What this will allow is the Leafs have two actual shooting threats in the umbrella (sorry Mitch), so that the play becomes a bit more unpredictable. Matthews is lethal in his spot, but it's hard to generate goals when everyone knows where the play is going, so having the option to send it to Nylander for the one timer on the other side will keep defenders honest.
He also could potentially find himself with Matthews at some point during the season. That hasn't really been hinted at, and Sheldon Keefe hasn't really played him with Matthews since he took over, but it's a long season, so I wouldn't rule out the Leafs switching up those duos at some point.
Regardless, he should be the same Willy we've grown to love these past couple years, but there are a couple factors that could impact him as well.
Nylander's goal song
It probably seems a bit too obvious to give the Swedish player an ABBA goal song, but if I was going to do it just for the Swedish connection, I would've gone with "Dancing Queen". "Take a Chance on Me" works a bit better for Nylander because of how often he's been unfairly criticized, and not always given the same opportunities as the other members of the Big Four. So, hopefully after a strong postseason performance, the Leafs coaching staff will take a chance on him this season.