TLN Top 20 Leafs: #8 Jack Campbell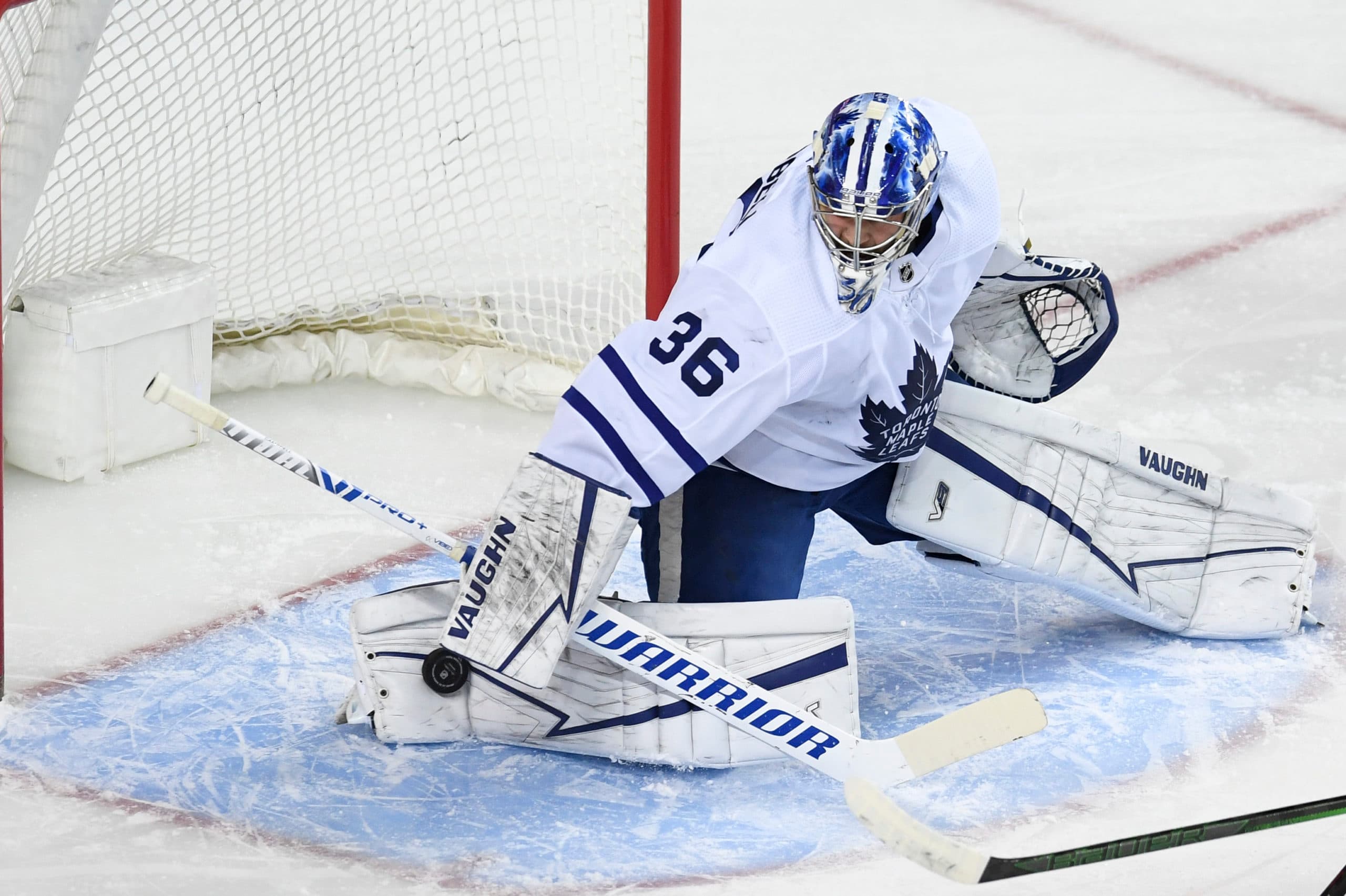 Photo credit:CWard-USA TODAY Sports
Jack Campbell exceeded all expectations in the 2021 season. He went from the latest in a long line of backups to Frederik Andersen to a beloved starter and NHL record-holder, based on performance alone, I feel Campbell has earned his spot on this ranking, but performance is only half of the package you get with "Soupy", who by all accounts is one of the most genuine guys in the league.
Five Important Stats
It was referenced off the top so let's start with this one: Jack Campbell hold an NHL record for most consecutive wins to start a season. For a run of games (spread across a couple of months due to injuries, Campbell was unstoppable, a brick wall and a steadying force for the team. His 17 wins in 22 games were the bedrock upon which the Leafs built themselves into the best regular season team in the North Division.
A couple of stats regarding Campbell's goals saved above expected (GSAx), with an average of 4.65 GSAx in all situations (cumulative over the season), he ranked 10th in the league out of 64 goaltenders with a minimum of 10 games played. Shorthanded, Campbell was 3rd in the league in GSAx, with 2.70
Campbell also ranked highly in save percentage. He was 10th in the league in all situations with a .919, which bumped up to an astounding .925 while the Leafs were shorthanded. His shorthanded save percentage ranked him 2nd overall in the league among goalies with a minimum of 10 games. Campbell gets results and stops puck no matter the situation, as long as he keeps his head in the game.
What happened last season?
Back in June, I wrote the Jack Campbell article for TLN's
Year In Review
series, where we recapped the performance of every member of the team, I'll quote myself from that article in reference to Campbell's season recap:
"Campbell appeared in 22 regular season games for the Leafs and amassed a 17-3-2 record, recording two shutouts along the way and one NHL record for most consecutive wins from the start of a season with 11 (albeit spread over three months because of an injury). He played in all seven of the team's playoff games and by many metrics, outperformed Carey Price. It was the best playoff goaltending the Leafs have seen in ages and the team in front of him absolutely squandered it (a fact I am still very, very bitter about)."
I'm still bitter about the team letting him down.
What can we expect in 2021-22?
It's all but confirmed that Campbell will be the starting goaltender on day one of the 2021-22 season, but I would expect him and Petr Mrazek to form a true tandem situation, sharing the crease and splitting starts all throughout the season (barring injury to either man). While it's possible for either Campbell or Mrazek to take the reigns and command more starts due to exceptional play, I would still expect the "starter" in that situation to be capped to a maximum of 50 games.
No matter if we see Campbell as the 1A or 1B, he will bring that same steadying presence that he has brought to this team since the trade that brought him to Toronto, expect nothing less than solid play no matter the situation.
Highlights
In one of his first games back from injury, Campbell tossed up this beautiful two-pad stack. Aside from being an excellent save and a top-notch showcase of athleticism, this save was the sign, to me at least, that everything was going to be alright between the pipes, Andersen's game had completely fallen to pieces by this point in the season, but Jack proved he was more than up to the task of taking the starter's role.
Campbell's intro song
There's only one song that comes to mind when I think of Jack Campbell:
Katrina and the Waves' 1985 single "Walking on Sunshine" is just so quintessentially Campbell. With his sunny disposition and positive outlook on life, the man is usually always walking on sunshine and bringing positive reinforcement to his team, no matter if he's on the ice (see his trademark stick taps to his defencemen after the whistle) or on the bench cheering on his buds and posting wholesome Instagram stories after games.
Shine on Jack, shine on.