TLN's 2023 Offseason Leafs Prospect Rankings: #10 Dennis Hildeby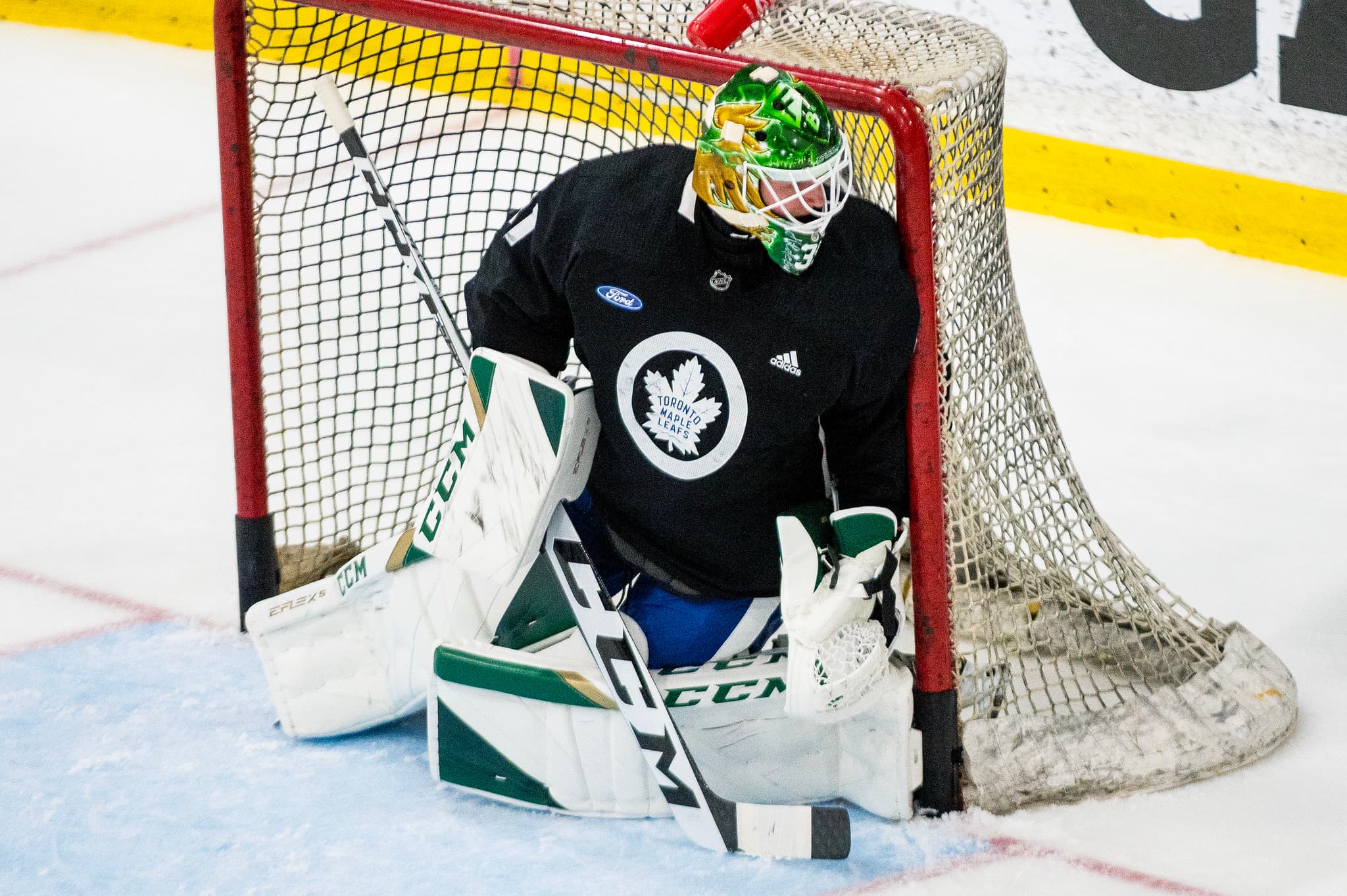 Photo credit:(Photo by Steven Ellis/The Hocke
We have updated the criteria from previous editions of TLN's prospect rankings regarding who is considered a "prospect" for the purpose of this exercise. Rather than hard and fast limits on age or NHL games played, our group decided on a more nuanced approach to include any reasonably young player who is either under contract with the Leafs or on the club's reserve list, who has not yet established himself as a full-time NHLer. This includes players such as Matthew Knies and Joseph Woll, who made strong impressions in limited NHL action last season and are expected to make the 2023-24 opening day roster but does not include late-bloomer Bobby McMann, who will also be vying for an NHL roster spot heading into his age-27 season.
TheLeafsNation would also like to acknowledge and honor the memory of 2020 first-round pick Rodion Amirov who tragically passed away after a courageous and inspiring battle against cancer. We offer our sincerest condolences to Rodion's teammates, friends, and family in this difficult time.
Historically, and by historically, I mean within the past decade or so, the Toronto Maple Leafs have had their fair share of troubles drafting and developing their own goaltenders. Joseph Woll is on the cusp of a full-time NHL gig and is looking like he's got a bright future in the league, and while they've taken a couple of long-term shots with Artur Akhtyamov and Vyacheslav Peksa, next in line to make his NHL debut could be none other than 2022 fourth-round pick Dennis Hildeby.
The reality with goaltenders is that oftentimes, they're a shot in the dark. It's why it's less common to find goalies drafted in the first round, and they're more frequently found later in the draft. So, with that logic, nobody should have any gripes with the way the Maple Leafs have selected a goaltender in three of their last four drafts. That said, Hildeby's case is slightly different from some of the other names. 
While the aforementioned Akhtyamov and Peksa have some decent long-term potential, as I said, they're both long-term projects. Hildeby, on the other hand, was drafted as an overager and had already played a handful of games in Sweden's pro league. And it wasn't just any handful; it was a pretty good one. In seven games with Farjestad BK of the SHL in 2021-22, he put together a .930 save percentage and a GAA of 1.93. In 12 games with Farjestad's junior team, he maintained a strong SV% at .931 with a GAA of 2.80, likely a reflection of the team in front of him. 
We all know that seven games is too small of a sample size to properly judge a goaltender, but it doesn't matter in this case because Hildeby walked his talk in 2022-23. In his first full season for Farjestad BK, splitting starts with Canadian veteran netminder Matt Tomkins, he managed a record of 11-9-0 with a GAA of 2.26 and a SV% of .918. These are great numbers for a soon-to-be 21-year-old playing his rookie season in a pro league. 
The Maple Leafs recognized Hildeby's potential early, signing him to an entry-level contract in the weeks following the 2022 draft, and they brought him to North America following the 2022-23 season. His numbers for that stint weren't good, but that was as small a sample size as any, appearing in only two regular season games for the Marlies. Looking ahead to the 2023-24 season, he'll have a full year to adjust to North American ice and will have some healthy competition in the crease. 
The biggest factor Hildeby has going for him at this stage of his career is his size. I know the idea of a 6-foot-6 goaltender from Sweden might bring back some unfortunate memories for Maple Leafs fans (not every tall Swedish goaltender is Jonas Gustavsson!), but there's more to his game that should spark intrigue as fans familiarize themselves with him. 
For starters, his mobility for his size is one of his strong suits. His frame already takes up most of the net to begin with, but he still makes every effort to stay in position. And, when he does end up out of position, his athleticism makes up for it, which is another strength for a goaltender of his size. He has his issues here and there when it comes to tracking the puck and sometimes gets caught playing too deep in his net, but overall, I would say the positives outweigh the negatives at this stage of his career. And in terms of the negatives in question, it's nothing that can't be ironed out in the developmental stages of his career.
Hildeby's rapid transition from Sweden's junior league to their pro league to the AHL overseas did wonders for him on our rankings, and if he doesn't have a noticeably hard time adjusting to hockey overseas, I think there's a reasonable chance he gets tandem action with the Marlies in 2023-24. 
He'll be battling with Keith Petruzzelli, who just finished his rookie season in the AHL, and potentially even NHL journeyman Martin Jones, whom the Maple Leafs signed to a contract earlier this month. I can't see a scenario where they place Jones on waivers, and he makes it through, so it will likely be up to Hildeby and Petruzzelli to battle for ice time.
Depending on what happens with Jones this year, there's a sliver of a chance we see Hildeby make his NHL debut this season. Things would have to go very poorly in the Maple Leafs' crease, whether that be due to injuries or poor performance, but if the Maple Leafs need to call up a goaltender at some point, I would think Hildeby gets a look simply because he's got a full season of playing in Sweden's top pro league under his belt. 
Still, the Maple Leafs signed Jones with the intention of using him as their next man up should something happen to Samsonov or Woll, so in a perfect world, Hildeby gets to focus exclusively on his development and taking a step forward in that regard. 
Regardless, considering how long Woll's development has taken and how long it looks like Akhtyamov and Peksa will be marinating before they get a look in the NHL, it's nice to know the Maple Leafs have an option who could be on the cusp of being ready for big league action so early in his career. However, for the purpose of not getting ahead of ourselves, he should get a full year in the AHL before anybody starts thinking about that. Either way, there's some potential with Hildeby here, and the 2023-24 season will be a crucial one in terms of how the Maple Leafs will use him beyond this season.
(Statistics from EliteProspects.com)