TLN's 2023 Offseason Leafs Prospect Rankings: #14 Alex Steeves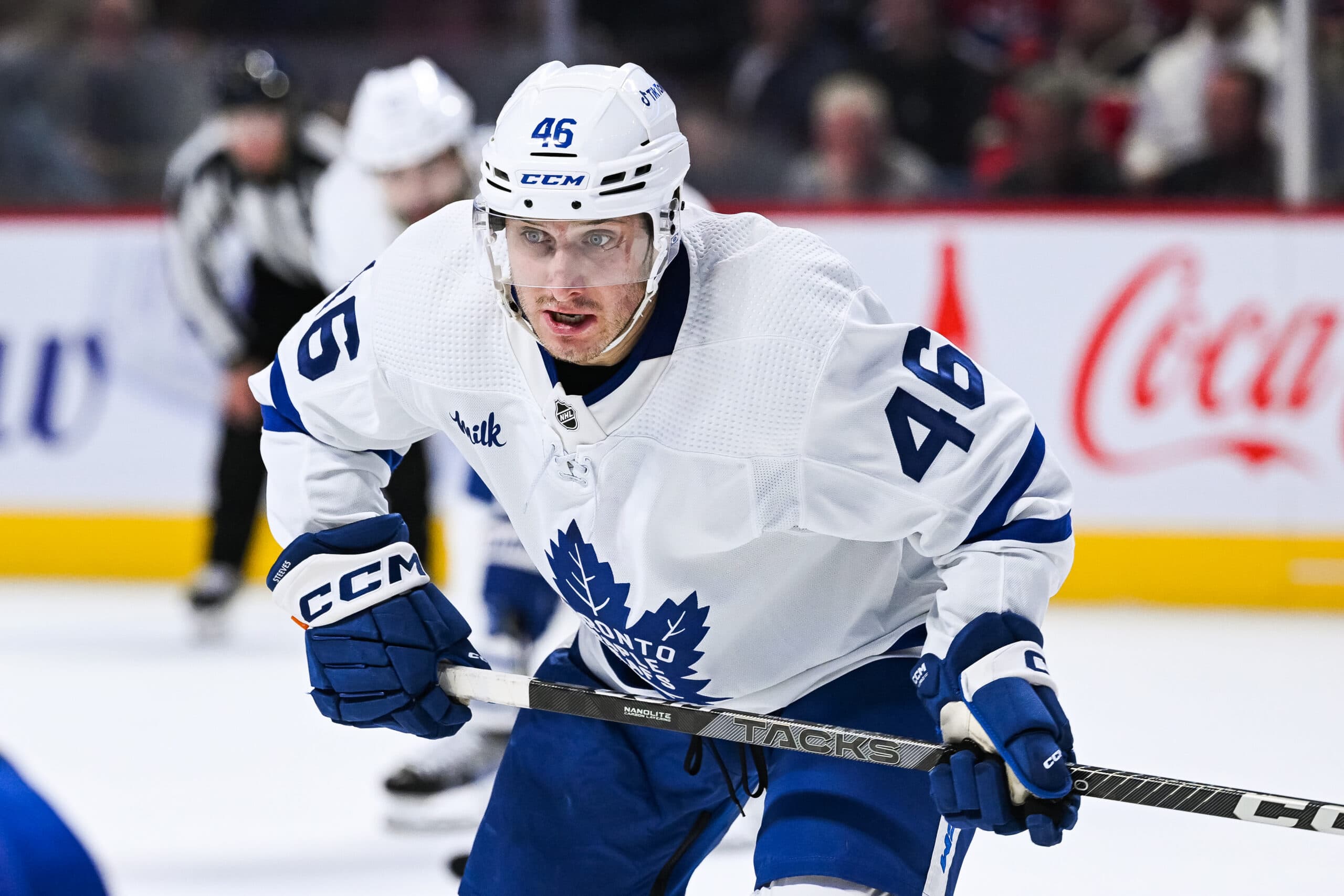 Photo credit:David Kirouac-USA TODAY Sports
We have updated the criteria from previous editions of TLN's prospect rankings regarding who is considered a "prospect" for the purpose of this exercise. Rather than hard and fast limits on age or NHL games played, our group decided on a more nuanced approach to include any reasonably young player who is either under contract with the Leafs or on the club's reserve list, who has not yet established himself as a full-time NHLer. This includes players such as Matthew Knies and Joseph Woll, who made strong impressions in limited NHL action last season and are expected to make the 2023-24 opening day roster but does not include late-bloomer Bobby McMann, who will also be vying for an NHL roster spot heading into his age-27 season.
TheLeafsNation would also like to acknowledge and honor the memory of 2020 first-round pick Rodion Amirov who tragically passed away after a courageous and inspiring battle against cancer. We offer our sincerest condolences to Rodion's teammates, friends, and family in this difficult time.
At #14 in our rankings is forward Alex Steeves. This is right around where I personally had him ranked. He may not have taken a massive step forward this past year, but I'm certainly not ready to write him off as he heads into a crucial season for his development and career.
Steeves was born in St. Paul, Minnesota, but raised in New Hampshire near the border of Vermont. Born to Canadian parents, Steeves grew up in a household that loved hockey. He played his first of three years in the USHL with the Sioux City Musketeers and the last two with the Dubuque Fighting Saints. In his final year with the Dubuque, he led the team with 57 points in 55 games. Over a point per game in the USHL would have caught the eye of multiple NCAA Division One programs, and it was no surprise that Notre Dame was interested, given that Alex's older brother, Matt, was already on the team. Alex committed and spent the next three years in South Bend, Indiana.
Entering as a true freshman, Steeves put up nine points in 39 games. His team featured Andrew Peeke (someone that could make a lot of sense on the Leafs blueline) and Marlies teammates from last year, Graham Slaggert and Matthew Hellickson. Slaggert has since moved to Rochester, signing an AHL deal with the Americans, while Hellickson will be back with the Marlies again this season. Having acclimated to Big 10 Hockey, Steeves took a major step forward in his sophomore season. He paced the Fighting Irish with 28 points in 36 games, a team that featured current Marlie Max Ellis, and he was becoming a force in the NCAA. In his final collegiate season, Steeves had 32 points in 29 games, again leading Notre Dame. He was a Big 10 all-Conference selection and finished in the top 10 for scoring in the NCAA. It was clear Steeves was ready to take the next step, and numerous NHL teams were circling for his signature. Toronto signed Steeves to a three-year entry-level contract, which now expires at the end of this coming season.
In his rookie season with the Marlies, Steeves hit the ground running. Suiting up in 58 games, he finished third on the team in goals with 23, and third on the team in points with 46. Those 23 goals would tie him for the second-most all-time in Marlies history for goals by a rookie. His strong play even earned him his NHL debut with the Maple Leafs on December 7th versus the Columbus Blue Jackets. Steeves suited up for three games in the NHL, earning one assist in the process. He cemented himself as a very capable contributor at the AHL level in all zones. While his point production was strong, so was his defensive game. He earned the trust of the coaching staff and found himself playing in all situations, with no sheltered shifts. His rookie year was a definite success.
That brings us to his past season, his second professional one. Steeves would have been looking to take another step forward, and probably feature in more NHL games with the Maple Leafs. There were some positives in his most recent campaign. Steeves again earned himself a call-up, and once again featured in three games with the Toronto Maple Leafs.
His defensive game and play without the puck took an even bigger step, and his overall game adjusted. He looked more like a player that could contribute on a fourth line, and his mindset certainly matured. This year, he experienced ups and downs. He went through hot and cold streaks, and he learned how to cope and play during both. While his on-ice game may have grown markedly in his rookie year, perhaps his mental game and overall mindset grew prominently this season. He still managed to put up 19 goals and 51 points in 65 games.
There were also some negatives to take away. While his point total was very respectable, he didn't dominate or take a step forward offensively following his strong rookie season. While his overall game did grow, there was some inconsistency. At times he didn't affect the game as much as he's capable of with the Marlies, and I found myself wanting/hoping for a little more from him during certain stretches. While I don't necessarily think he took a step back, others around him certainly took bigger steps forward (Bobby McMann, Pontus Holmberg). Nick Robertson will also be back from injury and raring to make up for lost time, and other prospects will be chomping at the bit to earn call-ups.
Projecting the Leafs' lineup, there looks to be one or two potential openings in the forward group this fall. It's too early to predict PTOs, injuries, or other roster alterations, but there is an opportunity for at least one player to go and claim a spot. I would argue that as of now, Nick Robertson, Bobby McMann, and Pontus Holmberg are all ahead of Steeves. He will need to show up in tip-top shape and find a way to contribute/make a difference at the NHL level. There is no doubt he has the ability to be extremely effective at the AHL level, but he will have to find a way to do it in the show.
Steeves' ceiling, in my opinion, is a low-event bottom-six NHL player. I'm not sure that I see him as more than a fourth line depth option, but sometimes all players need is an opportunity. Someone to model his game after could be Zach Aston-Reese, who also scored a lot in the NCAA but has learned how to carve out a solid NHL career thus far using different attributes. ZAR is very physical; his hitting volume is well above average and he is also extremely dependable in his own end. Aston-Reese consistently fills lanes and has been leaned on in both Pittsburgh and Toronto defensively. He is also a strong penalty killer. These are parts of the game Steeves could and should focus on improving as he embarks on this coming season.
I should add that Alex Steeves is a great guy. Always easy to talk with, he is well-liked by his teammates, coaching staff, and members of the media. Steeves is respectful, and his kind nature will always have me rooting for him. His best path to a full-time NHL gig is probably not in the Maple Leafs organization, but I hope he can climb the depth charts and set himself up for a massive year. He should once again feature prominently for the Marlies, and hopefully, he forces his way back into the Maple Leaf's lineup.
(Statistics from EliteProspects.com)