TLN's 2023 Offseason Leafs Prospect Rankings: #16 William Villeneuve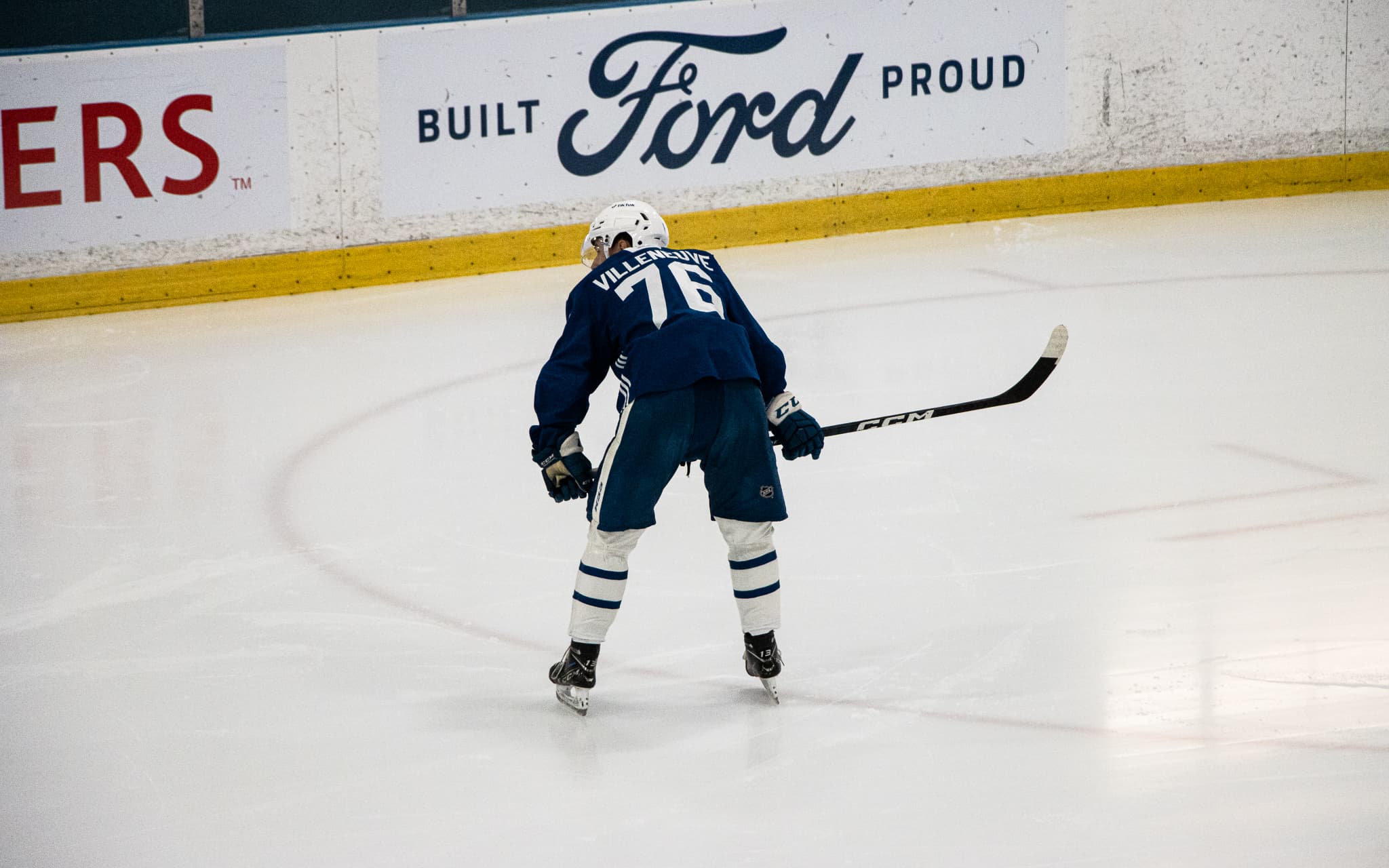 Photo credit:Nick Barden
We have updated the criteria from previous editions of TLN's prospect rankings regarding who is considered a "prospect" for the purpose of this exercise. Rather than hard and fast limits on age or NHL games played, our group decided on a more nuanced approach to include any reasonably young player who is either under contract with the Leafs or on the club's reserve list, who has not yet established himself as a full-time NHLer. This includes players such as Matthew Knies and Joseph Woll, who made strong impressions in limited NHL action last season and are expected to make the 2023-24 opening day roster but does not include late-bloomer Bobby McMann, who will also be vying for an NHL roster spot heading into his age-27 season.
TheLeafsNation would also like to acknowledge and honor the memory of 2020 first-round pick Rodion Amirov who tragically passed away after a courageous and inspiring battle against cancer. We offer our sincerest condolences to Rodion's teammates, friends, and family in this difficult time.
William Villeneuve comes in at #16 in our rankings. I personally have him at #10, which is higher than most, but it also speaks to the potential I believe he has. He played a more prominent role than most thought he would this past year, and his continued development bodes well for the future.
Villeneuve was taken 2nd overall by the Saint John Sea Dogs back in the 2018 QMJHL draft, so he's always had some pedigree. He had a solid rookie campaign in the Q but really took off in his sophomore season. In 64 games, he put up 58 points, asserting himself as one to look out for. In the 2020 NHL Draft, Toronto picked him in the fourth round at #122 overall. He continued to develop, and in his final year in the Q, he put up 56 points in 64 games. The Sea Dogs would go on to upset the powerhouse Hamilton Bulldogs and win the Memorial Cup.
While his point totals were impressive, scoring points in the QMJHL is almost required if you're going to make a difference at the next level. Villeneuve's overall game took massive steps in his final year. He added way more structure to his game. His overall positional play with and without the puck improved, and subsequently, so did his ice time. He averaged approximately 24 minutes a game and in some matches, played as much as 3o. His gap control and defensive abilities, particularly with his stick, improved radically. He had reached the summit of the CHL and was ready to test himself at the pro level.
Going into last season, it was unclear how much opportunity there would be for #76 to play a prominent role or even play much at all. Carl Dahlstrom, Victor Mete, Jordie Benn, Victor Kral, Mac Hollowell, Noel Hoefenmayer, and Mikko Kokkonen were all arguably slotted ahead of him. There were also rookies like Marshall Rifai (who earned an ELC last season) and Tommy Miller, plus sophomores Matteo Pietroniro and Matt Hellickson vying for minutes.
There were call-ups and send-downs, plus injuries to different players. When the dust settled, Villeneuve played the third most games of any defenceman on the Marlies last year. In 54 games played, he put up 25 points, good enough for second most by any defenceman on the team. Not bad for a rookie that turned 21 this past March. To put that in context, Timothy Liljegren had less output (ppg) in his first two years with the Marlies than Villeneuve's rookie season, at roughly the same age.
Again, while the points are nice, it was his overall game that impressed. His ability to cleanly exit the zone, whether it be with a crisp first pass or by using his own legs, was regularly on full display. By no means is he a physical specimen, but he managed to cope with the physical rigors and demands of the AHL for a full season. His stick play and defensive instincts continue to improve, and he routinely showed off an active, helpful stick.
Lagesson – Niemela
Lajoie – Villeneuve
Rifai – (host of players could feature/factor)
This is what I figure the Marlies d-core could look like to start the season. As we edge closer to camp, it looks like Villeneuve should enter the year as a top-four option. The Marlies don't have too many trusted right-handed shot options (Niemela, Villeneuve, Tommy Miller, Dillingham), and both Niemela and Villeneuve should be every night players. Villeneuve showed us last year that he has the ability to anchor a power play, and the hope is that he can cement a spot on PP2 (it's likely Niemela will run PP1, while Lajoie/Lagesson's special team usage will be interesting).
Beyond putting up points, his game needs to continue to grow in other areas. I would love to see him take a step physically this year. As his body continues to grow and his frame fills out, his physical abilities will also improve. Last year he entered the season at 6'2, and around 185 lbs, and it wouldn't shock me if he entered camp this year at 190 lbs or more. While he may never develop a real nasty side to his game, adding some weight will help him win more board battles and be more effective at tying up forwards or clearing out his crease.
The goal for Villeneuve this season should be for him to earn his coaching staff's full trust in all scenarios and be fully dependable, reliable, and effective in his own end. His zone exit ability and playmaking skills will continue to evolve, but it's the grunt work required in his own zone night in and night out that I hope continues to grow. Entering this season at 21 years old, he has already acclimated himself to the AHL. Hopefully, by this time next year, he has taken yet another step and shown he can really move the needle at this AHL level. I say he does it…
Another year of seasoning with the Marlies is critical for the Sherbrooke, Quebec native. Barring some serious injuries, I highly doubt he features for the Maple Leafs this year. That being said, the 2024-2025 Maple Leafs have two defencemen (Morgan Rielly, Jake McCabe) signed (3 if you count Conor Timmins, my bet is he's traded before then). That could be the first time we see Villeneuve in the NHL. The year after is when I predict he could become a mainstay.
He will never be an offensive juggernaut in the NHL, but he is a solid right-handed two-way player. He will always be able to chip in offensively, but his two-way game, and particularly his knack for moving the puck up-ice very efficiently, is what will be his calling card. An honest, legitimate comparable would be Timothy Liljegren. Another smooth-skating two-way blueliner, with a lot of similarities in his game. His ceiling could translate to someone like John Marino, a real heady two-way player that thinks the game at an elite level. I'm very high on Villeneuve, and certainly, the Leafs could use more draft picks coming through, particularly on defence.
(Statistics from EliteProspects.com)