TLN's 2023 Offseason Leafs Prospect Rankings: #2 Joseph Woll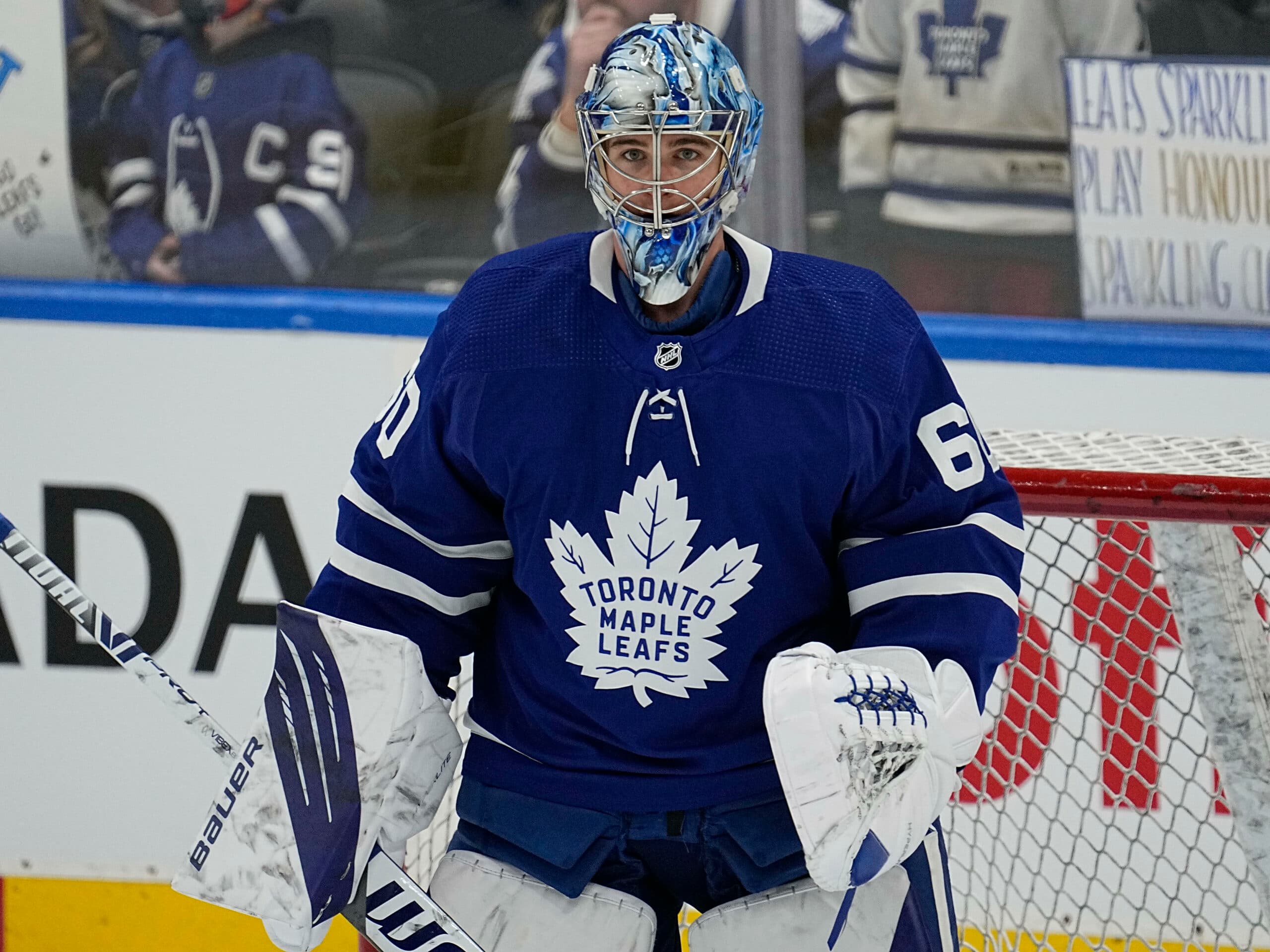 Photo credit:John E. Sokolowski-USA TODAY Sports
We have updated the criteria from previous editions of TLN's prospect rankings regarding who is considered a "prospect" for the purpose of this exercise. Rather than hard and fast limits on age or NHL games played, our group decided on a more nuanced approach to include any reasonably young player who is either under contract with the Leafs or on the club's reserve list, who has not yet established himself as a full-time NHLer. This includes players such as Matthew Knies and Joseph Woll, who made strong impressions in limited NHL action last season and are expected to make the 2023-24 opening day roster but does not include late-bloomer Bobby McMann, who will also be vying for an NHL roster spot heading into his age-27 season.
TheLeafsNation would also like to acknowledge and honor the memory of 2020 first-round pick Rodion Amirov who tragically passed away after a courageous and inspiring battle against cancer. We offer our sincerest condolences to Rodion's teammates, friends, and family in this difficult time.
Could Joseph Woll be the goalie of the future for the Toronto Maple Leafs? That's what fans wondered when the 6'3″ netminder was drafted in the third round (62nd overall) of the 2016 NHL draft, and those questions have grown louder over the past two seasons as the 25-year-old has put up an outstanding .924 save percentage across eleven NHL games. 
As an organization, the Leafs have historically been terrible at drafting and developing netminders. Since 1990, when the team drafted Felix Potvin in the second round, only James Reimer, selected in the fourth round of the 2006 draft, has been developed into a regular NHLer within the organization. For a position that is widely considered to be the most important in the entire sport, having only a single mark of success in over 30 years is simply unforgivable. 
Thankfully, the Toronto Maple Leafs seem to have prioritized righting those wrongs in recent drafts, with a priority seemingly being put on selecting high-upside netminders in later rounds. Starting with Joseph Woll's 2016 selection, Toronto went on to select a goalie in six out of seven straight drafts. Three of those selections have already appeared in our prospect rankings (#18 Vyacheslav Peksa, #15 Artur Akhtyamov, and #8 Dennis Hildeby); as the second-best Maple Leafs prospect in this year's rankings, Joseph Woll seems to be the cream of the crop.
Joseph Woll has all three attributes you want in a starting netminder. Size, athleticism, and fantastic nickname potential. Whether you're calling him The Brick Woll or Wolly the Goalie, it's hard to watch a few games of Joseph Woll and not walk away impressed.
Last season, as the starter for the Marlies, Woll immediately demanded attention while amassing an eleven-game winning streak in the AHL, eventually earning him another call-up to the NHL after debuting across four contests the year prior, with a serviceable .911 save percentage. His second cup of coffee in the NHL came across seven games last season, where he blew away expectations, providing a stellar .932 save percentage and winning six of the seven games he started, giving the Maple Leafs some much-needed depth in net while the NHL tandem of Matt Murray and Ilya Samsonov battled injuries.
Following another Samsonov injury, Woll even showcased that he could do it in the playoffs, posting a .941 save percentage across two starts against the Florida Panthers, including the Maple Leafs' only win of the second round.
As a goaltender, Joseph Woll plays a butterfly style and has spent the past few years working with strength coaches to build muscles that both maintain athletic mobility while also strengthening the core so that he can keep his body propped up at all times. While he previously had a tendency to get scrunched up while going into the butterfly, which left massive openings to shoot at high in the net, he's since grown better conditioned to remain squared up on the shooter at all times. With a 6'3″ frame, Woll needs to rely on his reflexes less often as he drops into the butterfly with proper form that makes the best use of his size.
Off the ice, the 25-year-old netminder has been praised for his work ethic and drive by the Maple Leafs' former senior director of player development, Scott Pellerin, which could explain the shockingly linear consistency of his growth. In pro sports, it's rare to see a prospect trend upward as consistently as Woll has, but it's hard to argue with the results. At every level he's played, whether it's the USHL, NCAA, AHL, or the NHL, Woll has seen his numbers improve with every passing season.
Now entering the 2023-24 NHL season, Woll's spot on the Maple Leafs roster seems all but guaranteed, earning him a full-time job at the highest level for the first time in his career. While he'll initially be listed as the backup to Ilya Samsonov, one has to wonder how long until Woll challenges for the title of starter, especially if his pattern of growth and improvement continues into this campaign.
Following Ilya Samsonov being awarded a one-year $3.55 million dollar contract in arbitration after failing to negotiate a longer deal with the club, it seems like Maple Leafs management may be banking on Woll being the starter of the not-too-distant future after all. With two years left on his current deal, at only $766,667 per season, Joseph Woll has a rare opportunity to make a name for himself as one of the most valuable contracts in the NHL. Having a potential starting netminder signed for less than the league minimum could be the kind of lucky break the Maple Leafs needed for their cap situation, allowing the team to spend more liberally elsewhere in the lineup. 
Currently, all signs point to Joseph Woll being only the third goaltender that the Toronto Maple Leafs have drafted and developed into a starter for the club in over 30 years. If he makes the leap into that role at some point this season, it will breathe new life into the Maple Leafs' competitive window, offering a budget-friendly solution at the sport's most volatile position.
From Potvin to CuJo and Belfour, Toronto has a long history of adoring goaltenders who show up and play their hearts out for the blue and white. Right now, Joseph Woll has an opportunity to be exactly the hero that the Maple Leafs need and become Toronto's next great fan favourite goaltender.
(Statistics from EliteProspects.com)