TLN's 2023 Offseason Leafs Prospect Rankings: #5 Fraser Minten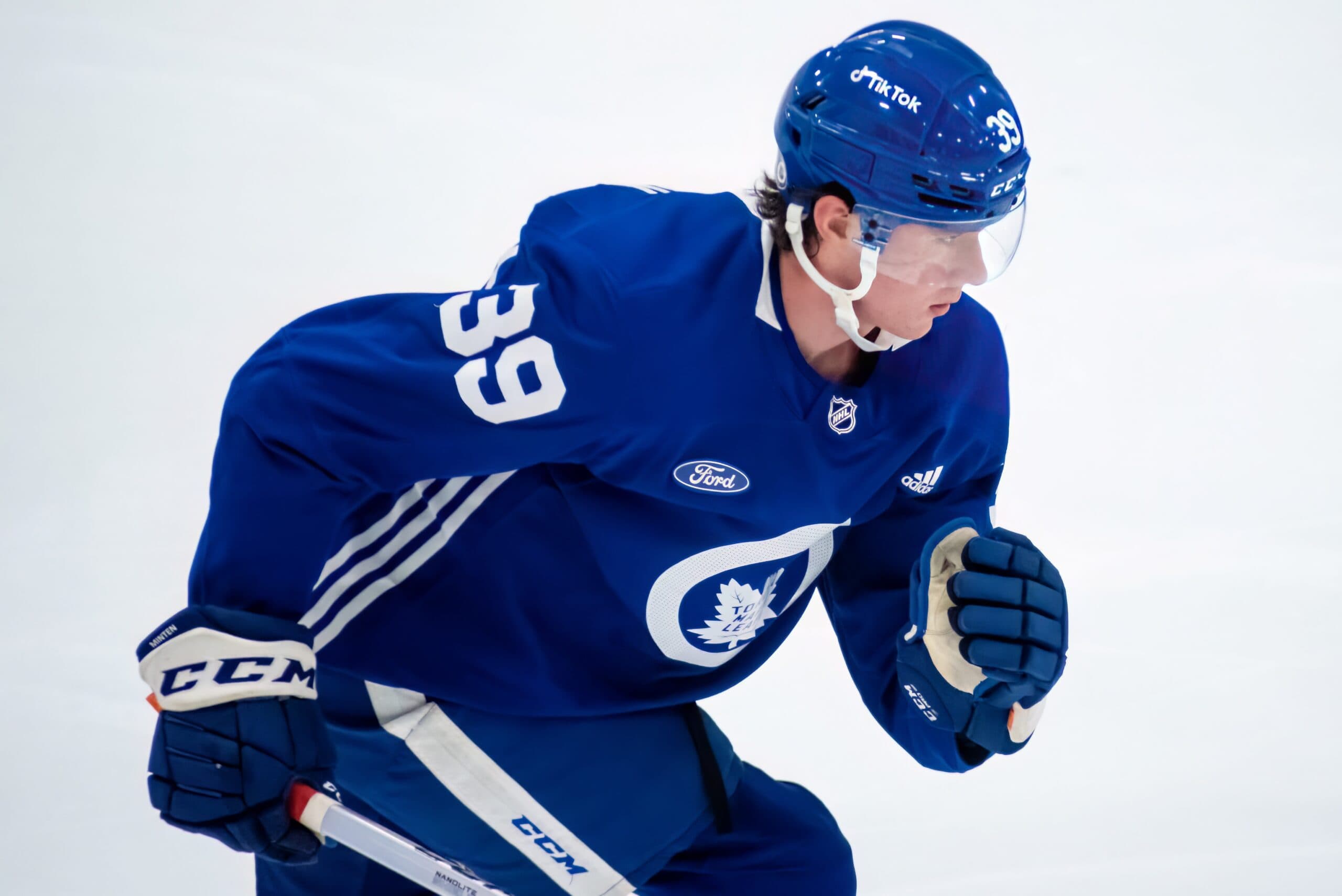 Photo credit:(Photo by Steven Ellis/Daily Faceoff)
We have updated the criteria from previous editions of TLN's prospect rankings regarding who is considered a "prospect" for the purpose of this exercise. Rather than hard and fast limits on age or NHL games played, our group decided on a more nuanced approach to include any reasonably young player who is either under contract with the Leafs or on the club's reserve list, who has not yet established himself as a full-time NHLer. This includes players such as Matthew Knies and Joseph Woll, who made strong impressions in limited NHL action last season and are expected to make the 2023-24 opening day roster but does not include late-bloomer Bobby McMann, who will also be vying for an NHL roster spot heading into his age-27 season.
TheLeafsNation would also like to acknowledge and honor the memory of 2020 first-round pick Rodion Amirov who tragically passed away after a courageous and inspiring battle against cancer. We offer our sincerest condolences to Rodion's teammates, friends, and family in this difficult time.
We didn't know it at the time, but the 2022 draft would end up being the final one with former general manager Kyle Dubas at the helm. In his five years (and five drafts) as GM, it became apparent what type of player he and his scouting staff preferred; high-IQ with no real preference for height/weight as long as they had a good mental grasp of the game. But, before anything else, it ultimately came down to who was the best player available at the time. 
The Toronto Maple Leafs initially had their first-round pick in 2022, but moved down 13 spots in the draft in order to unload the contract of Petr Mrazek. Now sitting at 39th overall, they used their first pick of the draft to select Kamloops Blazers forward Fraser Minten, an aforementioned high-IQ centre with decent size and possible untapped offensive potential. While it wasn't the shiniest name on the board, with players like Ty Nelson, Lane Hutson, and Calle Odelius still available, he's a player who had a higher floor than most and good potential to become a serviceable NHLer at worst. 
The selection of Minten also gave the Maple Leafs a much-needed plus prospect up the middle. They've got one of the best one-two punches at centre in Auston Matthews and John Tavares, but in terms of prospects, it's rather thin. While Minten probably won't be counted on to step up and immediately fill the second line centre role behind Matthews down the road, there's lots of reason to believe that, at bare minimum, he can be a middle-six guy.
Born in Vancouver, British Columbia, Minten spent his youth playing for West Van Academy before the Blazers selected him in the fourth round of the 2019 WHL Bantam Draft. He didn't immediately make the team, but after getting his first taste of WHL action in the shortened 2020-21 season with 18 points in 20 games, he quickly established himself as somebody who could turn into an asset for the Blazers. The 6-foot-2 centre took a noticeable step forward in his draft year, scoring 20 goals and adding 35 assists for 55 points in 67 games. He was also one of the Blazers' top point producers in the playoffs that year, putting up 16 points in 17 games.
Going into the 2022-23 season, Minten was named an alternate captain for the Blazers. Now with a fresh-printed "A" on his jersey, he kept the development process moving forward and upped his game, scoring 31 goals and finishing with 67 points in 57 games. He also had the opportunity to play in the Memorial Cup, with Kamloops being the host city, and while he was held to one goal in those four games, the experience that comes with playing in such a prestigious tournament as an 18-year-old is something that will help him on his journey to the NHL.
As I said before, Minten's claim to fame is his hockey IQ. He was one of the smartest players in the 2022 draft class, and that spans beyond hockey; he's also an accomplished piano player. He's got great size for his age and could reach 6-foot-3 by the time he stops developing, and while he's not the type to throw a thundering Scott Stevens-esque hit, he uses his frame effectively when it matters, such as battling opponents in the corners and finishing his checks. He's got a quick and deceptive shot and tends to play a style of dump-and-chase hockey that old-school coaches love. 
One area he somewhat struggled in during his draft year was his shot. Not that there was anything wrong with it, but he had trouble getting the puck off his stick with power AND accuracy. So, he could rip the puck if he had the time and space to do so, with the possibility of missing his target by a foot or two, or he could fire off an accurate shot with a quick but not an overly powerful release. There was a noticeable improvement in that category in 2022-23, and it was shown in his uptick in goals, going from 20 to 31 the year after.
While a good chunk of his production came on the power play this season, that can be attributed to the depth of the Blazers as the clock turned to the second half of the season. They loaded up for the playoffs, and as the team grew stronger and stronger, he ended up as their third line centre for much of the postseason. Not a demotion but rather a testament to how deep their team had gotten. Still, he was an integral part of their playoff run, and he's going to get even more of an opportunity in 2023-24. 
Stuck behind the likes of Dallas Stars prospect Logan Stankoven and Minnesota Wild prospect Caedan Bankier, Minten was a bit sheltered in a sense. That said, those two players rounded out the top-three scorers on the team, and both of them will be graduating to play for their respective AHL teams in 2023-24. This is going to open up a big opportunity for Minten, who will likely assume duty as the team's number-one centre and play in all situations. In his own words, he plans to have a good training camp with the Maple Leafs and then "dominate" the WHL next season. After that, the plan is to make the Toronto Marlies.
Assuming Minten develops with the Maple Leafs and doesn't get traded in the next few years, he's probably not going to be a regular NHLer for at least another two or three years. That being said, he does have a leg up on other prospects who are more one-dimensional, and the fact that he's got such a strong defensive game could earn him some looks in the bottom-six, as opposed to being a pure offensive player who can only thrive when given the proper ice time and linemates. A year or two of development in the minors will be necessary, but the type of game he plays is one that fits teams with aspirations of a deep playoff run. 
In a perfect world, Minten's offensive game takes a massive step forward over the next few years, and he turns into a high-end second line centre, capable of 50-60 points per season and strong defensive play. In terms of style of play, think somebody like Jordan Staal or Nick Paul. Like I said, though, even if he doesn't hit his maximum ceiling, he's got the toolbox to be a strong third line centre. His NHL ETA lines up pretty nicely with the expiration of Tavares' contract, which could bode well for them in the future. That said, if he can hit the ceiling I mentioned there, it would be worth the wait.
(Statistics from EliteProspects.com)