TLN's 2023 Offseason Leafs Prospect Rankings: Honourable Mentions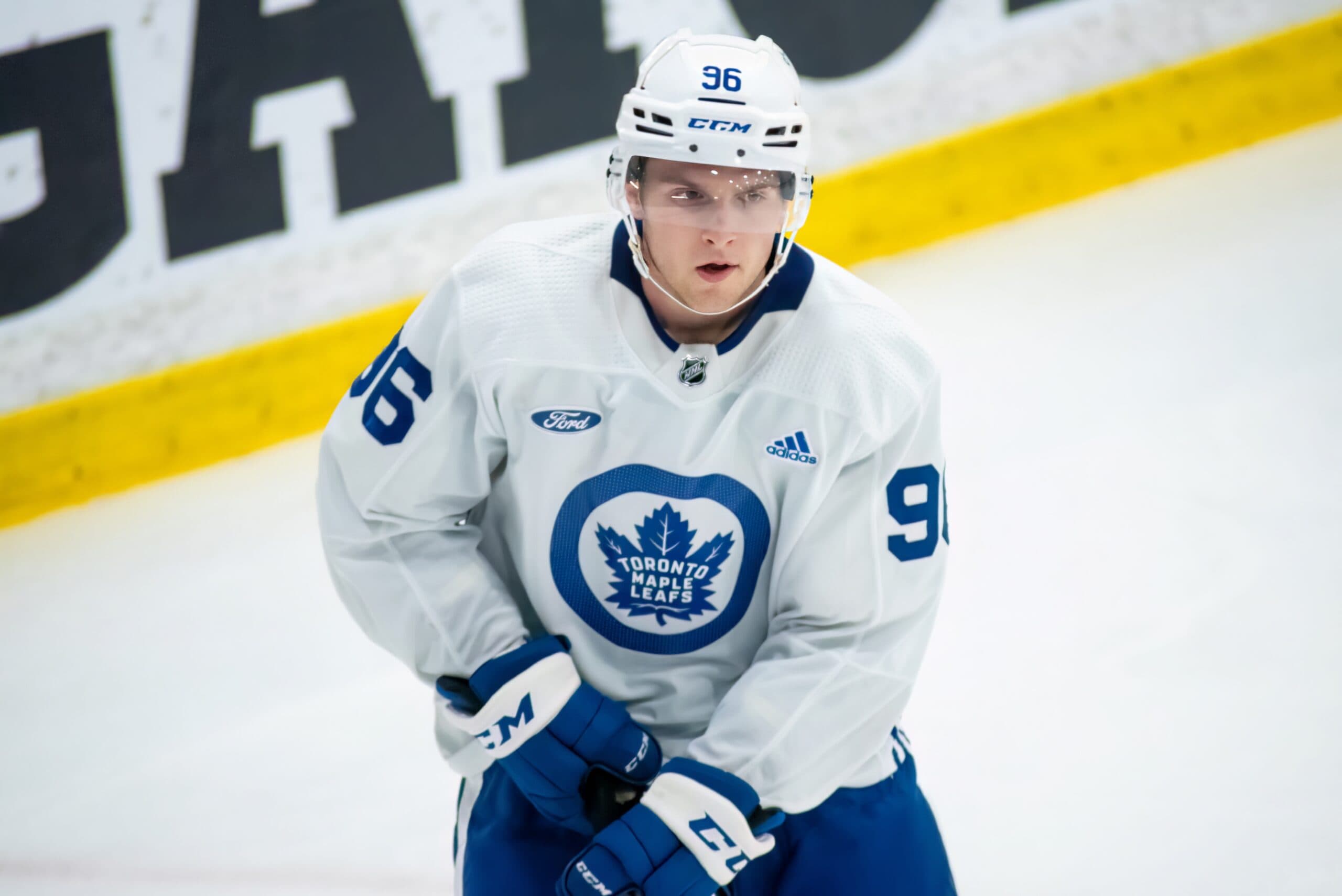 Photo credit:Steven Ellis
This week marks the beginning of TheLeafsNation's offseason series profiling the top prospects in the Maple Leafs organization. We will be counting down the top 20 up-and-comers in the system starting Monday, but we kick things off today with a handful of players who just missed the cut.
These rankings were compiled by a panel of six TLN writers, each ranking our top 20 prospects to form a consensus group ranking. Each player listed below received at least one vote but failed to crack the top 20.
Before we get into the list, some quick housekeeping on how we decided which players were eligible to be ranked:
We have updated the criteria from previous editions of TLN's prospect rankings regarding who is considered a "prospect" for the purpose of this exercise. Rather than hard and fast limits on age or NHL games played, our group decided on a more nuanced approach to include any reasonably young player who is either under contract with the Leafs or on the club's reserve list, who has not yet established himself as a full-time NHLer. This includes players such as Matthew Knies and Joseph Woll, who made strong impressions in limited NHL action last season and are expected to make the 2023-24 opening day roster but does not include late-bloomer Bobby McMann, who will also be vying for an NHL roster spot heading into his age-27 season.
TheLeafsNation would also like to acknowledge and honor the memory of 2020 first-round pick Rodion Amirov who tragically passed away after a courageous and inspiring battle against cancer. We offer our sincerest condolences to Rodion's teammates, friends, and family in this difficult time.
Brandon Lisowsky | W | Saskatoon (WHL)
5'9″ | 181 lbs | Shoots: L | Drafted 2022 round 7, 218th overall
The Leafs selected Lisowsky with their final pick in the 2022 draft after he finished with the third-most goals among WHL draft eligibles, behind Matthew Savoie (7th overall) and Jagger Firkus (35th overall). His statistical profile and natural shooting ability likely warranted a higher draft slot, but he is on the smaller side, and his skating is just average for a player of his stature.
The Leafs took a late swing on Lisowsky, and they have to be pleased with the early returns the young sniper has provided. After posting 33 goals and 25 assists in 68 games during his draft year, he finished the 2022-23 regular season with 38 goals and 33 assists in just 65 contests.
While the improvements to Lisowsky's playmaking and overall game last season are encouraging, his meal ticket will always be his ability to put the puck in the net. He is a high-end shooter who can release the puck with power and accuracy in the blink of an eye, whether it be in stride, in one motion off a pass reception, or in awkward positions from congested areas around the net. Lisowsky did a better job of utilizing his teammates and hunting open space this past season but can still try to do too much on his own at times, and he will have to reign in those tendencies as he progresses toward pro hockey.
Lisowsky is set to return to Saskatoon for his fourth and likely final WHL season. If he is able to build off of last season and take another step forward in 2023-24, his raw goal-scoring ability will likely earn him an entry-level contract with the Leafs that would pave the way for his AHL debut in 2024-25.
Joe Miller | C/W | Harvard (NCAA)
5'9″ | 160 lbs | Shoots: R | Drafted 2020 round 6, 180th overall
An undersized forward drafted out of high school in 2020, Miller was always going to be a long-term project but he has taken positive steps in each of the last two seasons. Following an underwhelming draft+1 season as a rookie with Chicago in the USHL, the Minnesota native broke out for 23 goals and 45 assists in 62 games in 2021-22. That set the table for an impressive freshman season at Harvard in 2022-23 that saw the diminutive forward carve out a top-six role and finish with 28 points in 33 games.
Miller is a well-rounded offensive forward who drives play with a combination of strong instincts, speed, and elusiveness. He processes the game at a high rate, evidenced by his ability to play and be productive with players like Sean Farrell and Matt Coronato, who have since turned pro and played NHL games. Miller is a skilled puck handler who keeps his feet moving and layers deception into his passes to create more time and space for his teammates. He is elusive in tight spaces, and despite his lack of size and strength, he has shown a knack for getting into scoring areas around the net, where he utilizes his soft hands and a quick release to finish plays.
2023-24 will be a big year for Miller as he looks to continue on an upward trajectory and earn an entry-level contract with the Leafs. With several of Harvard's top forwards moving on, he will be tasked with being more of a primary offensive driver in his sophomore year, and while the Leafs have until the summer of 2026 to make a decision on Miller, how he handles that challenge will go a long way in determining the next steps in his career.
Mike Koster | D | Minnesota (NCAA)
5'10" | 180 lbs | Shoots: L | Drafted 2019 round 5,  146th overall
A teammate of Matthew Knies' at the University of Minnesota, Koster took a big step forward as a junior in 2022-23. After totaling 26 points over 67 games in his first two college seasons, he finished last season with six goals and 23 assists in 40 games while playing a prominent role for one of the best teams in the NCAA.
Koster was drafted for his mobility and offensive instincts, both of which have only improved in his time at Minnesota, but his defensive game has also come along nicely. Defending against college forwards isn't quite the same as doing it in the NHL, and his size will likely be a greater hindrance at the pro level, but Koster is strong positionally, can mirror the footwork of oncoming attackers while sticking with them, and his ability to quickly retrieve pucks and get his team headed in the right direction limits the time he has to spend in his own zone. Offensively, he controls the blue line effectively with good footwork and keeps his head up to scan for options in front of him. Koster also has a good release and a heavy shot from the point, making him a viable scoring threat on the power play.
With all of Brock Faber, Jackson LaCombe, and Ryan Johnson turning pro, Koster will be thrust into an even larger role in his senior year. His exclusive rights expire next summer, so the upcoming season will be a crucial one for him, but he will have plenty of opportunity to prove he is worthy of an entry-level contract.
Mikko Kokkonen | D | Toronto (AHL)
6'0″ | 201 lbs | Shoots: L | Drafted 2019 round 3, 84th overall
Touted as a mature, pro-ready defender in his draft year, Kokkonen's transition to North American pro hockey hasn't gone as smoothly as expected. The Finnish blueliner joined the Marlies for his first full season in 2022-23, with a wealth of experience playing in Liiga, but it appeared the AHL game was moving too fast for him at times, and he was eventually demoted to the ECHL in effort to get him more consistent playing time.
Kokkonen is never going to make a name for himself as an offensive producer from the back end, but there are still reasons to believe he could develop into a serviceable depth defender for the big club. He can make a decent first pass, but he isn't a dynamic puck-mover, and he is best suited to playing with a more active partner that complements his conservative style of play. When Kokkonen is at his best, he maintains tight gaps in transition, smothers passing options, and disrupts lanes with good positioning and an active stick. He isn't overly physical, but he uses his body effectively to take away space and clog up the cycle.
Much like last season, Kokkonen will have to earn his ice time on a crowded Marlies blue line in 2023-24. If he is able to establish some chemistry and consistency with one of the Marlies' more offensively-oriented defenders, he could quickly earn the trust of new head coach John Gruden and work his way up the depth chart.
Noah Chadwick | D | Lethbridge (WHL)
6'4″ | 187 lbs | Shoots: L | Drafted 2023 round 6, 185th overall
One of the newest additions to the Leafs' prospect pipeline, Chadwick represents a bet on physical tools and hockey sense. At 6'4″, he has the size that every team covets on the back end, and though he is still very raw, there are flashes of offensive potential to go along with that big frame.
Though he isn't an overly skilled puck handler, Chadwick utilizes fakes and delays to open up more space to make a play and rarely tries to do too much with the puck on his stick. He sees the ice well from the back end, showing an ability to find open teammates on the breakout, but he isn't shaking many forecheckers at this stage of his career. Perhaps still growing into his body, Chadwick is a clunky skater who lacks explosiveness and agility. Despite those limitations, he has been able to defend effectively at the junior level because of his length and ability to read the play.
Chadwick's numbers from his draft year don't jump off the page, but even a slight improvement to his overall mobility should lead to greater offensive output, while also improving his ability to defend against more talented forwards as he continues to develop. Another long-term project drafted in the later rounds, the tools are there for Chadwick to carve out a pro career.
Semyon Der-Arguchintsev | C/W | Traktor Chelyabinsk (KHL)
5'10" | 172 lbs | Shoots: R | Drafted 2018 round 3, 76th overall
The upside and promise that was evident in SDA as a junior player has eroded bit by bit over the years, and despite making his NHL debut last season, his chances of becoming a full-time NHLer appear bleaker than ever following a return to the KHL. Even after his best AHL campaign to date, notching 40 points in 50 games, he was either unable or unwilling to come to terms with the Leafs on a new contract and instead signed a two-year pact with Traktor Chelyabinsk.
The raw offensive talent is obvious when you watch Der-Arguchintsev. He is a truly elite puck handler who can put opponents in a blender, and his creativity as a passer stands out consistently. In fact, he can sometimes over pass or catch teammates off guard with some of the feeds he makes. SDA did show more of a willingness to shoot last season, but it is almost never his preferred option – even when it should be. While the skill is tantalizing, he can still be too perimeter focused, and his defensive game hasn't really developed to the point where he can be trusted in difficult matchups.
The Leafs tendered SDA a qualifying offer, so they still hold his NHL rights, but while he is still just 22 years of age, a move back to Russia sgignifies a step backward in his pursuit of an NHL career. He is still worth monitoring in the coming years but we may have seen the last of Der-Arguchintsev in North America.
Veeti Miettinen | W | St. Cloud State (NCAA)
5'9″ | 165 lbs | Shoots: L | Drafted 2020 round 6, 168th overall
Following a strong freshman season after a dominant career in the Finnish junior league, Miettinen's development has plateaued a bit in the last couple of seasons. He set new career highs offensively in 2022-23, but his 12 goals were only one more than his freshman year, and a lot of his production came on the powerplay.
Miettinen is a dangerous shooting threat, but he rarely creates his own shot, often relying on teammates to find him lurking in open space. He can wire pucks from the right faceoff circle, but he isn't much of a rush threat and doesn't create a ton off the cycle. He is also a skilled passer who can find teammates through layers of traffic, but he is still too static and predictable when in possession. With his lack of size and one-dimensional style of play, he needs to be a more dynamic offensive force.
Miettinen is entering his senior season at St. Cloud State, and it's going to take a huge step forward for him to work his way back into the conversation for an entry-level contract before his rights expire and he becomes an unrestricted free agent next summer.
(Statistics from EliteProspects.com)