Top 5 Toronto Marlies destined for a call-up to the Toronto Maple Leafs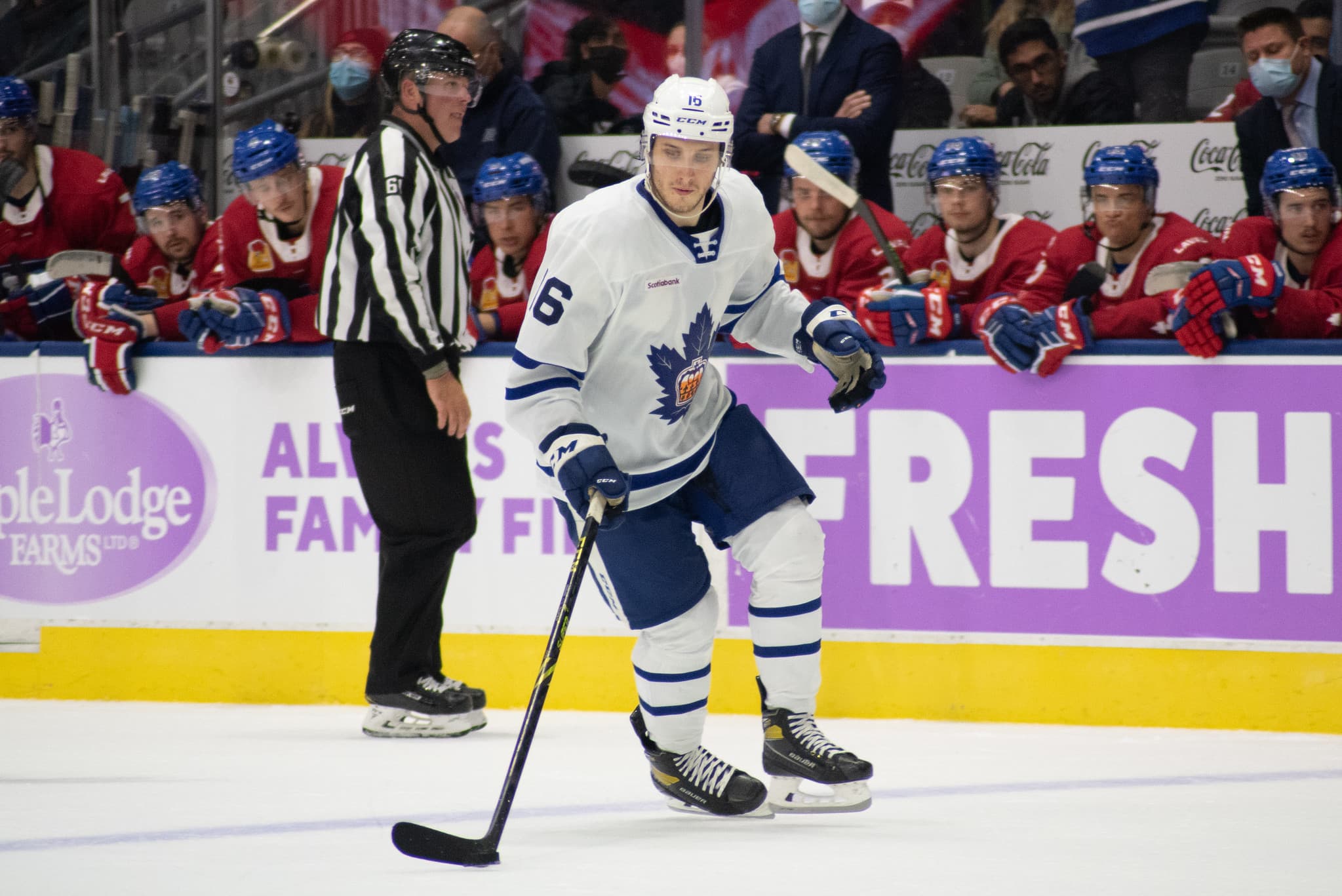 Photo credit:Steven Ellis
Holy Mackinaw, the boys are back.
The 2022-23 NHL season is upon us, and with that came the rash of waiver designations and re-assignments to the minors. In just a few days, the Toronto Marlies will open their season against the Rochester Americans, containing a handful of players that just missed the cut for the big club.
Nicholas Robertson was the most notable player sent down by the Leafs this week. Toronto's top forward prospect was one of the team's top scoring forwards during the pre-season, but salary constraints meant the 21-year-old will start the season down the road at Coca-Cola Coliseum. He'll be called up eventually, so we'll skip him here.
We're also skipping Wayne Simmonds, who was made available on the trade block over the weekend. It seems like his tenure with the Leafs is all but over, and while he might still be valuable on an NHL team somewhere, it's clear that his future isn't in Toronto.
So, which prospects could earn a call-up sooner rather than later? Here's a look at five of the best candidates:
Erik Kallgren, G, 25 Kallgren was thrust into late-season duty with the Leafs last year, posting an 8-4-1 record to close things out. He wouldn't have been relied upon so often late in the year in a perfect world with a healthy Jack Campbell and Petr Mrazek in the mix. The Leafs overhauled their crease this summer, but Kallgren is back in the AHL and will fight for time with Keith Petruzzelli and, for the time being, Dylan Ferguson. Joseph Woll should also be in the mix, but he's injured to kick off the season. It's a crowded crease, but Kallgren's experience last year should make him an easy call-up candidate, especially with veteran Michael Hutchinson out of the picture now.
Alex Steeves, C/LW, 22 Steeves was a camp casualty despite impressing in the pre-season. Steeves had two goals and three points and received general praise throughout, but the team ultimately found it more valuable to give him critical ice time in the AHL. After putting up 23 goals and 46 points last year, Steeves will be a crucial contributor for the Baby Blue and should almost certainly earn a call-up at some point thanks to his hard-working nature and ability to generate offense in close.
Adam Gaudette, 26, C Many don't view the men's World Hockey Championship in high regard, but Gaudette's run with USA – six goals and eight points in 10 games – was impressive enough to get people talking. Unfortunately for Gaudette, he couldn't turn that into immediate NHL work, so he's off to the Marlies. The former Northeastern University star has bounced around a few times in the past few years and hasn't managed to find the mojo that saw him pot 12 goals and 33 points with Vancouver in 2019-20. Gaudette will give you his full effort every shift and is responsible defensively, and his NHL experience would make the transition easy. But with an abundance of depth, and the play of Zach Aston-Reese earning him a deal, it makes sense to send Gaudette down and compete for opportunities.
Victor Mete, D, 24 Mete was a surprise addition to Montreal's roster in 2018, two years after getting selected in the fourth round. Since then, though, Mete has struggled to remain a steady presence in the NHL and has only hit the 60-plus game threshold once. After a season as a depth defender with Ottawa, the Leafs brought him in to fill a similar role on a league-minimum deal, making him an easy target to start the year with the Marlies. Mete is only 24, but he does have 236 games of NHL experience to his credit, so he seems like an easy call-up candidate if injuries to the blueline persist.
Pontus Holmberg, LW, 23 Holmberg entered camp as a longshot to make the Leafs, making it challenging for the team to cut him loose. Holmberg didn't record a point in five games, but he was tough to play against, brought speed and showed flashes of skill. Holmberg plays a simple game; as a bottom-six forward, that's all you can ask for. Holmberg has a decent frame and can hold his own physically, and his workmanlike playstyle made him a popular figure during the pre-season. He has spent his career trying to prove people wrong after being an overaged sixth-round selection in 2018, and a good start to the AHL could earn him a shot at the big time.