The Leafs three stars of a week where the top line takes over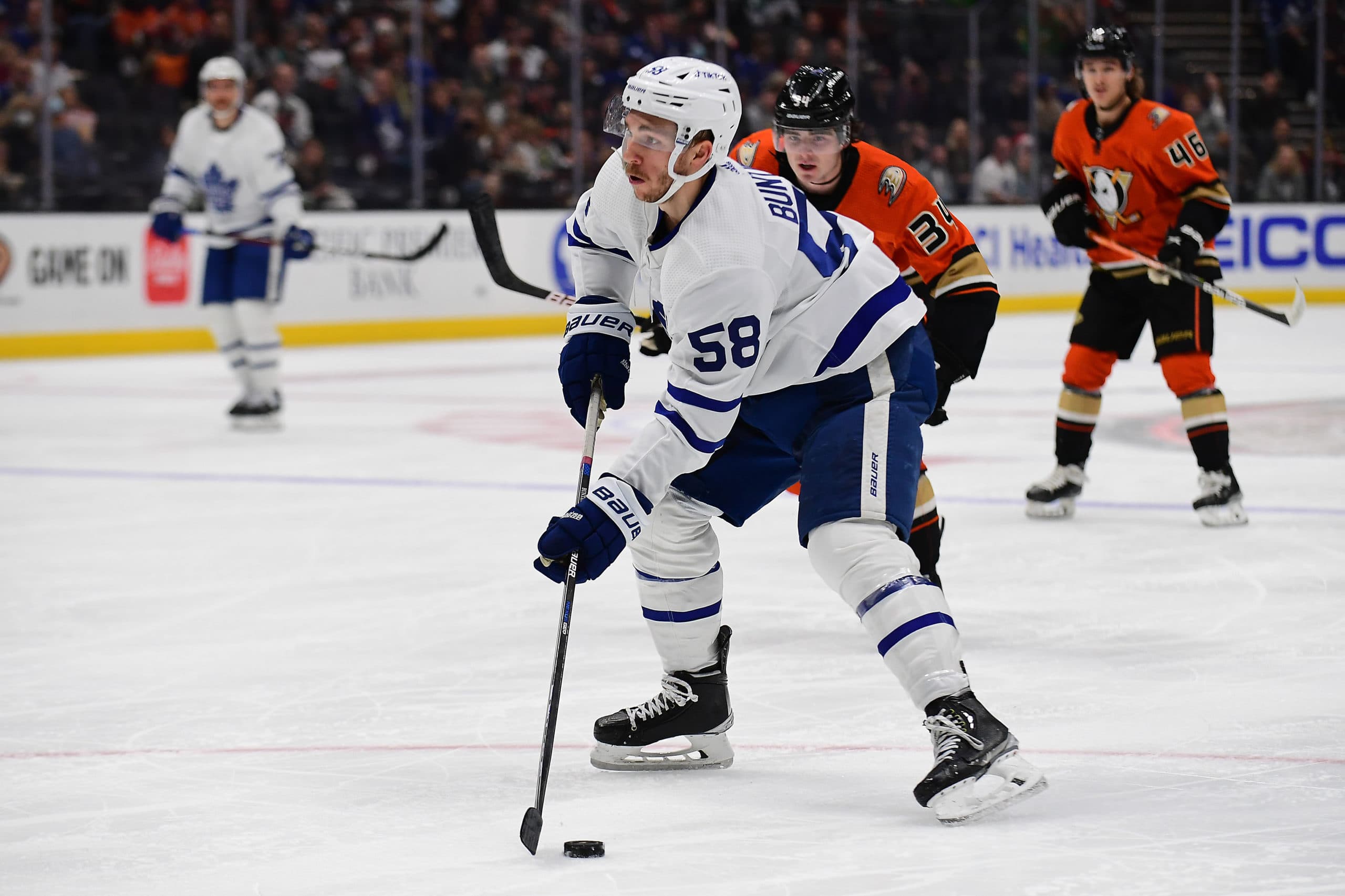 Photo credit:Gary A. Vasquez-USA TODAY Sports
On a hot streak with a record of 13-2-0 in their last 15 games, the Toronto Maple Leafs entered week eight of the season looking to continue that and continue their current win streak which was at three games as they entered Anaheim to play the Ducks Sunday night. With games against the Avalanche and the Wild later that week, the Maple Leafs were in for a tough week given that all three teams have played well thus far this season and this week was going to be just as an important one as the week where they played the Golden Knights, Lightning, and Bruins.
Well, Sunday night after beating the Kings and Sharks to begin their California road trip, Toronto walked into the building and came away with an impressive 5-1 win against a Ducks team that is overachieving this season. Despite them overachieving so far this season, Anaheim is still playing good hockey and has a couple of players having breakout seasons this year. Anyways, if Toronto can go through California and come away with three wins, then it's a good time.
Now on a four-game winning streak, Toronto is finally back home after a four-game road trip and they are welcomed by the Colorado Avalanche who are without their starting goalie, Darcy Kuemper but have Nathan MacKinnon back in the lineup after missing a handful of games due to an injury. I really shouldn't go into too much detail about this game because I'm pretty sure we all know what happened in this game. Toronto demolished Colorado on the scoreboard 8-3, however, I felt like the game was closer than the score showed. Nonetheless, Toronto picked up another big win and was on their third five-game winning streak of the season, and now have won 15 of their last 17 games.
After picking up their third five-game winning streak, Toronto had themselves a challenge as they had to begin the first half of a back-to-back on the road Saturday night against the Minnesota Wild. It wasn't the prettiest of starts from Toronto, but they slowly got themselves back into the game as it went on. However, the Wild took a 3-0 lead and the Maple Leafs were playing from behind but never count them out because they erased that deficit in the second period and tied it just before the end of the second frame. There were no goals scored in the third period and overtime didn't solve anything so we were forced to go to a shootout where Minnesota ended up picking up the win.
Record during week eight: 2-0-1 | Season record: 17-6-2 (36 points)
3rd Star: Jack Campbell – 3 GP – 2 W – 2.33 GAA – .937 SV%
Picking up week eight's third star is Jack Campbell who has been the rock for this Toronto Maple Leafs team throughout the first quarter of the season. In a week where the Maple Leafs were up against the Ducks, Avalanche, and Wild, Campbell played in all three games and came away with two wins, but the only loss came in a shootout, so at least Toronto, especially Campbell helped secure at least a point in that game.
I honestly feel like a broken record – in a good way – when I talk about Jack Campbell and what he's been doing this season as he's been one of, if not, the best goalie in the entire NHL and by far the team's MVP this year. For someone who was looked at by many people as someone who is an NHL backup goalie and nothing more, he's quickly shut the haters up and proved a lot of people wrong with his play over the last year and a half with the Toronto Maple Leafs after he was traded here by the Los Angeles Kings.
Last week was just yet another typical Campbell performance as he posted a 2.33 GAA and a .937 SV% in three games and picked up two wins which extended the team's winning streak to five games at the time. With those two wins and those great numbers, Campbell now holds a record of 13-4-2 and has posted a 1.78 GAA and a .942 SV% through 19 games so far this season, which are all top of the league in their respected categories.
With Petr Mrazek looking like his return is nearing, it looks like Campbell's workload may be decreased as he's played in 19 out of the 25 games played this season for Toronto. Woll has played in three, Mrazek has played in two, and Hutchinson has played in just one. However, if Mrazek has a setback or he finds his way on IR again, at least the Maple Leafs know what they have in Joseph Woll as he's seen some success through his first three NHL starts.
2nd Star: Michael Bunting – 3 GP – 1 G – 4 A – 5 PTS
After a very strong start to the season and then a stretch in the middle where he only recorded one point in seven games, Michael Bunting has been on absolute fire in his last eight games as he's recorded nine points – two goals and seven assists – in those contests. However, we're talking about last week's games against the Ducks, Avalanche, and the Wild where Bunting was one of the many Leaf players that had themselves a pretty impressive week. In those three games, Bunting recorded five points while playing his role really well on that first line with Matthews and Marner.
After getting another promotion to the top line after spending a couple of games in the bottom-six, Bunting has – in my opinion – solidified his spot on that top line for the rest of the season or at least for the foreseeable future as he's given you everything you could've asked for during his time in the top-six and has looked so good on the wing beside Matthews and Marner. After losing Hyman, people were wondering who was going to replace him. Well, they might not be identical players, of course, but Bunting is one hell of a replacement if you ask me, especially for under a million dollars for this year and next.
He opened up the week with a two-point performance against the Ducks including a nice goal from an even better feed from Marner which you can see below these two paragraphs. His ability to do the dirty work in the corners and in front of the net just complements both Matthews and Marner well, and Bunting has shown us he also has a scoring touch as well as we've seen so far this season and even last season too with Arizona.
His game against the Avalanche was one of his best of the season scoresheet-wise as he tallied three assists that night in a blowout 8-3 win on home ice after a four-game road trip. Whether he was dishing assists to Matthews or someone random that was on the ice at the same time that he was like Engvall, Bunting found his way on the scoresheet five times in three games last week and just all around played a great week of hockey and found himself as the second star.
1st Star: Auston Matthews – 3 GP – 5 G – 1 A – 6 PTS
Boy oh boy what a week it was for Auston Matthews. After starting the season off to a slow start, Matthews has been on an absolute tear over the past 16 games, recording 22 points – 13 of them being goals. However, over the past three games against the Ducks, Avalanche, and Wild, Matthews showed the hockey world that the reigning Rocket Richard winner shouldn't be left out of the early conversation as he potted home five goals last week – including a hat-trick against Colorado Wednesday night which was only his fourth career hat-trick which is crazy to think about.
After shaving his mustache ahead of the Avalanche game, Matthews now has five points in his last two games, and maybe shaving it was a good thing after all given his play during the last two games. However, even with the mustache, he was playing extremely well so it's whatever.
He opened up the week with a goal against Anaheim and then as we all know and as I just recently said, he potted home three goals for a hat-trick against Colorado just 72 hours later which was by far one of, if not, his best performance of the season so far. And just last night, as it's fresh in everyone's minds, he registered his eighth multi-point game of the season with a goal and an assist in their 4-3 loss in a shootout to the Wild.
Just an all-around flat out a great week of hockey for Matthews offensively and defensively as he's really taken that step to be more responsible defensively and I'm pretty sure we've all seen it with the eye test as he's backchecking more, boxing guys out, intercepting passes, anything you can think of, Matthews has done fairly well at it through 22 games this season.