Toronto Maple Leafs: 3 stars from week one of the season (October 12-16)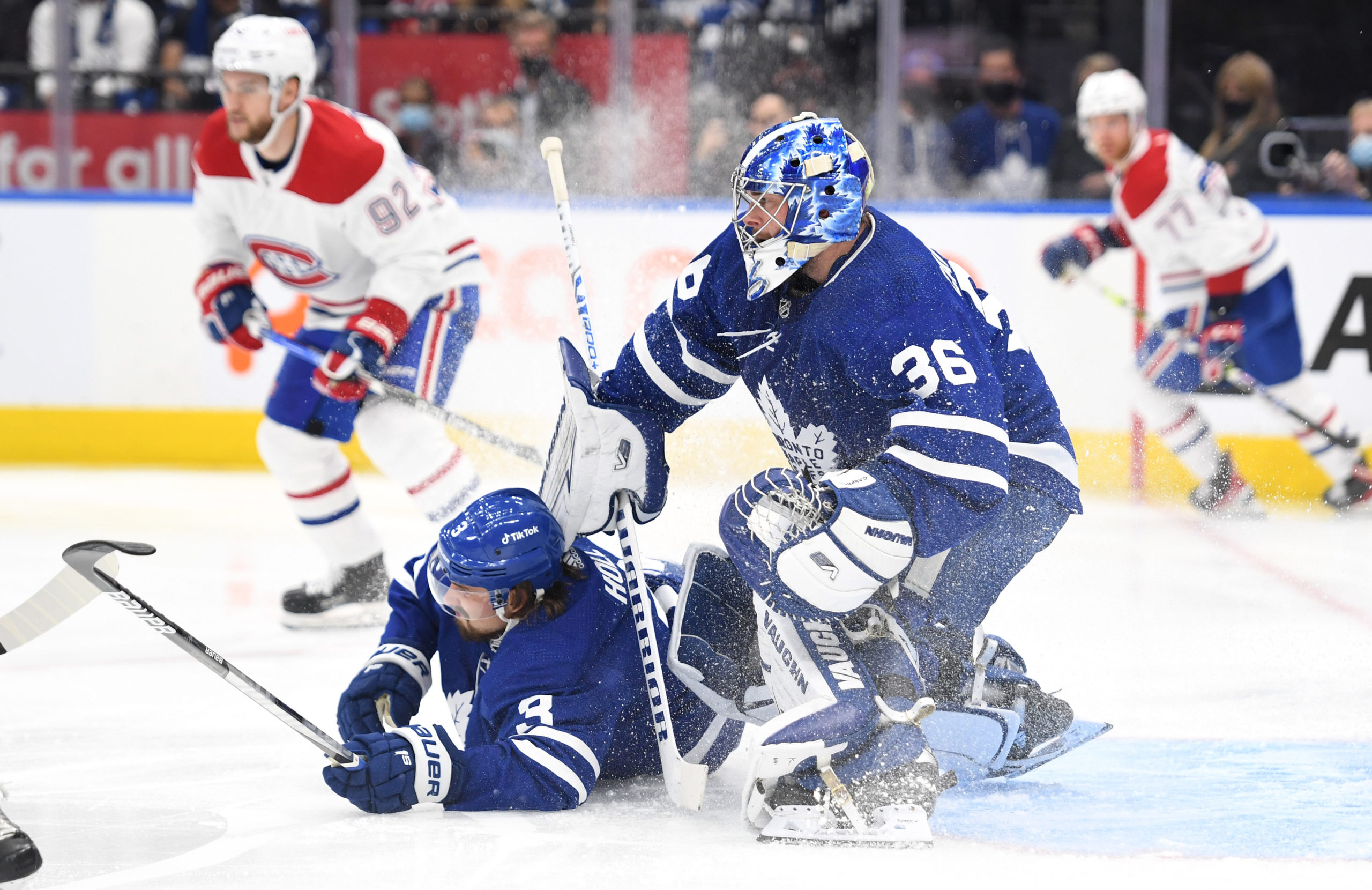 Photo credit:Dan Hamilton-USA TODAY Sports
Week one is officially in the books for the Toronto Maple Leafs after a long wait for the start of the regular season. Toronto started their first week playing none other than Canadian teams after playing them for the entirety of last year, so I'm just happy they got past this week so they can start playing some American teams for the first time since 2020.
They opened their season on Wednesday when they welcomed the Montreal Canadiens to town and took care of business picking up a close 2-1 win to open the year 1-0-0. We didn't have to wait long for another Maple Leafs game as they took a plane and flew to Ottawa to play the second half of a back-to-back the next day. We all know what happened in that game, a very slow start and a three-goal period for Ottawa ultimately resulted in a 3-2 win for the Senators as the Maple Leafs pick up their first loss of the season.
Fast forward to Saturday night and they're playing, you guessed it, the Ottawa Senators, yet again. This time Toronto actually started on time and they pounced early with two goals in the first period. They did look sloppy in short bursts yet again, so they're going to have to clean that up when they start playing some teams they haven't seen in quite a while, but they did pull out a 3-1 win and finished the week off on a good note.
Record during week one: 2-1-0 | Season record: 2-1-0 (4 points)
3rd Star: Michael Bunting – 3 GP – 1 G – 1 A – 2 PTS
The third star of the week for the Toronto Maple Leafs could easily go to a handful of other players like Mitch Marner, John Tavares, and even Rasmus Sandin, to be honest. However, I had to go with the kid who scored his first goal as a Toronto Maple Leaf last night and someone who has literally taken a beating from the other team's players throughout the first three games. Michael Bunting, the Scarborough kid has impressed me, along with many others with his play in the preseason and the three games on the schedule this past week and it's great to see.
After signing a two-year deal with an AAV of $950K in the off-season, Bunting was going to come into Toronto with a similar playstyle as a former Maple Leaf who left for Edmonton, Zach Hyman. Now I don't want to say Bunting is Hyman or Hyman is Bunting, but the two players do share some similarities in each other's games and it's clearly obvious to others that they do.
Bunting isn't someone who is going to be very flashy with his moves and score 30 plus goals in his sleep, but he's someone who will go to the dirty areas and score those tough goals in front of the net and cause havoc against the other team. Through his first three games as a Leaf, Bunting has registered a goal and an assist while playing with kind of a pesky side to his game which is clearly annoying the opposition if you've been watching the games.
Bunting has been given a shot in the top-six alongside Kerfoot and Nylander after the injury to Ilya Mikheyev, so this is a huge opportunity for him to showcase what he can do alongside some of the Maple Leafs best players in the lineup. With his playstyle and with Kerfoot and Nylander's ability to pass and score, this line easily has all the tools to do some damage on the ice, but it's up to them if they will come to play or not.
2nd Star: Jack Campbell – 3 GP – 2 W – 0.86 GAA – .968 SV%
Jack Campbell has looked solid through his first two starts of the season and the one period he played in Ottawa after coming in for the injured Petr Mrazek. Picking up where he left off from last year with a stellar regular season, Campbell is one of the reasons why the Maple Leafs have picked up two wins to start their 2021-22 season. After some poor starts to some games and some sloppy plays during short bursts in some others, Campbell has been there to bail the team out when they break down defensively.
He has allowed just two goals in seven periods to start the season, or you can say he's saved 61 of the 63 shots he's faced so far this year. With the injury news to Petr Mrazek and him missing at least two weeks due to a groin injury (six games), the team is going to need Campbell to continue his play and at least give the Maple Leafs a chance to win if they aren't looking their sharpest out there in some of the games throughout the next 14 days without Mrazek.
In seven periods (basically three games) Jack Campbell has posted a 0.86 GAA and a .968 SV% which, I know it's extremely early in the season, is pretty darn good if you ask me. As I said earlier, he's going to be called upon here in the next couple of weeks with the Mrazek injury and with Michael Hutchinson the backup goalie now, Campbell will most definitely be starting in all of the games over the next 14 days except one, because they have another back-to-back coming up next Friday and Saturday against the San Jose Sharks and the Pittsburgh Penguins.
The only concerning thing in Campbell's game right now is something that we saw a bit of last season too, his handling of the puck and the nervousness fans get when he comes out of the net. At times through the three games, he hasn't been the best at handling the puck outside his crease and he even got scored on last night against Ottawa after he came charging out of his crease to poke the puck away. Luckily, the play was offside so it didn't count, but my point still stands.
1st Star: William Nylander – 3 GP – 2 G – 2 A – 4 PTS
If you're a Maple Leafs fan or even just a William Nylander fan in general, you can't ask for a better start from him through the first week of the regular season. He is picking up where he left off from the last playoffs against Montreal and has four points in the first three games of the season for Toronto. With Auston Matthews sidelined for at least the team's first three games of the season, they needed the other three big guys to pick it up and help lead this team in his absence.
Well, I think it's safe to say Nylander has done his job and more so far with Matthews out, and I'm not saying Mitch Marner and John Tavares have looked bad to start, because they haven't, they've had their chances, but Nylander is creating chances for himself, others, and it's even showing up on the scoresheet. He has at least a point in each of the first three games played this season and had goals in back-to-back games to start the year too.
He's playing on the second line alongside Michael Bunting and Alex Kerfoot, on the first power-play unit with some of the big boys, and he's even killed some penalties as well, so his ice-time has been climbing and that's good to see. The more ice-time you give to a player like Nylander, the more he'll produce for you, and we've seen it first hand. Now I know their first three opponents were Montreal and Ottawa and Nylander played them a lot last season and even in the preseason this year, but you can't take away the good that he has done to start this year.
It's going to be fun to watch him and the other players on this team play against the American teams this season, to say the least, given they haven't played against an American team since they played the Columbus Blue Jackets in the 2020 play-in round last summer in Toronto.