Toronto Maple Leafs set to visit Arizona Coyotes in 5,000-seat Mullett Arena for the first time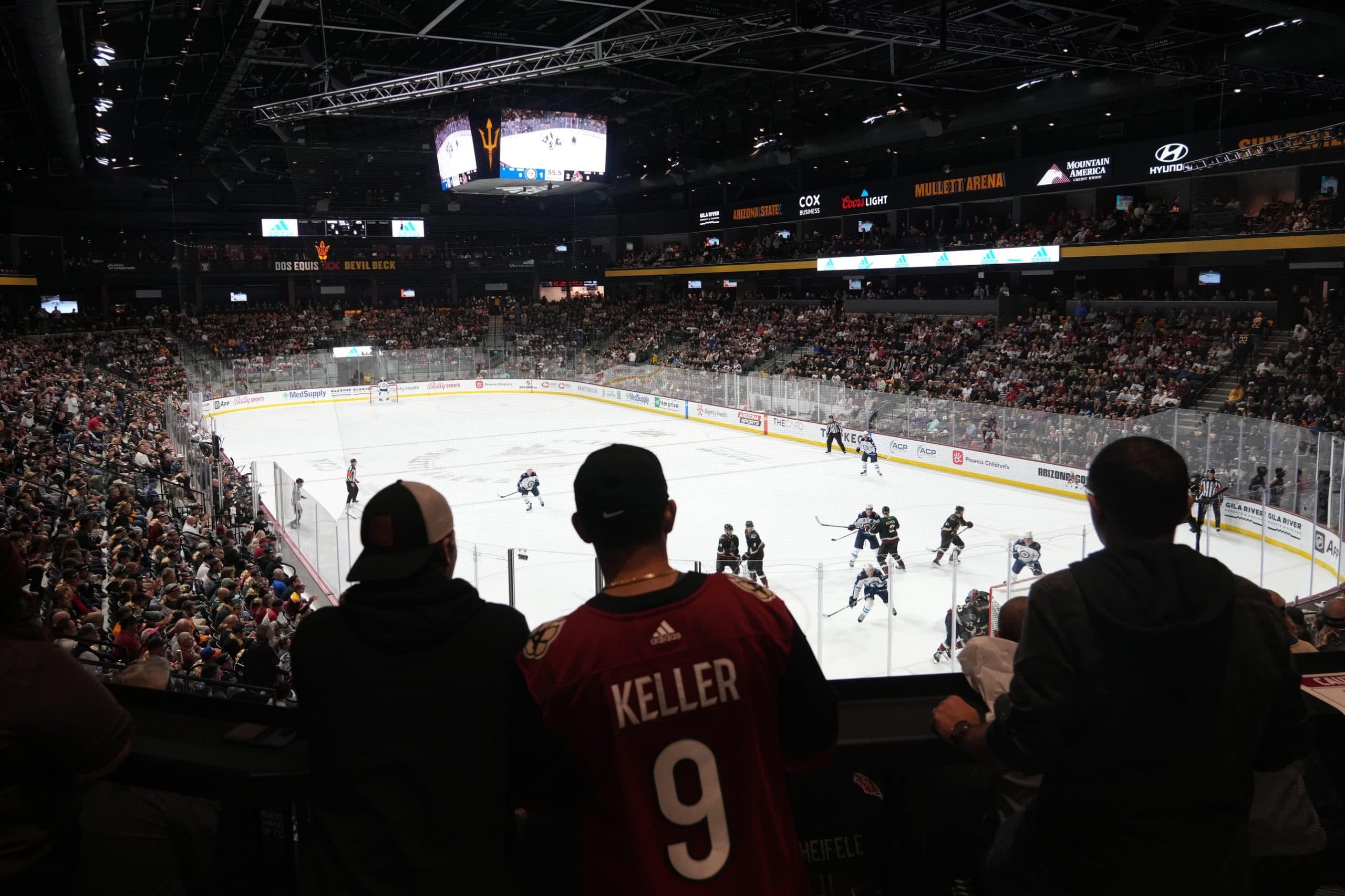 Photo credit:Joe Camporeale-USA TODAY Sports
The Toronto Maple Leafs will hit the ice for their first game at the 5,000-seat Mullett Arena in Tempe, AZ when they take on the streaking Arizona Coyotes on Thursday evening.
The Coyotes (12–16–5) toppled the defending Stanley Cup champion Colorado Avalanche 6–3 on Tuesday. They've been one of the National Hockey League's best teams at home this season, posting a 6–3–2 record through their first stretch of games at the brand-new arena.
The Maple Leafs are used to playing in front of big crowds at Scotiabank Arena, but the Coyotes have one thing going for them that the Leafs don't: a sellout streak. Arizona has sold out each of its first 11 home games at Mullett Arena this season, with attendance capped at 4,600 in its NHL configuration; as of midnight on December 29, the cheapest seats for Thursday's Toronto/Arizona game
were listed
at $190 USD, with standing room passes also available for $150.
Mullett Arena, the NHL's newest and smallest rink, has drawn rave reviews from players for the
quality
of its ice surface. Construction also recently finished on brand-new home and visitor NHL dressing rooms, the latter of which ranks among the largest in the league — a far cry from the temporary
hodgepodge
put together for the Coyotes' first homestand.
The new rooms are firmly big-league quality.
The Coyotes are preparing for their arena and entertainment district proposal to go before Tempe citizens in a
referendum
this coming May. Until then, they're firmly in rebuilding mode, albeit with the likes of Clayton Keller, Karel Vejmelka, Nick Schmaltz, former Maple Leafs prospect Michael Carcone, and top trade candidate Jakob Chychrun fuelling their recent success.
Vejmelka will likely get the start on Thursday as the Maple Leafs look to extend their winning streak to four games. The relatively unheralded Czech goaltender has been nothing short of outstanding in his previous appearances against Toronto, posting a 2–0–0 record and a .959 save percentage in two games.
On the Toronto side, Matt Murray will get the start against the Coyotes. He's 8–2–2 with a sparkling .925 save percentage this season. Former Coyotes forward Dryden Hunt is expected to make his Maple Leafs debut, while top defenceman Morgan Rielly should make his return to the lineup after missing the last month with a knee injury.
Party in the front, two points in their back pocket? That's what the Maple Leafs will be looking to achieve at Mullett Arena on Thursday night. You'll be able to catch this one on Sportsnet Ontario at 9:00 p.m. ET.