The Toronto Maple Leafs should take a chance on Cal Foote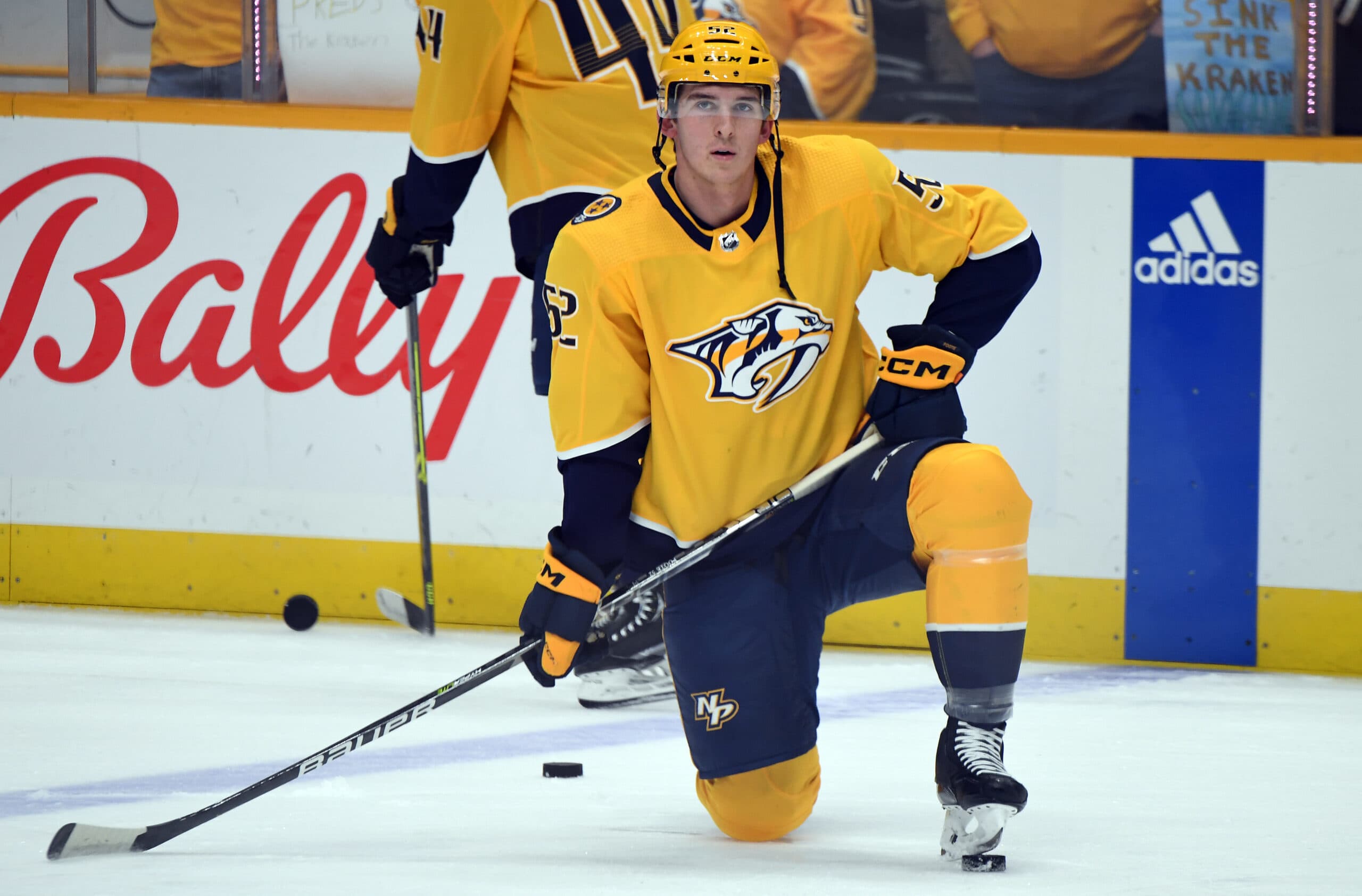 Photo credit:© Christopher Hanewinckel-USA TODAY Sports
It's important to start off by mentioning that Cal Foote was a member of the 2018 Canadian World Junior Hockey Team. It appears the long wait may be over, with full results and findings of the investigation rumoured to be just around the corner. Foote's agent, Kurt Overhardt, told Global News that Cal was not involved at all in the alleged sexual assault.
If Cal Foote had any sort of involvement in whatever actions took place, the Leafs should avoid him like the plague. That being said, from what I've heard, Cal (and his brother Nolan) are good guys. Time will tell.
So, why should the Leafs take a chance on Cal Foote? Lots of reasons… let's start by examining his journey thus far.
Junior Career
Cal was drafted in the 2nd round by the Kelowna Rockets in the WHL. He played two full seasons with Kelowna, providing a very steady presence and chipping in with 93 points in 142 games. Going into the 2017 NHL draft, his overall game was lauded, and Foote was taken 14th overall by the Tampa Bay Lightning. In his final year in the WHL, Foote was named the captain of Kelowna. He put up 70 points in 60 games and won a Gold Medal with the Canadian World Junior Team.
Professional Game To Date
In his first two years in Tampa Bay's organization, Foote played exclusively with Syracuse of the AHL. He put up decent offensive numbers, and it appeared as though a breakthrough into the NHL was on the horizon. In the 2020/2021 Covid season, Foote split time between the NHL and AHL. He played in 35 regular season games, and although he didn't feature in any playoff games, Tampa Bay won the cup that year. The next season, Foote played in 56 regular season games, and 13 playoff games, as the Lightning eventually lost in the Stanley Cup Finals to Colorado. That brings us to this past year, where Foote again wasn't a mainstay in Tampa Bay's lineup, playing in 26 games before being part of the Tanner Jeannot package to Nashville. He played in 24 games with the Predators and wasn't qualified by them as this season ended.
His Skillset 
To date, Foote hasn't lived up to his lofty draft expectations. Kelowna is renowned for producing defencemen, his father is Adam Foote (who played over 1000 games and won two Stanley Cups), and he went 14th overall… so what does he currently possess? He is a solid skater, skating certainly isn't a weakness. His puck skills are solid, and he has a decent first pass. His shot isn't quite as booming as many had hoped, but truly, how important is a booming shot when you're likely a 3rd pairing d-man with no power play time? While he isn't nearly as physical as his father was, he still chips in physically. He is certainly strong below the dots and along the wall. Foote uses his frame to clear the crease well, which brings me to my next point, his frame…
Foote is 6'5, and 225 lbs. He also happens to shoot right. Treliving has been outwardly vocal about getting meaner and longer, and Foote would certainly improve the 'length'. From time to time he can mix it up physically and probably does so more than just about any of Toronto's current defencemen (bar Jake McCabe).
Potential Fit
Rielly – Brodie
McCabe – Klingberg
Giordano – Liljegren
Timmins
This is currently what Toronto's defensive group looks like. The big standout here for me is Conor Timmins. Timmins showed well in his limited usage last season and did some damage on the power play. The signing of Klingberg means that he would have zero power play usage unless one of Rielly or Klingberg was injured. Klingberg's addition to this group means there is another slick puck-moving defencemen that doesn't play a very physical game. With Klingberg and Liljegren on the books and firmly above Timmins on the depth chart, it appears that he's certainly the odd man out. The issue with Timmins not dressing every night is that he's in the first year of a two-year $2.2M contract, with a cap hit of $1.1M. In Toronto where every penny matters, that additional 300K could be going towards something else… For that reason, Timmins would be very high on my trade-away list.
Regardless, even if Timmins is on the roster, there isn't nearly as much NHL experience below him… Gone this year are Victor Mete, Carl Dahlstrom, and Jamie Benn. Remember when Toronto was playing Mark Giordano 25 minutes a night, and players like Mac Hollowell and Flip Kral were forced into action? Injuries happen, and depth is certainly important. Foote has obviously shown that he is more than capable of being an AHL defencemen, but could the Leafs get creative with his contract?
Potential Contract
At this point in time, it's peculiar that Foote still hasn't signed. Perhaps he is waiting for a team or two to sort something out with an RFA or a different right-handed defencemen free agent signing (Matt Dumba anyone?). I've been told that some teams have offered Foote a two-way contract but he is obviously hopeful of getting a one-way deal in an appealing organization. I would be in favour of Toronto offering him a one-way contract right around league minimum, but is there another way the Leafs could get him signed?
Travis Dermott very recently signed a two-way deal with Arizona that pays him 800K at the NHL level, and 450K at the AHL level. Could the Leafs beef up an AHL amount, or offer a guarantee amount to Foote? I'll tell you this for free, Toronto certainly has more money than Arizona does… They can absolutely afford to pay their AHL players more than what other teams pay, and they do. Could Foote be possibly tempted by a two-way deal at 775K/550K deal? Who knows. Regardless, he should absolutely fall under the $1.1M that Timmins makes, and his style/fit feels better to me than Timmins currently does.
Summary
Cal Foote went 14th overall in 2017. He was drafted one behind Nick Suzuki, and one ahead of Erik Brannstrom. He featured regularly for a Tampa Bay Lightning team that won a cup and went to a cup final. He's still only 24 years old, and he has more than enough tools for my liking. At 6'5 225 lbs, this is a player Brad Treliving should absolutely take a chance on, particularly if he can move Conor Timmins and free up more precious cap space.