Toronto Marlies eliminated from Calder Cup Playoffs following sweep by Rochester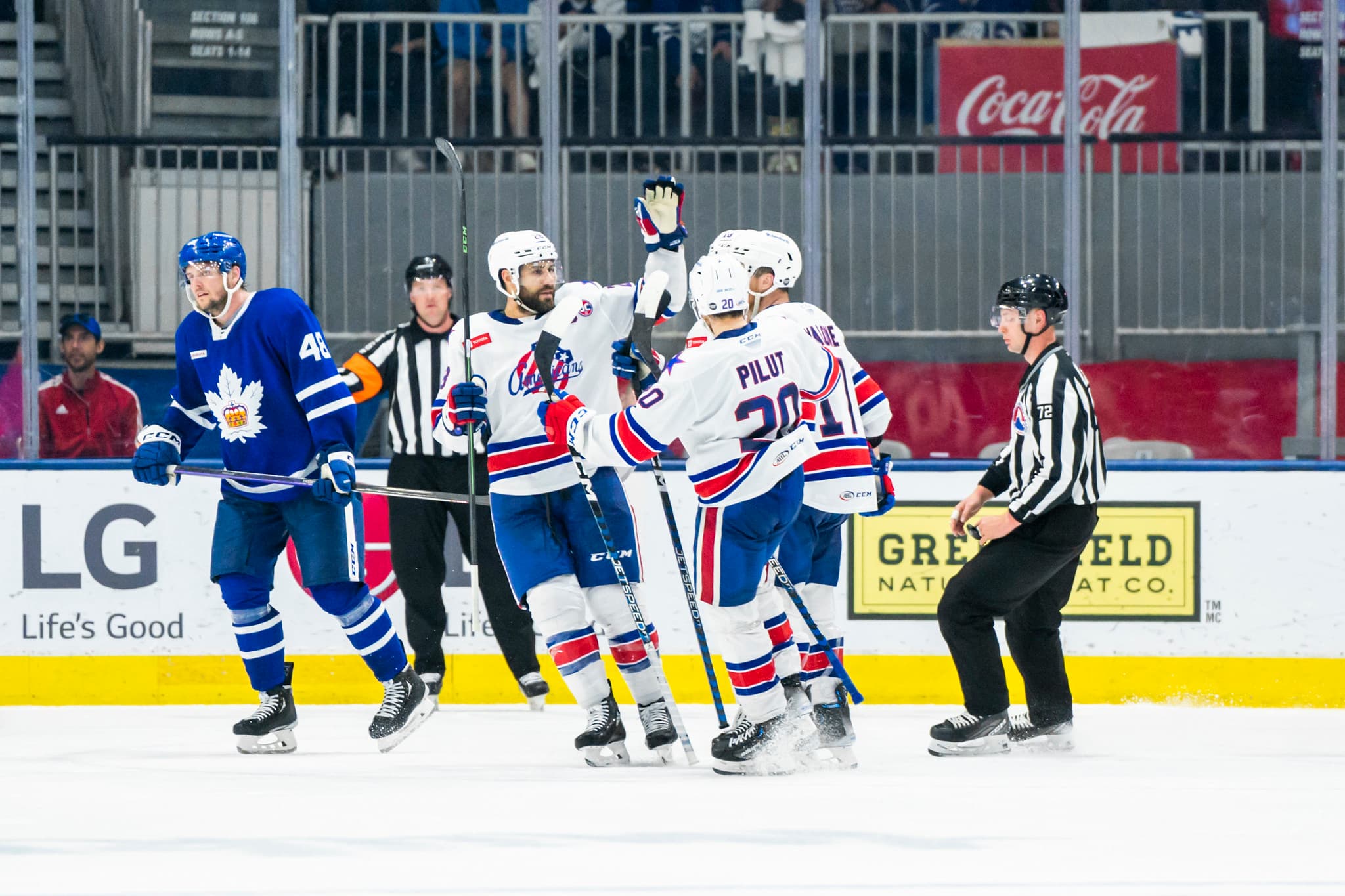 Photo credit:Thomas Skrlj/Toronto Marlies
An impressive regular season by the Toronto Marlies ignited plenty of hope heading into the Calder Cup Playoffs, but they fall to Rochester in three games, ending their season.
It was a rough start for Toronto in the second round as they fell behind in Game 1. Although they clawed their way back, it was too late as time ran out.
Game 2 between the Marlies and Amerks was the same story. Rochester had four goals in the second period, but Toronto clawed their way back pushing the game to 5-3 before allowing two more goals against, falling 7-4.
On Wednesday night, the Marlies scored 17 seconds into the game; a great start for the club. However, the Amerks came right back scoring four unanswered goals, forcing Toronto to once again climb their way back into the game.
Pontus Holmberg, who had six goals in seven playoff games, found the back of the net three times on Wednesday. He one-handedly brought the Marlies back into this game before it fell apart once again.
Toronto began the third period rolling, and really, it looked like they could get back into the game. But after a goal from Rochester halfway through the third period, and a Noel Hoefenmayer penalty, which the Amerks capitalized on, it was too late.
Adding Bobby McMann and Joseph Woll to their roster looked to be a huge boost beforehand, though neither seemed to find their footing in a must-win Game 3.
Woll, following a difficult Game 5 loss to the Florida Panthers in the NHL, came in and made 28 saves on 35 shots against. Toronto used all three of Woll, Erik Kallgren, and Keith Petruzzelli in their three-game series against Rochester.
"It certainly stings." Marlies head coach Greg Moore told Todd Crocker following the game. "We believe wholeheartedly that we had a group that could make a long playoff push. To be knocked out in this round, it stings a lot.
"You can tell the guys in there are hurting right now and a lot of that is because you don't want such a good thing to come to an end and how much fun the group has playing together and really proud of their resiliency in this game and how they kept fighting back and not giving up. It was a tough game. Credit to Rochester, they played really well and they have a very talented team and they made it hard on us."
"I'm proud of these guys for what we did all year, the adversity that we faced all year." Logan Shaw told Crocker. "Even tonight, there was no quit.
"The character that we have in that room, it really showed not just this series, not just the last series but the whole way and obviously we wanted a better outcome, maybe do things different, maybe not. It's just the way things go. The opponent always has a say in the outcome. I'm very proud of our group right now."
Shaw (4G, 6A), Holmberg (6G, 2A), Kyle Clifford (4G, 4A), Nick Abruzzese (2G, 5A), and Joseph Blandisi (2G, 5A) each averaged a point-per-game in the postseason for Toronto.
A big thank you to everyone who followed along with my work this season covering the Toronto Marlies. There'll be more to come in the following days from head coach Greg Moore and a few of the players. Stay tuned.