Toronto Marlies sign 6 players, including Cole Caufield's brother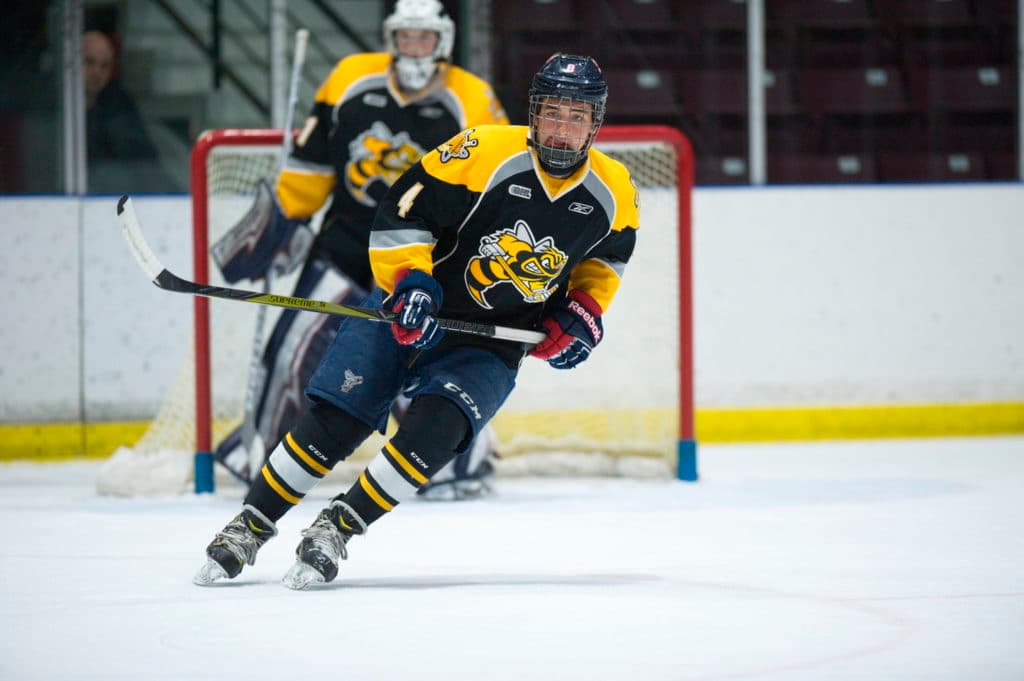 Photo credit:Sarnia Sting
This morning the Toronto Marlies announced six new signings for the upcoming season. Each deal is a one-year AHL contract. Many of these players will be competing for spots lower in the line-up, and some are likely strong candidates for Newfoundland. In recent times, Bobby McMann was signed to a similar contract, and he will factor into the Maple Leafs roster at some point this year, potentially from the start … (more on that later, let's get to the signings). Four are from the NCAA, and two are from the CHL.
Jackson Berezowski
A good old Saskatchewan boy, Berezowski is coming off back-to-back strong years in the WHL with the Everett Silvertips. He played in 62 regular season games each year and put up 33 assists in both seasons. Two years ago he scored 46 goals, and last season he tucked 48. He definitely knows where the net is, and it will be interesting to see where he fits in with the Marlies forward group. For me, he is the standout signing off this group, and I hope he really challenges for ice time.
Nolan Dillingham
If this name seems familiar, that's because it probably is… Recently at development camp, Dillingham laid a massive hit on Roni Hirvonen, which left the Finnish forward very shaken up. I've been told Hirvonen seems to be feeling better. The Leafs should absolutely do away with scrimmaging at Development Camp (like other NHL teams), but that's a song for another time.
Dillingham is a local product, growing up in Mississauga, so obviously he has the passion. He played four years with the Sarnia Sting in the OHL and captained them this past year. Toronto would have seen plenty of his games, as Sarnia also boasted Ty Voit (Maple Leafs draft pick). Dillingham didn't put up many points at all, but his propensity for physicality will give the Marlies d-core another young right-handed shot to develop.
Brock Caufield
That last name … Brock is indeed Cole Caufield's older brother, and he also played in Madison for the Badgers. The 24-year-old played five full seasons of Big-10 hockey, totalling 172 games.
Neil Shea
Neil will celebrate his 24th birthday in a couple of weeks. He is coming off a four-year NCAA career that started with Northeastern. After his second year, he transferred to Sacred Heart, and his production picked up. Sacred Heart competes in the Atlantic Hockey Association (where my alma mater Robert Morris Colonials compete), a conference that historically isn't as strong as other NCAA D1 conferences. Nonetheless, Shea put up back-to-back 30+ point seasons and also played in six games with the Chicago Wolves at the end of last season.
Tate Singleton
Another Big-10 graduate, Singleton played four full seasons at THE Ohio State University. The native of West Lebanon, New Hampshire (Dartmouth College's backyard) was a solid contributor each year for the Buckeyes, and will look to bring some scoring, likely with the Growlers.
Tyler Weiss
Weiss also played five full seasons of Cawlidge Hawkey at the University of Nebraska-Omaha. He played in 159 games for the Mavericks, and put up strong point totals every season. His output dipped slightly in his senior season, and he will be hungry to prove many he can play. Weiss is a product of the USNTDP Juniors and was drafted 109th overall by the Colorado Avalanche in the 4th round back in 2018.
All six of these players will be looking to show the organization that they have what it takes at the professional level, and I'm eager to watch them perform in the fall. I foresee most of them playing minutes with Newfoundland.