Toronto Six announce they've signed Saroya Tinker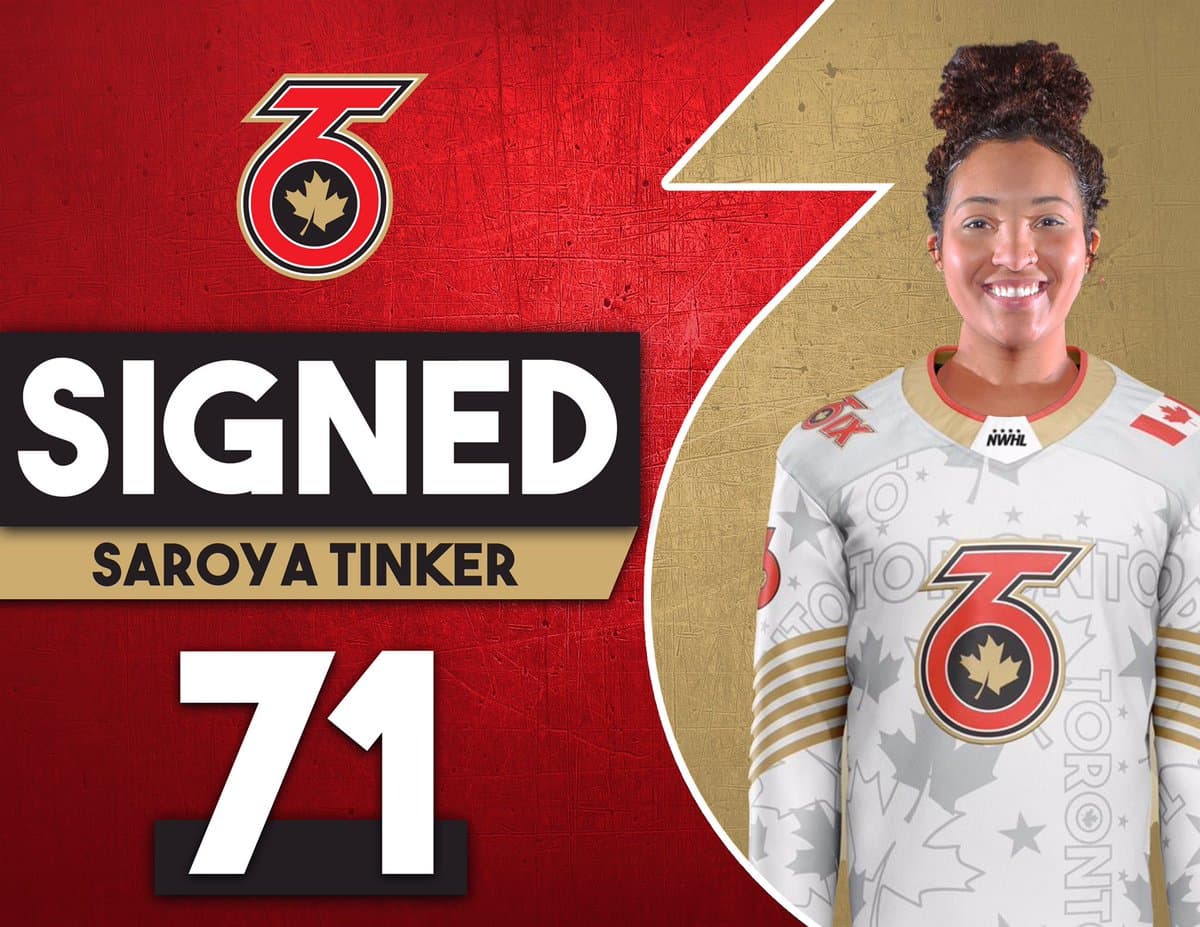 Tinker is also an active supporter of
Black Girl Hockey Club
, which is a community-focused space for Black women in hockey.
However, politics aren't why Toronto Six fans should be excited about Tinker, at least not the only reason why. She comes with a high potential of becoming a star defender in the NWHL based on her performances at Yale University,
From EliteProspects,
the table below shows her proving herself as a two-way defender in the NCAA.
She was selected 4th overall in the 2020 NWHL draft by the Riveters. In her rookie NWHL season, she was only able to compete in the 3 games with the Metro Riveters before they left the tournament, recording 1 point (a primary assist according to
theirhockeycounts.com
).
Tinker was obviously not yet a dominant force on the Riveters blueline, but in just 3 games it would have been quite an astonishing accomplishment to reach that level in her first season. I expect that her second season in Toronto will be similar, playing behind Toronto's established defenders that they have signed already in rover-extraordinaire Taylor Woods and assistant captain, shutdown defender Emma Greco. Hopefully, Lindsay Eastwood will also return, and the Six can run a pair of the two young and talented defenders to complement their strong-backchecking and high-energy identity. Near the end of the Lake Placid tournament, the Six were without Kristen Barbara, and given that Tinker plays a similar style and is also right handed, one might guess that Tinker will replace Barbara on the pairing with Emma Greco, however, nothing of that nature is in any way confirmed.
As Tinker is only one of 5 skaters inked to play for Toronto in the NWHL's 7th season — MVP Mikyla Grant-Mentis and Captain Shiann Darkangelo being the other two we've yet to mention — it's hard to say exactly how this signing will shape the Toronto team. What we do know is that Tinker's outspoken, high-energy, and fun demeanor will fit in perfectly with the culture of the Toronto Six that they established in their first season.
Tinker said in her tweet announcing the move that she "thought that it would be the best decision to sign with the Six and play close to my hometown", so perhaps we can start to say that not only the Toronto Maple Leafs, but the Toronto Six too, are earning the desire of their hometown players to come play for them. Since the Six finished in the Isobel Cup final, which they ultimately lost, their reputation is well deserved so early in their franchise's history. Saroya Tinker will certainly now be a part of that history, as she and the team will continue to be leaders on the ice and off it, pushing the goals of the league as a whole to advance women's hockey and put the talented women like herself on the stage they deserve.