Toronto Six eliminated from the Isobel Cup Playoffs by the Boston Pride, in the semifinals, again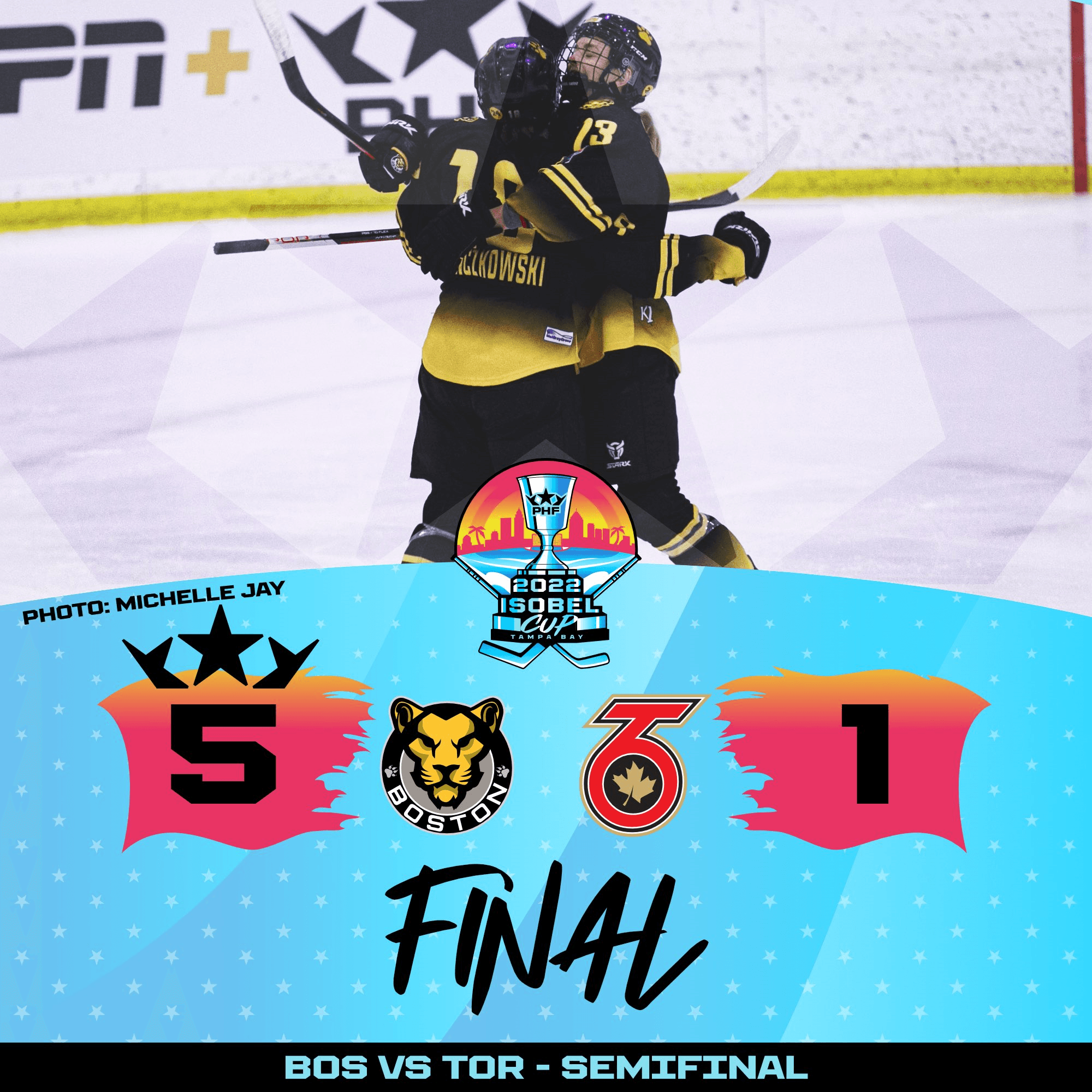 In a bit of sports deja vu, the Toronto Six suffer exactly the same fate they suffered last season. In the semi-finals game, they faced a lower-seeded Boston Pride team, who then beat them by 4 goals. Last year it was 6-2, this year it was 5-1.
Last year, Boston also went on to win the Isobel Cup, so we'll see if that's the case again.
The disappointment comes after losing the top seed to the Connecticut Whale, who were able to beat a 5th-seed Minnesota Whitecaps team to earn their spot in the Isobel Cup finals. There's no saying that Toronto would have done the same, but I think everyone involved with the PHF would agree that Boston was the toughest team to face from the quarterfinals. If the Six had finished first, no matter what, they wouldn't have had to face the Pride.
Boston continued its already dominant playoff run, after they beat the 6th-seed Buffalo Beauts 6-0 on Friday in the quarterfinal matchup. They clearly are showing an ability to turn something on come playoff time, which comes not just with experience in general, but experience together. Also, great coaching from @Paul Mara and his group. Their regular season was not all that impressive, they dropped a lot of points by taking games into overtime. They had only 7 regulation wins, just 1 more than the Minnesota Whitecaps and Metropolitan Riveters each had. The Six and the Whale had 15 and 13 respectively.
However, once the playoffs start, the regular season matters little. The Toronto Six seem to be in need of a lesson similar to the Toronto Maple Leafs: how to turn regular season skill and drive into playoff success.
This is only Toronto's second ever playoff game, as the PHF has been doing single-game elimination. One can hope that they'll extend the playoffs a little further into 3- or 5-game series' to really get that traditional hockey Cup feel.
Game Recap
I'll keep this brief since you already know the final score, but it's worth recapping the incredible talent that Boston displayed yesterday in securing the victory.
Then, USA Olympic and World Championship Gold medalist
Kali Flanigan
showed her wheels, almost immediately after the first goal, to put Boston up 2-0 on this great breakaway rush, nearly coast-to-coast:
The Pride added another and the Six seemed a bit shell shocked, going down 3-0 to a team that finished well behind them in the regular season. But again, that doesn't matter once you get to the Cup playoffs, no matter what Cup you're playing for.
At the end of the first period, though, it seemed like Toronto was going to be able to mount a comeback though, when Breanne Wilson-Bennett, the late addition and net-front-clean-up specialist got Toronto on the board:
However, it wasn't to be as you well know. At the start of the 2nd period, Toronto's momentum was very quickly deflated after this unfortunate deflection flew right over Elaine Chuli's head and into top corner of her net. This was another Olympian's goal, as the Swiss
Evelina Raselli
took the shot that eventually floated into the net:
In the third period, Boston added their fifth goal, smashing that last nail into the Six's coffin, on this snipe by one of Boston's young stars,
Taylor Wencszkowski
:
Final Thoughts
The Six's hopes for an Isobel Cup now lay in wastes, unfortunately, for this year. Their promising regular season was ultimately not enough to get them past the deeply talented and experienced Boston Pride squad. They have been in the Cup finals four times in just 7 years, winning 2 of those contests (and one not being played due to COVID).
As the Six turn their heads toward next year, standout performances by Shiann Darkangelo, Mikyla Grant-Mentis, Taylor Woods, Breanne Wilson-Bennett, Linsday Eastwood, Stephanie Sucharda and Emma Woods this season should be building blocks for next season.
Scorers aren't the only players you need to win, of course, but the strength of the above-listed scorers is what Toronto can build around. Depth players to surround those pieces are important as well, but ultimately, it will be those stars that make or break the team's success in the long term.
I hope that you had a good year following along the Toronto Six, as I did, and will be back next year for Season 8.