Toughness isn't an issue for the Maple Leafs heading into next season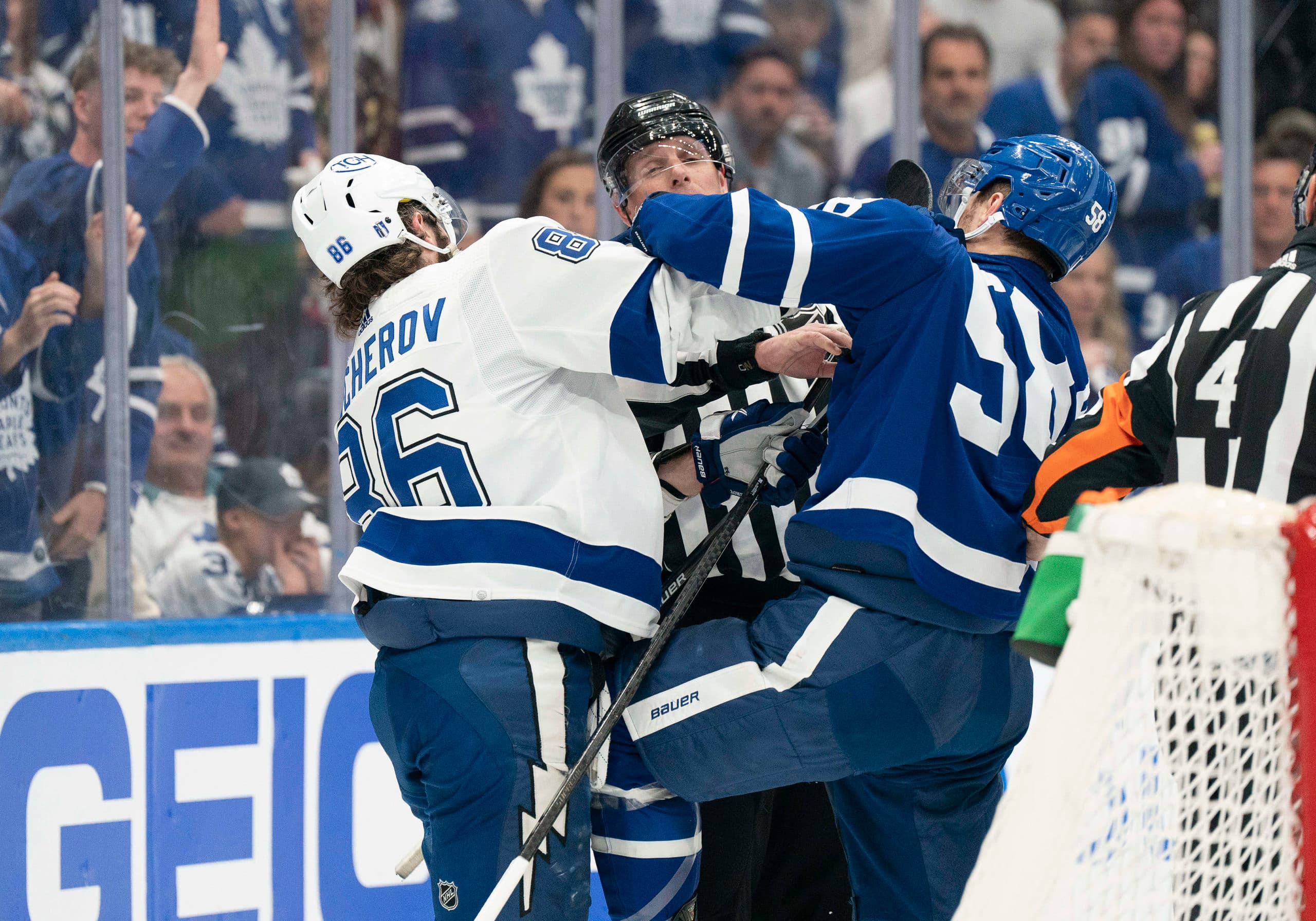 Photo credit:Nick Turchiaro-USA TODAY Sports
The Maple Leafs don't have a toughness problem, and that's clear after Monday night.
It was said that Toronto had a chance to close out their series against Tampa with two games, which is true. But what some don't want to see is the fact that the Maple Leafs had that chance.
Looking at Monday night's game where the Lightning eliminated the Florida Panthers, it was clear as day that one team had it and the other one didn't. The Presidents Trophy-winning team was swept by the back-to-back Stanley Cup champions.
It took the Lightning seven games to send the Maple Leafs packing for the year.
Toronto battled for every inch of that ice against Tampa and even some of the players said this series against the Maple Leafs was one of the hardest series' yet. Players don't just make that stuff up for the respect of an individual. This is hockey we're talking about.
Looking at the Maple Leafs' lineup after these playoffs and heading into next season, you'll have players like Mark Giordano, Michael Bunting, Auston Matthews, Morgan Rielly, and TJ Brodie. Many of these players provided a lot of toughness and grit against the back-to-back Stanley Cup champions.
One of the best players in that series was Jake Muzzin, who likely is one of the toughest of them all. Although it's not clear whether or not Toronto will be moving on from him, it's hard to believe he won't impact this Maple Leafs team next season.
An interesting stat: Mitch Marner threw more hits in the regular season that Matthews did. But, that changed in the playoffs where the Arizona native had 32 and the Markham native had ten. Each player had an incredible series and both were massively important throughout the seven games.
At some points, too, winning a playoff round isn't about just toughness. A lot of things have to go your way and although that didn't happen for Toronto, there's still a respect factor that comes in for getting this far in the first round.
Yes, sure, it's not a first-round series win, but with the way the Maple Leafs battled throughout that series just shows how close they are to getting over the hump. And this isn't some 'win one series and then lose the next one' type of thing.
I guarantee that if the Maple Leafs get out of the first round, they'll go all the way. Just like the Washington Capitals did after they defeated the Pittsburgh Penguins back in 2018.
The toughest part of this group was their want and belief that they can win. It's another early playoff exit, but the more there are, the bigger the fire grows inside. They took the Lightning to seven games and lost by an inch.
Just imagine what they might be able to do next season.
POINTSBET IS LIVE IN ONTARIO
PointsBet Canada has officially launched in Ontario! Get a $25 free bet just for 
signing up right here!