'I personally feel the most comfortable I've felt in an NHL locker room': Simmonds has the Maple Leafs' back, and they have his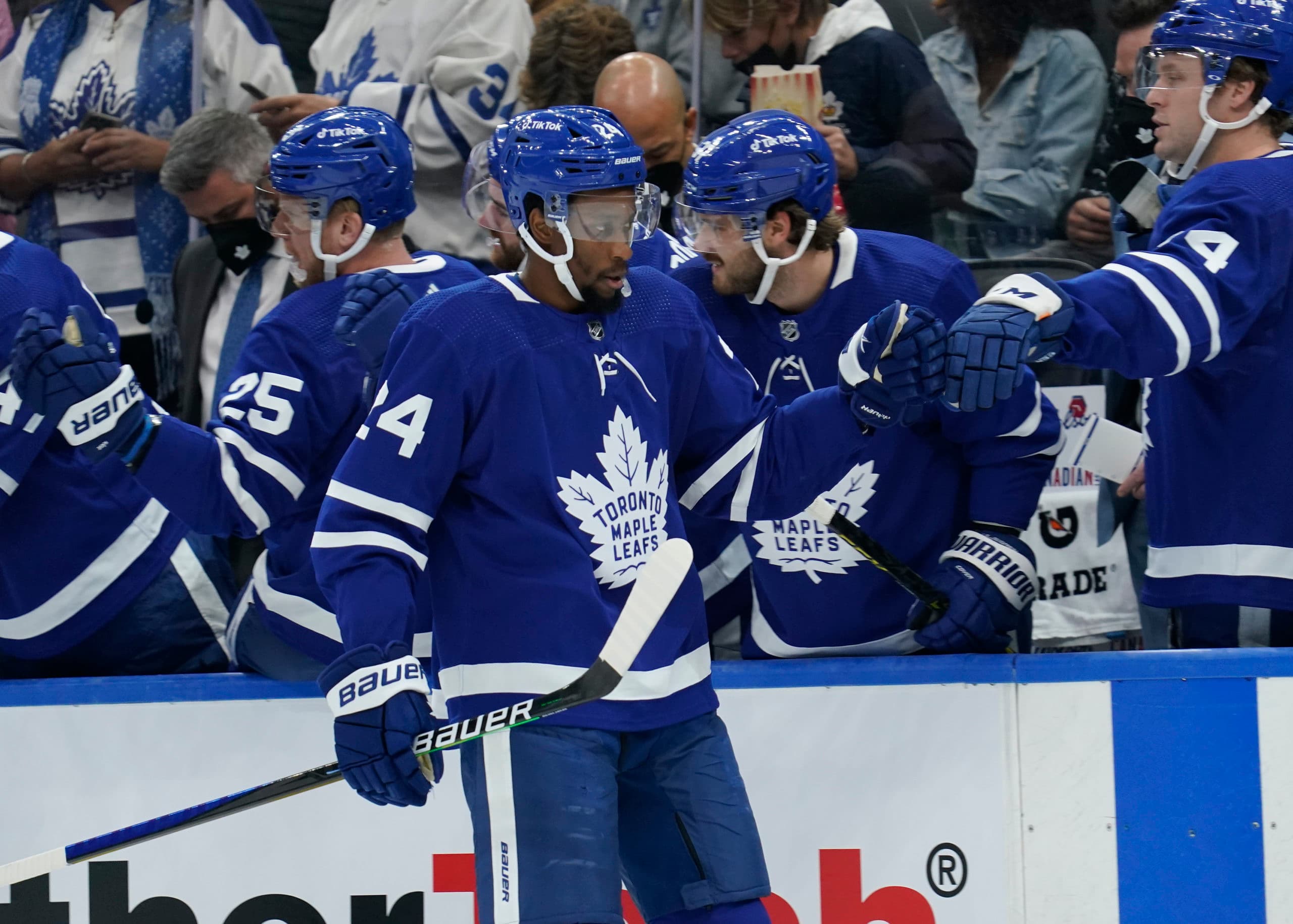 Photo credit:John E. Sokolowski-USA TODAY Sports
@Wayne Simmonds has been through a lot in his NHL career, but in Toronto, he's as comfortable as ever.
Entering an NHL locker room is never easy. Coming in as a brand new player, you want to fit in with as many players as possible.
You don't want to rock the boat.
On Monday, though, we witnessed how tight-knit this Maple Leafs group really is.
After the recent racist events that transpired in the last week to both Boko Imama and Jordan Subban, Maple Leafs captain, @John Tavares addressed it after practice on Monday.
"Before I take any questions, I just want to say a few things just on the few racial incidents that have happened in our game over the last little while," said Tavares before any reporter asked a question. "I think it's really important to acknowledge the I think the recognition steps that have been taken over the last little while to improve eliminating racism in our game.
"But obviously, we have a lot of work to do with learning and discussion and understanding and how we can continue to apply that and make a difference. Just continue to make our game better and that much more inclusive, so I just thought it was important to acknowledge that today — something we addressed as a team as well."
Tavares also mentioned Mark Fraser, who the Maple Leafs hired in February of 2021 to run Player Development, Equity, Diversity and Inclusion.
The Maple Leafs captain said he's learnt a lot from Fraser and discussions with players like Simmonds and P. K. Subban have helped him become more educated.
On Wednesday morning, ahead of the Maple Leafs game against the Anaheim Ducks, Simmonds was asked about Tavares' comments.
"I think our organization does a good job getting ahead of it," said Simmonds. "I think most of the things you hear are kind of reactionary and we want to be more proactive. And I think, especially in the Maple Leafs organization, we have a lot of different cultural backgrounds that work within MLSE and the Toronto Maple Leafs and we don't stand for that. So, obviously, Johnny starting his scrum without you guys even asking questions is an unbelievable sign.
"I personally feel the most comfortable I've felt in an NHL locker room. Once I joined the Maple Leafs, you know, I know every single man in here has my back and for me. That's a comfort level. Now, I think the goal is, you know, to build that out to every organization, across the NHL. It starts here, but obviously going into grassroots and the minor leagues and stuff like that. I think everyone, any player of colour, should feel that way."
This summer, the Maple Leafs also created the Management and Coaching Development Program. Each year, Toronto will hire two "Black or Indigenous candidates or those who identify as part of another marginalized and/or racialized group and looking to gain exposure in a professional sports organization."
Marian Agyei-Gyamera
was hired to work with Toronto's front office and management staff, while
T.J. Millar
was brought in to work with the Maple Leafs' coaching and development staff.
Having all of these voices within the Maple Leafs organization will only push for better education around the NHL. But Simmonds also brings an incredible amount to the locker room.
Being so close to teammates, he's able to talk to players about these issues on a more personal level. His value to the Maple Leafs is immeasurable.
Simmonds, though, also brings a lot of value to his community too. The 33-year-old, along with fellow Scarborough native, @Michael Bunting shared this post on social media.
Love Scarborough
is a fundraising campaign created by the Scarborough Health Network to raise money "to expand our emergency departments to care for people at their most vulnerable; ensure we not only treat but can prevent kidney disease and diabetes; break down barriers and stigma for mental health care; and deliver quick and reliable medical imaging results that could change a person's life."
Receiving the support from these two Maple Leafs shows how much they care for their community. Each of these players mean an incredible amount to this team and the city.
With the leadership that Simmonds brings within the room, combined with what he does outside of it, the Maple Leafs have a very special person in their organization.
Toronto should be incredibly thankful that the 33-year-old chose to come home.
He's one of the leading people bringing change to the game of hockey.