What the Adin Hill and Conor Ingram extensions mean for Ilya Samsonov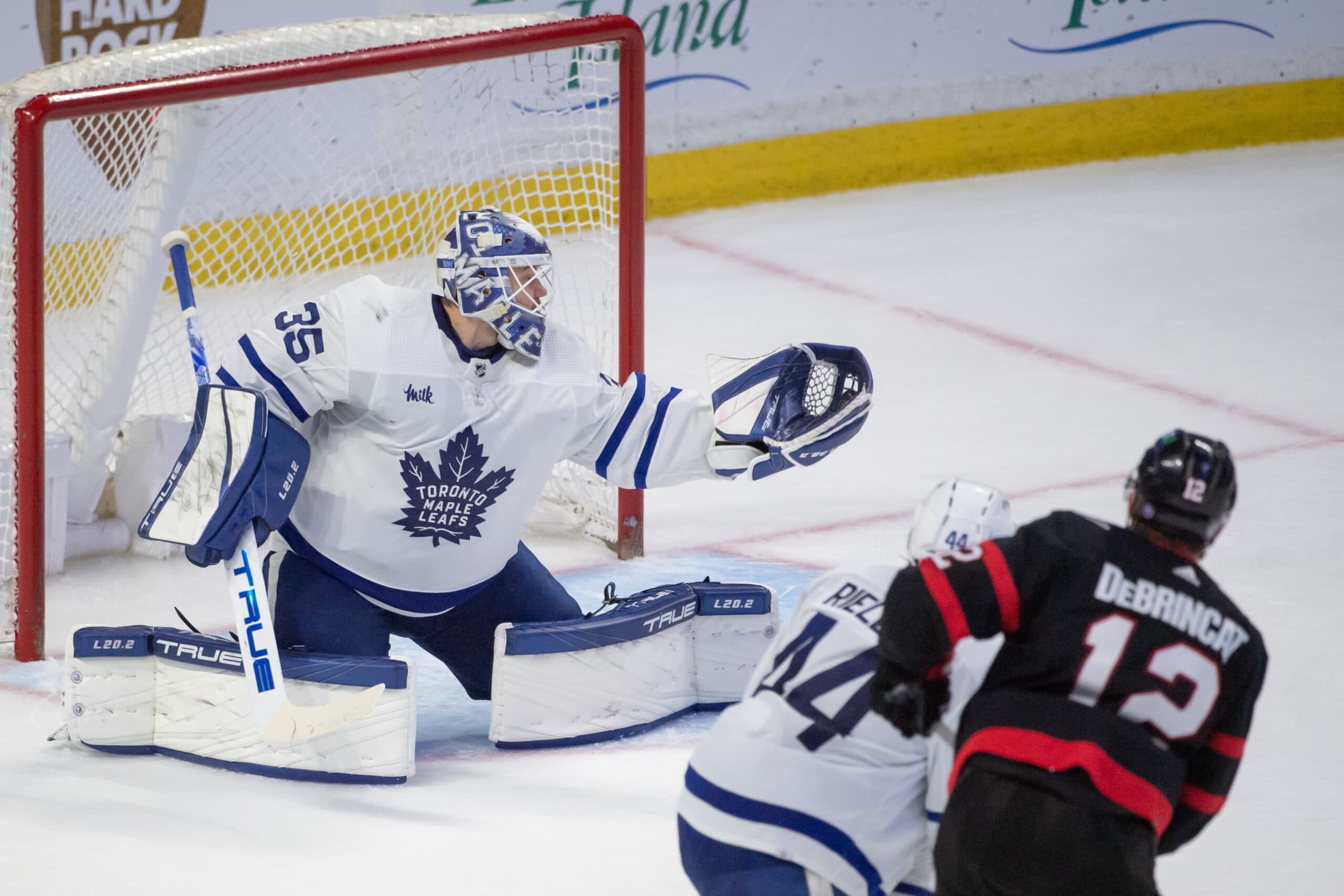 Photo credit:Marc DesRosiers-USA TODAY Sports
Over the last few days, we've seen the goalie market begin to dwindle with a pair of goalies signing extensions to stay with their current clubs. Arizona's Conor Ingram signed a 3 x $1.95M deal to prevent him from reaching RFA status, while upcoming UFA and Stanley Cup champion Adin Hill inking a reported 2 x $4.9M extension to stay with Vegas. For the Toronto Maple Leafs and Ilya Samsonov, these two deals act as early market setters, providing both a floor and ceiling for where their own contract negotiations will likely land.
All three goalies are within a year of each other in age, and put up comparable numbers over the past regular season. Ingram's .907 save percentage was the lowest of the three, with Samsonov's .919 being the highest and Hill's .915 falling in between.
For Hill, his substantially larger contract comes as a result of a playoff performance that saw him not only take over the starting role for his team, but deliver the Golden Knights their first ever Stanley Cup. Also working in Hill's favour throughout negotiations was the fact that he's the only one of the three who was due to become an UFA and could therefore hit the open market, while the other two would be limited to in their negotiations as RFAs.
It's hard to imagine Ilya Samsonov's camp making a successful argument for getting a contract that matches that of the netminder who just backstopped his team to the Stanley Cup, especially if negotiations go to arbitration. Likewise, the Toronto Maple Leafs would be hard-pressed to insist that he deserves less than a goalie with 100 fewer games played and worse stats.
This falls in line with the $2-4.5 million dollar range that a number of analysts have said Samsonov's next deal will fall into. With the emergence of Joseph Woll, and Samsonov dealing with an injury that took him out of the second round of the playoffs, it seems unlikely that Toronto will want to commit to any sort of term, and will instead favour the 2 or 3 year deals that the other netminders received.
After a career year that saw him finish top 10 in nearly every goaltending category, Samsonov will be looking to cash in, but a short term deal should be exactly what his camp prefers as well. Being only a year out from unrestricted free agent status combined with a rising cap and the media attention boost that playing in Toronto provides means that if Samsonov can repeat last year's success, his next contract could be one that surpasses $7-8 million per year, with some sizable term.
For now, it seems likely that a 2-year deal, falling around $3.5 million per season seems to be the collision course that these negotiations are on. It seems to be a win-win for both parties involved, with Toronto getting to have a goalie tandem of Woll and Samsonov that earns less than a combined $5 million, and Samsonov gets to bet on himself with the promise of a massive pay-day just two years down the line.
A two year deal also means Woll and Samsonov would both be free agents in summer of 2025, allowing Treliving, Shanahan and the rest of Maple Leafs management a chance to decide with certainty who their starting goalie moving forward will be, with youngsters such as Hildeby, Akhtyamov, and Peksa potentially ready to fill in as the backup.
With free agency beginning on July 1st, and the looming negotiations for a Matthews or Nylander extension on the horizon, the Maple Leafs will likely want to get Samsonov's contract negotiations wrapped up so they have a better sense of what the team's cap situation looks like heading into summer negotiations. Thanks to Hill and Ingram, that picture is clearer than it was last week.