What are the causes of the Leafs' overtime struggles and how to fix them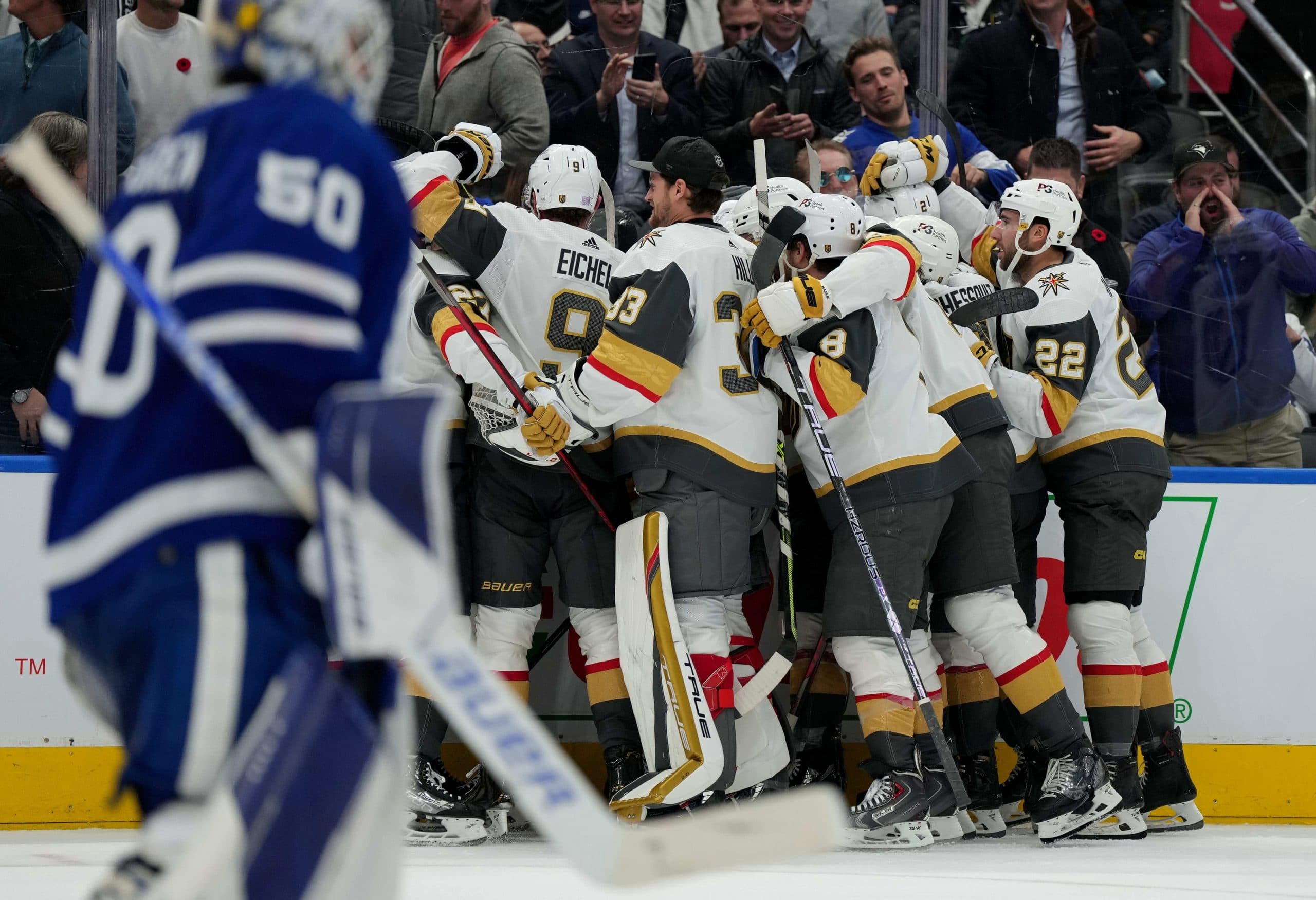 Photo credit:© Nick Turchiaro-USA TODAY Sports
1-6.
That is the Leafs' record in overtime through the first 26 games of the 2022-23 season. It has them
ranked 29th in the NHL
and ahead of only the Flyers, Coyotes, and Stars (all three of whom have gone winless in the extra frame).
Here is another number of significance: five. That is how far back the Leafs sit behind the Bruins for first place in the Atlantic Division at the time of writing. While it is true that Boston has two games in hand and could easily widen the gap, the fact that Toronto is within striking range of catching the red-hot Bruins is a testament to how well the Leafs have done since a mediocre start to the campaign.
If the Leafs had half of their overtime results go in their favour, they would only sit one point back of Boston. Had they gotten lucky and gone undefeated after 60 minutes, they would be two points ahead of the Bruins. Instead, it has now been over a month since the last time Toronto emerged victorious after 60 minutes, with their most recent victory coming against the Stars on October 20th.
All of this is to say that the Leafs need to change their fortunes in the extra frame and fast because it is costing them critical points that could make the difference between playing a Wild Card team or having a rematch against the Lightning.
Speaking of Tampa Bay, they are responsible for the Leafs' most recent loss in overtime which came barely 30 seconds after it began. They did not get a chance to generate a scoring chance as a turnover at the blue line in combination with surrendering a goal from a bad angle was their downfall.
This play represents a microcosm of the Leafs' struggles in OT to begin the year. Despite possessing some of the most gifted offensive players in the league, they are making back-breaking mistakes that shoot themselves in the foot and make things more difficult for them.
I understand why Auston Matthews may have opted for the pass because Rasmus Sandin was wide open, but Matthews should have instead tried to skate in a bit and then either try to feed Mitch Marner or go for it himself. The reason being is that all three Lightning players were surrounding him and the pass he did was susceptible to a turnover. Also, that goal from Alex Killorn is one Matt Murray would love to have back.
Overtime is almost certainly a crapshoot
when there are only three skaters per side, but the Leafs have not done themselves any favours with their deployment and decision-making up to this point. Let's take a look at the other five OT losses plus their sole win to assess what has gone wrong, any common trends, and what needs to change to improve their luck after 60 minutes.
October 27th vs. Sharks
Before William Nylander turned the puck over, he was able to get onto the loose puck and created a scoring chance using his speed. Erik Karlsson was able to catch up to Nylander and prevent the shot so Nylander decided to stop and wait for Sandin, who would have gotten a good chance off a sharp angle had he received the puck.
That pass is intercepted by Timo Meier and Karlsson smartly starts to sprint the other way and gets past John Tavares for a breakaway. Tavares is too slow to react to the shift and might have been able to make things harder for Karlsson had he started backchecking a second earlier.
The Leafs decided to play aggressively here and it backfired due to slow reaction times. While you would like for Nylander to make a better pass, Sandin did not do his countryman any favours with his positioning.
October 30th vs. Ducks
Nylander loses the faceoff and the Leafs are immediately in trouble after two Ducks slip through and create a two-on-one scoring chance. The good news is that Alex Kerfoot does get enough of a jump to be within range of Trevor Zegras. However, it is not enough to slow him down or make it more difficult to get the shot off since Zegras was able to roof it.
In this sequence, it would have been nice for Erik Kallgren to make the save here. Sometimes all it takes is to have that one key stop that keeps your team in it. The Ducks got exactly that when John Gibson
made a huge save
on Marner on the previous shift.
This is one where Kerfoot's positioning after the faceoff made him a step behind in combination with Kallgren letting a stoppable shot get past him.
November 8th vs. Golden Knights
This one is tough to watch. All three Leafs skaters are not positioned well here and make it way too easy for the Golden Knights to do as they please after being stopped at the blue line. Marner has to have his man because he allows Reilly Smith to fly in uncontested and does not get back in time to slow him down.
Matthews could have been the hero had blocked the pass and would have had one man to beat, but doesn't get a piece of it. I understand Morgan Rielly would have left his man open if he decided to go after Smith, but his reaction time was also abhorrent in this sequence.
You would have liked to see Kallgren bail out his teammates and come through with a key stop, but this squarely falls on the skaters because their lacklustre defensive effort is what does them in.
November 17th vs. Devils
A brutal giveaway by Tavares here leads directly to Yegor Scharangovich scoring the winner mere seconds later. What isn't shown on the replay is that the Leafs did not touch the puck at all before Tavares blocked a pass and were completely overwhelmed by the Devils' speed.
While Tavares did well in the interception and had the right intentions of sending the puck to Marner who would have likely gotten past the defence, that pass should not have happened when it occurred. Not only is Jack Hughes right in the vicinity to deny it, but Tavares also passes the puck along the ice which made it too easy to be taken away. He could have either waited an extra second to try and spread out the defence or try and raise the puck to prevent Hughes from collecting the puck.
Scharangovich subsequently has way too much real estate around him and the Leafs don't get back in time to disrupt the scoring chance. You would like to see Marner try and get in the lane instead of tripping up Hughes, which may have been a tripping call had the puck not gone in.
November 21st vs. Islanders
Simply put, Kallgren has to stop that one. His glove positioning is subpar and lets Anthony Beauvillier wrist one past him. It did not help matters that he made a bone-headed play behind his in the third period that resulted in the typing goal.
What isn't shown on the replay above is that prior to the Islanders' goal, Matthews correctly points out to his linemates to track Beauvillier. Michael Bunting and Justin Holl decide to swap targets here due to their on-ice positioning, but Holl is not able to get enough of a jump to get in the way of Beauvillier. Ultimately, the goalie has to step up and Kallgren simply did not on this play.
How to fix it
After watching all six overtime losses to begin the season, there are four common trends that I noticed in all of them:
The timing and quality of passes are subpar
Their slow reaction time results in surrendering dangerous scoring chances
Defensive assignments fall apart quickly
The goalies are not getting enough support and aren't doing themselves any favours
Four of these goals came within the first minute of the extra frame, with the Golden Knights' goal being the earliest at 23 seconds. They also did not record a shot in all but one of the defeats, with the sole exception being the game against the Ducks where they got two shots on net. Defensively, the Leafs have averaged two shots against in OT and have a .500 SV% in these six defeats.
Now compare all of that to their sole win in overtime courtesy of Nick Robertson:
It is true that Robertson made a risky play that could have easily backfired had Jamie Benn gone past him, but Robertson was able to steal the puck and start a breakout the other way. Rielly picks up the loose puck and springs free Robertson who leads the rush going the other way. He decides to give it to Matthews up top who decides to give it back to Robertson who makes no mistake.
Here, they are stout defensively in support of their goalie, had a good reaction timing to start the counter-attack, and made good passes that resulted in the winning tally. Sequences like this have not been prevalent since then and they will need to follow a similar approach (apart from the high-risk play by Robertson) in order to turn the tide and generate better results.
Line matchups are also critical, especially when the opposition is fast and very opportunistic as was the case in the Devils and Golden Knights games. Sheldon Keefe obviously has little control over what occurs once he sends out his lines, but putting out different combinations could make a major difference. In the play against New Jersey as an example, putting out Tavares was wrong given his footspeed and Keefe should have instead opted for Matthews and Nylander to start.
The Leafs also need to be smarter in their decision-making because the more open ice will make their mistakes more glaring. They seem to be at their best when they are more methodical with the puck and go for the smart play instead of the risky ones. Simplifying their approach could help improve their fortunes.
Above all else, Toronto needs to do better in providing support for their goaltenders on the defensive end. Kallgren may have been responsible for four of the losses up to this point, but the Leafs have not been good enough in making his life easier in stopping the puck. But when he, Matt Murray, or Ilya Samsonov become the last line of defence, sometimes a save would be nice.
In short, the Leafs have been struggling in overtime due to a combination of poor decision-making with passes and defensive coverage, lacklustre support for the netminders, and countless odd-man rushes.
Keefe may say
that the team is not overreacting to the OT failures and the team has been practicing it in recent weeks, but getting things right will be crucial because they can't afford to let more points slip away. They are within striking range of catching the Bruins and the lost points could come back to haunt them if they are forced into an unfavourable matchup in the first round.
While there won't be any three-on-three overtimes once the playoffs come around, the Leafs need to figure out how to improve their fortunes in the extra frame and fast.