What are the modern equivalents of some of the most iconic trades in Maple Leafs history?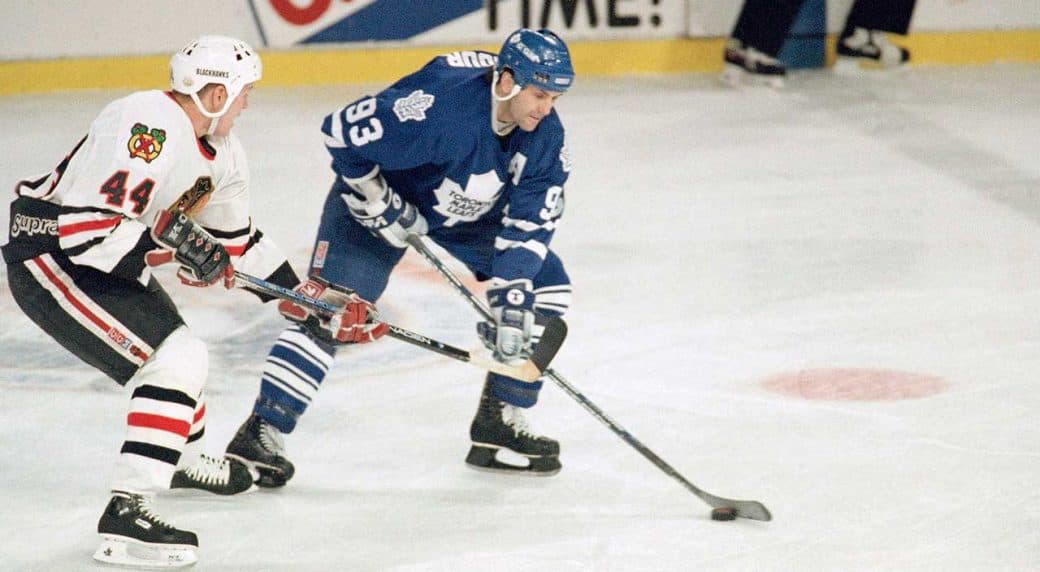 Photo credit:(Tim Boyle/AP)
As we approach the NHL's trade deadline, it's common for Toronto Maple Leafs fans to look back at the long history of trades their franchise has made in its 105 year history. With the benefit of hindsight it's easy to evaluate a years-old trade and determine who the winners and losers of that particular swap were.
However, for newer fans or simply fans who have tried to repress memories of the past few decades, seeing some of those old trades may mean little at all without context for who those players were and what acquiring or losing them meant to the team. As a solution, I present some of the most iconic trades in Maple Leafs history (for better or for worse) alongside the modern equivalent to get a sense of what those trades would look like in today's NHL.
Rask for Raycroft
The Trade: Tuukka Rask to Boston for Andrew Raycroft
The Modern Equivalent: Artur Akhtyamov to Detroit for Alex Nedeljkovic
At the time Toronto needed goaltending, so they traded one of their two young, highly-touted goaltending prospects (the other being Justin Pogge) for Andrew Raycroft who had just come off a terrible sophomore season after winning Rookie of the Year. Toronto hoped that a change of scenery would help Raycroft bounce back, but instead were stuck watching in horror as the goaltender they traded to a divisional rival would become one of the most reliable netminders of his generation.
Nowadays, Toronto has another division rival dealing with a goaltender going through a sophomore slump in the Detroit Red Wings' Alex Nedeljkovic who just last year was nominated for the Calder Trophy. Toronto once again has a number of very young, promising goalie prospects in Artur Akhtyamov and Vyacheslav Peksa, not to mention Joseph Woll and Erik Källgren both showing they can perform at the NHL level this season. Much like how losing Rask haunted the Maple Leafs for over a decade, shipping out Akhtyamov could prove just as costly as the 20-year old netminder has put up some impressive numbers over the past two seasons in the KHL's minor league system.
With Toronto holding rights onto a number of high-potential young goalies this season while looking for goaltending help, it's not outside the realm of possibility one of those four young netminders is involved in a trade for some veteran insurance. However, the Maple Leafs have probably learned a hard enough lesson about acquiring former Hurricane netminders to even consider Nedeljkovic as an option.
The Sundin Trade
The Trade: Wendel Clark, Sylvain Lefebvre, Landon Wilson and a 1994 first round pick to Quebec for Mats Sundin, Garth Butcher, Todd Wariner, and a 1994 first round pick
The Modern Equivalent: John Tavares, Ilya Lyubushkin, Matthew Knies and a 2022 first round pick to Minnesota for Kirill Kaprizov, Jordie Benn, Marco Rossi and a 2022 first round pick
From one of the worst trades in Maple Leafs history to one of the best. Toronto sends away its captain and a stay at home defenseman for one of the game's most promising young players, a veteran journeyman defenseman and the swapping of high-end prospects and first round picks.
It's hard to perfectly emulate this trade as there may not be a single player on the Maple Leafs roster as beloved as Wendel Clark was to the fanbase. However, Leafs GM Cliff Fletcher saw an opportunity to swap away his aging captain for a younger player that seemed to be a superstar in the making. Landon Wilson was considered one of Toronto's best prospects at the time, a first round pick who looked excellent as a physical big body winger playing college hockey. To many he was considered as key a part of the trade as Wendel Clark.
This isn't a trade that we'll see happen in today's NHL and while that's partly because of the salary cap it's also a testament to just how much of a blockbuster this was at the time. Two teams swapping away their best players, top tier prospects, and first rounders is unheard of across sports. 
Any team would love to acquire young forward
as talented as Kaprizov, but the cost would be high, as it was for Sundin. Tavares has adapted his game to be a net-front pest on the powerplay and together with Auston Matthews serves up a 1-2 centre punch that few teams can keep up with, Matthew Knies' performance at the University of Minnesota and at the Olympic Games has left many wondering if he sees NHL action later this year, and Ilya Lybushkin has been a steady anchor on defense that isn't afraid to throw around his size. However, if Kaprizov continues to dominate and has a career anywhere close to as consistent as Sundin's was, it would all be worth it. There's a reason why many consider this particular trade to be the best in Maple Leafs history.
The Brian Leetch Trade
The Trade: Maxim Kondratiev, Jarkko Immonen, a 2004 first round pick and a 2005 second round pick to the New York Rangers for Brian Leetch and a conditional fourth round pick
The Modern Equivalent: Filip Kral, Pontus Holmberg, a 2022 first round pick and a 2023 second round pick to San Jose for Brent Burns and a conditional fourth round pick
Usually when you acquire one of the most dominant defenseman of his generation it's a good thing, even if that defenseman is on his last legs and probably only has a couple more seasons left. When Toronto picked up Brian Leetch in 2004 fans were ecstatic that the former Norris winner was joining an already stacked team of veterans for a potential deep playoff run. The return paid off immediately with Leetch getting three assists in his very first game wearing the blue and white.
For the privilege of adding a future hall of famer to their roster, Toronto had to give up two high draft picks as well as two European skaters who had shown promising development despite being late round picks a couple years earlier.
Once again, the modern NHL's salary cap prevents a trade like this from even being discussed, but adding a defenseman of Burns' pedigree would have about the same ecstatic reaction nowadays across Leafs Nation as it did back in 2004. It wouldn't be a one year rental either as Burns still has three more years left after this season, much like how the Leafs thought they'd be getting an extra year out of Brian Leetch until the 2005 NHL lockout crushed those dreams among many others. A first, second, and two mid-level prospects would be a small price to pay for that kind of addition.
The Doug Gilmour Trade
The Trade: Gary Leeman, Alexander Godynyuk, Jeff Reese, Michel Petit and Craig Berube to Calgary for Doug Gilmour, Jamie Macoun, Ric Nattress, Kent Manderville and Rick Wamsley
The Modern Equivalent: Wayne Simmonds, Travis Dermott, Petr Mrázek, Justin Holl and Kyle Clifford to Buffalo for Jack Eichel, Will Butcher, Henri Jokiharju, Matteo Costantini and Craig Anderson
For this trade we need to rewind the clock a couple months back to when Jack Eichel was still a Sabre. The reason for this is because Jack Eichel's feud with the Sabres is the closest thing we have these days to Gilmour's public feud with Calgary management.
Toronto was able to benefit from Calgary being desperate to get anything in return for a player who didn't want to be there anymore and was able to acquire their future captain and one of the NHL's best centers for little more than a bunch of spare parts including two defenseman who struggled to solidify their place in the lineup as well as a backup goalie and two aging physical forwards who had their best years behind them.
The ten-player blockbuster is often considered the worst trade in Calgary Flames history and the best one in Maple Leafs history. If the modern day Leafs were to acquire a top 10 centre for a handful of bottom of the lineup guys, even the most vocal Dubas critics would only be able to stop and applaud.
The "Please Stop Trading Away Lottery Picks" Trades
The Trades: The Leafs trade a future first that ends up being a top five pick for a very good but not game breaking player
The Modern Equivalent: A 2025 first round pick to Pittsburgh for Jake Guentzel
The Maple Leafs have a history of trading away future first rounders and then absolutely plummeting to the bottom of the standings when that year comes. In return, Toronto often receives a promising player that, while talented, just isn't enough to prevent that draft pick from landing within the top five.
Whether it's acquiring Tom Kurvers for a first rounder that was used to select Scott Niedermayer third overall, getting Kessel for what would become second overall Tyler Seguin and ninth overall Dougie Hamilton, or the swap that saw Toronto reacquire an aging Wendel Clark for the pick that would be used to select Roberto Luongo fourth overall, the Maple Leafs have seen some of the NHL's best players get selected with picks that used to be theirs.
Similarly, Jake Guentzel is the sort of player that any franchise would love to add, but doesn't quite have enough starpower to carry a team into the playoffs on his own. A 2025 first rounder is included in this hypothetical deal as that's the same year that Auston Matthews, William Nylander, and TJ Brodie become unrestricted free agents. Should all three players leave without replacement, Toronto could very well once again find itself struggling to climb out of the basement as another team reaps the benefits of owning a Maple Leafs lottery pick.