What changes are coming for the Leafs?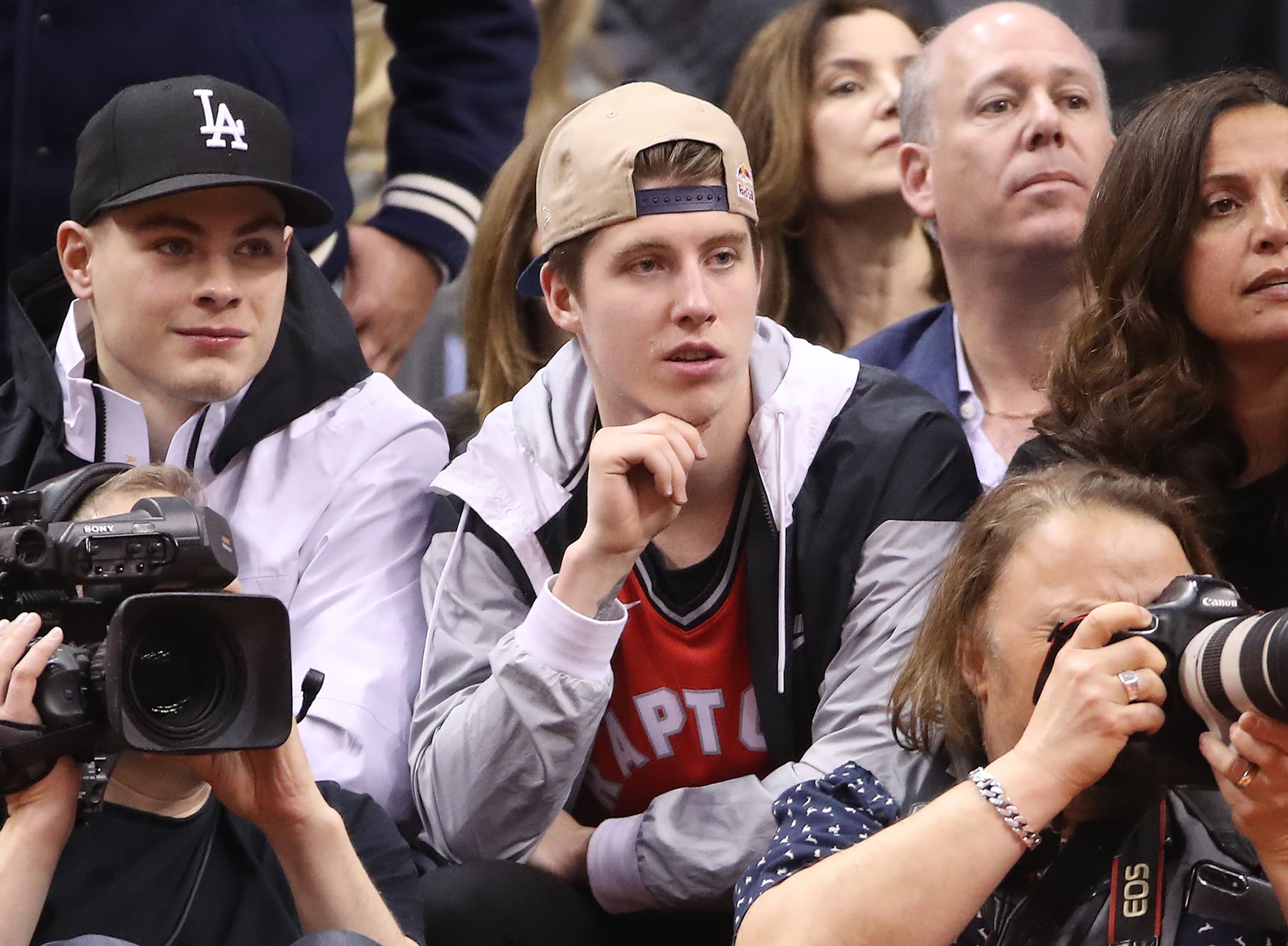 Photo credit:© Tom Szczerbowski-USA TODAY Sports
With the pain still relatively new, and the uninspired comments from locker room clean out day not exactly inspiring anyone to believe that the Leafs are committed to improving, but rather are waiting for the playoffs to align with their regular season, we've decided that someone needs to have reactionary plans for change if the Leafs aren't willing to come up with them on their own. Enter our panel of experts, and the all important question for them, What change would you like to see made this off-season?
Jori Negin-Shecter:
In a dream world, a Marner for Eichel trade would be rad, but as far as realistic changes, it's going to be a matter of shuffling deck chairs. You're not trading your core pieces unless you get blown away because panic selling would be a mistake and Dubas hasn't shown us to be a GM that makes panic moves. Perhaps creating a spot for Nick Robertson to play full time by moving on from Ilya Mikheyev or Pierre Engvall could make some sense. Something else I wouldn't mind seeing is the Maple Leafs making a run at one or both of Phillip Danault and/or Tomas Tatar. Going out and getting them may be contingent on the Buds losing Zach Hyman, so obviously, the preference is to keep him, but both of those players, especially Tatar, seem to be undervalued for what they bring.
More broadly speaking, I think the biggest thing would be a fresh looking bottom six. Spezza can stick around, as can Alex Galchenyuk. But guys like Simmonds and Thornton are likely only to see a further decline, and while both had their moments, neither one feels particularly irreplaceable through free agency or trade. As crazy as it is to say based on the Maple Leafs teams of yesteryear, but some depth scoring options seems like what this team lacked by the time game seven rolled around. Having John Tavares in the lineup would have dramatically changed this team's outlook and pushed more talented players down the lineup, but having someone other than Spezza to put the puck in the net when the big four is on the bench seems like a good starting point for this summer.
Michael Mazzei:
The big thing for me is to somewhat stick to the original plan that Dubas has followed since he took over as the GM. The previous off-season saw him go a bit off-course in an attempt to implement a new identity for the team and it ultimately was unsuccessful due to their lack of offensive punch. The focus should be on trying to get as many players who have offensive upside and plays with the killer instinct that Shanahan said was missing. That is obviously not an easy task since players of that caliber are difficult to come by, but it's the only way the Leafs can be put in a better position for the next playoffs since that's going to be key for determining if 2021-22 will be a success or a failure.
They also need to find a permanent solution to which defenceman will run the top PP unit since Rielly makes things too predictable and Sandin is still a work in progress. I hear that Dougie Hamilton might be available in late July.
Scott Maxwell:
I'm going to give the worst answer of all time and I say I don't really know. Part of me wants to go bold and say 
trade
 Marner, but every other part of the hockey analyst in me screams that that's a stupid idea, but also doing nothing and just keeping the course feels like too little.
One thing I do think the Leafs should change is a bit of a focus on improving the secondary scoring, something that got sacrificed at the expense of going all in on gritty veterans, something that made it a lot easier for the Habs to shut down Matthews and Marner. Spezza can obviously stay, and I'd hesitantly say yes to Bogosian and Simmonds coming back, as long as it's for six figures, but other than that, they should be looking to hit on hidden talent that can be a game breaker down the road for them. Galchenyuk is a start, but I want to see stuff like what the Panthers did with Verhaeghe and Duclair this year on cheap deals.
Ryan Hobart:
Be less aggressive with NHL free agents. The Leafs have had such a good system of European free agents and late draft picks coming through the Marlies that I'm not sure they need to do anything with their bottom six except keep a big pool of these players and figure out who works best for the current situation. I could see them bringing back Spezza and Galchenyuk if they stay cheap, but the roles that Foligno, Thornton, Simmonds and Bogosian played this year could all be filled internally.  I would be looking specifically at giving bigger roles to Joey Anderson, Denis Malgin, Adam Brooks, and Nick Robertson up front, and Timothy Liljegren, Mac Hollowell and Kristians Rubins on defense.
Mark Norman:
I've been saying it for a while that the Leafs are too top-heavy salary-wise, with almost 50% of their cap tied up in four forwards. When one of those four forwards goes down, it creates a lot of strain on our bargain bin forwards to produce, and ultimately it was one of the things that lead to our defeat in the first round. Matthews and Tavares are going nowhere and Nylander has the best value contract of the four (plus he's our best playoff producer), so that leaves Marner if you want to make a big splash.
Mitch Marner is what happens when a hometown kid who nobody had anything negative to say about drags his team through a summer of negotiating publicly through the media, ultimately signs a deal he and everyone else knows is a gross overpayment, then develops crippling imposter syndrome.
The Leafs need to re-balance their cap composition by putting Mitch's $10.9M to better use. Or the Leafs can keep trying to win a cup with the most top-heavy cap composition in league history. How's that working out?
Brian:
Get younger. The Leafs leaned heavily on acquiring veteran experience last offseason with mixed results. With Simmonds, Thornton, and Hyman set to expire up front, I'd like to see them either give some of the younger players already in their system (Nick Robertson, Fillip Hallander, Joey Anderson) a look, or if they look externally again, target younger players like Troy Terry or Travis Konecny in trades. Expanded roles for Rasmus Sandin and Timothy Liljegren would be nice to see as well (surely if Justin Holl can look good next to Jake Muzzin, Liljegren can as well.)
Marsha Joseph:
Gonna go kind of on a whim here and say coaching is what I wanna see change. Get someone new on the powerplay first and foremost. The fact that it got so bad was disheartening in itself. Apart from that I'll get more specific and say that the current coaches don't necessarily have to be removed. Their headspace just needs drastic change. I don't like the stubbornness. You can't go into game 7 ready to do all the same things you did in game 5 and 6 that you just lost. I also feel that the praise and accountability from Keefe needs to be developed and reevaluated. Hold your stars fully accountable when they aren't performing and properly acknowledge those who have stepped up.
Jon Steitzer:
Well, the first one is not being afraid to lose a Marner trade. He's a very good player, but a luxury the Leafs can't handle because they are too top heavy. The Leafs could have two very good top six forwards at that price, and that's what they need. Pick up a decent forward or defenseman, plus a good future for him, and enjoy the cap space that comes with that change.
Additionally, I think a more thoughtful approach to building out the supporting cast is required. The Leafs are in a good situation where they can take Andersen's contract and spend it on forwards, and take Hyman's contract and spend it on a tandem partner for Campbell, and put together a lineup that attempts to find upside, not rely on veterans, even if that narrative was flawed because both Travis Boyd and Jimmy Vesey were attempts by the Leafs to find their version of Anthony Duclair and Carter Verhaeghe. If I'm Toronto the player I'm looking at first in free agency is Scarborough's own Michael Bunting. He had a breakout performance with 10 goals in 21 games for the Coyotes, and was a Soo Greyhound under Dubas and Keefe. He's been a late bloomer that is going to hustle his ass off to stay in the league, and my ideal bottom six forward group are a bunch of cutthroats that would stab each other for more icetime.
Have your say. Let us know what the Leafs should be prioritizing this offseason in the comments below.