What could Conor Timmins bring, and is he a good gamble?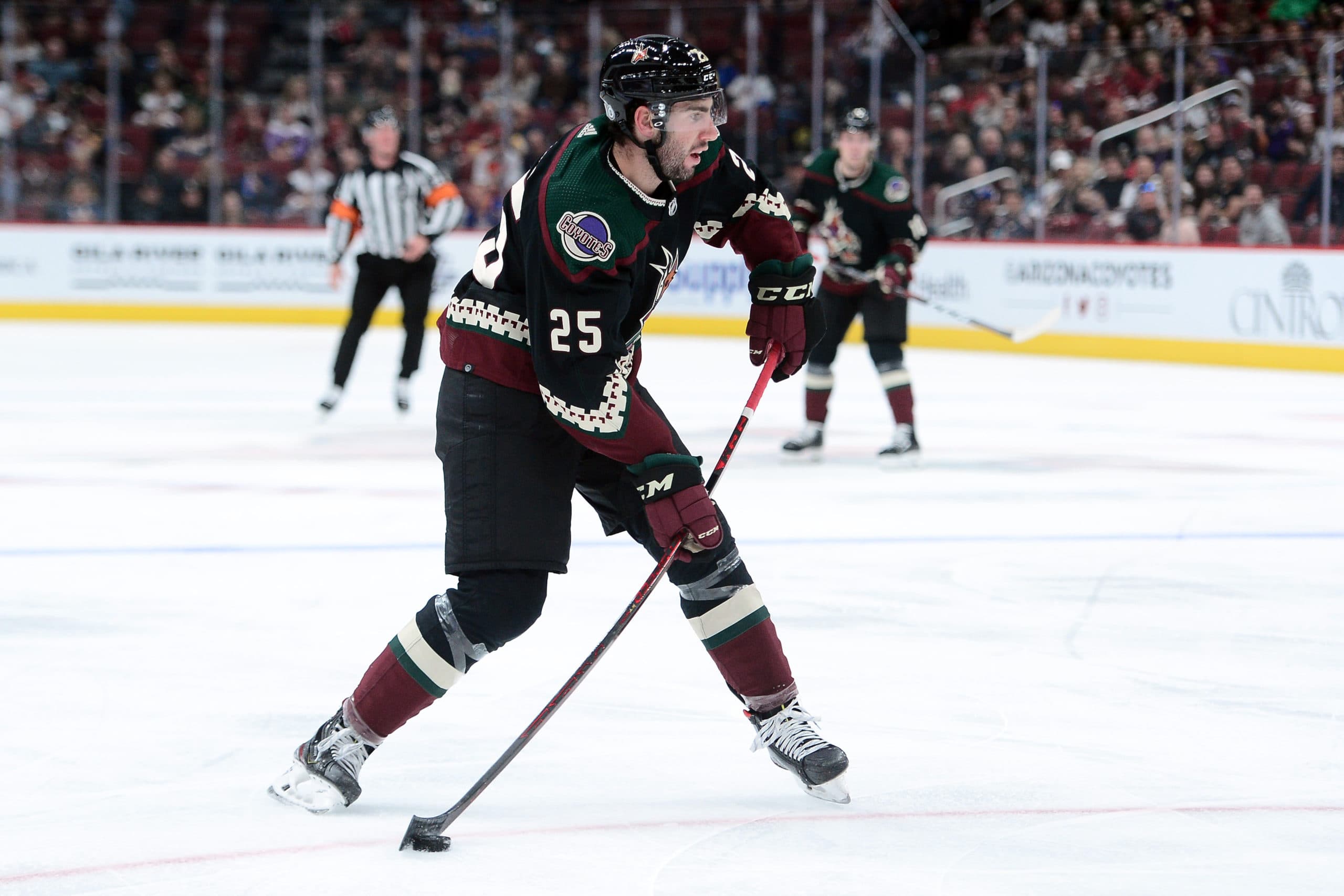 Photo credit:Joe Camporeale-USA TODAY Sports
Yesterday the Toronto Maple Leafs and Arizona Coyotes completed a one for one trade. The Leafs sent Curtis Douglas to the desert, and got back Conor Timmins.
Douglas has played 13 games this year with the Marlies, contributing 1 assist and racking up 30 penalty minutes. He is a well documented giant, standing at 6'9. His ceiling with the Leafs was a 4th line centre, and he probably never had the skating to get there. Douglas was very well liked in the dressing room, and was a consummate pro throughout his time with the Marlies. I wish him the very best.
Now, let's get to Conor Timmins. First, we should examine why Kyle Dubas is taking a chance, and what makes this such a good gamble. Before Timmins played in the NHL or AHL, he was a member of the Soo Greyhounds (go figure). He joins a lengthy list of Leafs to have played in Sault Ste. Marie, and was even a d-partner of one Rasmus Sandin.
Timmins was the first pick of the 2nd round back in 2017, going 32nd overall to Colorado. He was also a member of the Canadian World Junior team in 2018 where he won Gold, and led the tournament in plus/minus. He has also dismissed any involvement or knowledge of the sexual assault allegations from that tournament. He missed the 2018-2019 season with a concussion, but bounced back to make the Avalanche's opening night roster in the 2019-2020 season.
This was a player with some serious pedigree. Sadly, Timmins has not lived up to the hype, as his career thus far has been derailed by injuries. He has managed to play more than half a full season only a couple times, and thus his development has been spotty at best. To date, Timmins has 41 NHL games, plus 12 playoff games with the Avalanche.
Giordano – Holl
Sandin – Liljegren
Benn – Hollowell
That's a very thin group. Hollowell played his first NHL game (congratulations to him), and Jordie Benn missed stretches of the game with visits to the locker room. Hopefully he is ready to go tomorrow afternoon against Minnesota. Benn doesn't seem like the type to miss shifts unless something is seriously wrong, so my gut tells me he could miss some time… Hopefully I'm wrong.
Timmins is currently healthy, having just finished a conditioning stint with Arizona's AHL affiliate, the Tucson Roadrunners. He would have to pass through waivers if the Leafs wanted to send him to the Marlies, meaning he will more than likely stick around for a while.
So, what does Conor Timmins bring? At the very least, he's a cheap right handed depth option. Not too long ago, Justin Holl was all the Leafs had… However, with a healthy Liljegren, and Hollowell entering the fold, the Leafs currently boast 4 right handed shooting defencemen. Timmins cap hit is $850,000, and he will be an RFA at the end of the season.
He stands at 6'2, and plays with a little bit of physicality. He will factor in at both ends of the ice. Timmins thinks the game well, and is a smart decision maker. His first pass is strong, and his ability to move the puck should help the Leafs break out of their own end.
This move will ultimately come down to his health. While he may be counted on immediately, the Leafs will be eager for him to spend some time developing with their internal staff. Again, he is an RFA at the end of the season, giving Toronto some control. If he manages to stay healthy, this could be a real win for Toronto.
When news broke recently that the Leafs could be interested in Timmons
, I wondered what they might have to give up for a former 2nd round pick that's recently turned 24. I figured a more significant prospect, like Abruzzese would/could be the one to move, so I'm happy the Leafs managed to give up Douglas. Ultimately, the Leafs traded a prospect that projects as a 4th line centre, for a right handed depth defenceman that 
could
blossom into a 4/5 guy. Timmons is only 2 years older than Douglas, and given the injury crisis they've suddenly found themselves in, his position is one of need.
I have a feeling we could see Timmons suit up Friday against Minnesota. I hope this move pans out as well as I believe it will. Regardless, let's all hope Conor can stay healthy, and commend Kyle Dubas on finally trading for a right shot blue liner with some size.