What has gone wrong with the Tavares line and how to fix it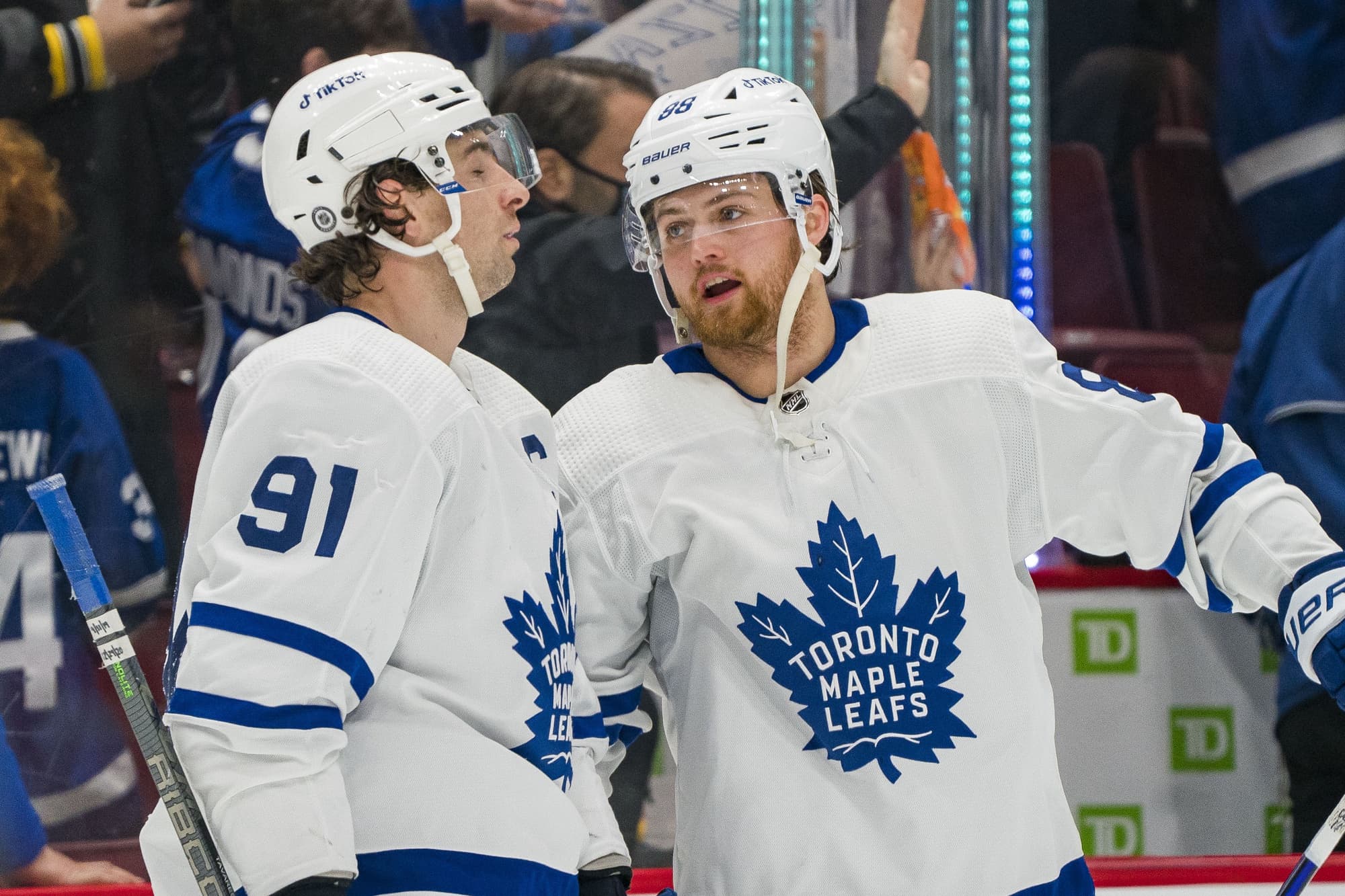 Photo credit:© Bob Frid-USA TODAY Sports
The Leafs have been mired in a bit of a funk in which they have wracked up some wins while also showcasing some uninspiring performances, resulting in five losses in their last seven games. While they remain in great shape as the season inches closer to the trade deadline, their cushion ahead of the Bruins is getting smaller and the gap behind the Lighting and Panthers is starting to widen.
While we could talk about the concerning display from the blueline or untimely goals allowed due to poor goaltending, I want to focus instead on the porous play from the second line over the past ten games. More specifically, why the trio of @John Tavares, @William Nylander, and Alex Kerfoot has been struggling of late and what can be done to get them out of their slump.
Tavares is currently in the midst of
a ten-game goalless drought
, with his last goal coming on January 29th against the Red Wings (an ENG) and his last tally against a goalie on January 26th against the Ducks. For reference, this is his longest goalless slump since an 11 game stretch during the 2011-12 season. Meanwhile, Nylander went through a goal slump of his own that lasted eight games and was recently snapped on Saturday with two tallies against the Blues. Kerfoot has a combined five points but the caveat is that two of those games in that stretch were multi-point nights, meaning there have been seven games where he went pointless.
Make no mistake, the three players remain integral pieces to the Leafs and this recent slump isn't indicative of their lack of talent or potential decline in the case of the captain.
For team scoring
heading into tonight's game against the Wild, Nylander sits in second place, Tavares in third, and Kerfoot in seventh. They have been among the team's most integral pieces all season but are currently struggling to produce, so what has gone wrong?
Let's start with the numbers. Here is a full breakdown of their scoring output since January 31st:
| | | | | | |
| --- | --- | --- | --- | --- | --- |
| PLAYER | GOALS | ASSISTS | POINTS | EV POINTS | PP POINTS |
| TAVARES | 0 | 7 | 7 | 5 | 2 |
| NYLANDER | 2 | 5 | 7 | 4 | 7 |
| KERFOOT | 1 | 4 | 5 | 4 | 0 |
For reference, two of Tavares' assists and three of Nylander's assists over this past 10 game stretch have come on the power play, equating to roughly 29% and 43% of their respective points. And while Kerfoot has not been utilized on the man advantage this year, his other point during this stretch was an assist short-handed. But getting a combined three goals from the second line simply isn't good enough for the Leafs to have any chance at success.
When taking a gander at the underlying metrics for the Tavares line throughout the season and over this past ten-game stretch, it paints a different picture as to what has gone wrong:
| | | | | | | | | | |
| --- | --- | --- | --- | --- | --- | --- | --- | --- | --- |
| DATE RANGE | CF% | FF% | SF% | GF% | XGF% | SCF% | HDCF% | HDGF% | PDO |
| OCT 13 – JAN 29 | 50.11 | 51.60 | 51.98 | 66.67 | 52.19 | 52.20 | 50.98 | 66.67 | 1.049 |
| JAN 31 – FEB 22 | 55.50 | 53.59 | 52.85 | 31.25 | 49.13 | 50.00 | 54.29 | 0 | 0.887 |
All stats are at 5v5.
The trio has had their fair share of chances and has done a great job in regards to maintaining possession, but the goals have dried up and so too has their luck. The drop-off in their GF%, HDGF%, and PDO is striking, but also not truly indicative of their capabilities. It seems to suggest that they have been playing just fine throughout February and are simply regressing to the mean after a sublime start in regards to the goals.
Of course, no assessment of the line's lacklustre play is to look at the eye test and see if any patterns emerge that might be impacting their performance over the last ten games.
Putting it all together, the Tavares line has been receding to the mean after a high-flying start in terms of goals scored. While they have been getting their chances and are maintaining possession, there have been far too many moments of ho-hum defensive form and it has resulted in more time spent in their end and more goals against. All of that in combination with the line being out of sync has resulted in a combined three goals from the trio over these last 10 games.
What has gone wrong with the Tavares line seems fairly straightforward, so how do the Leafs go about fixing it?
They could let things play out as is and hope they figure it out at some point.
Tuesday night's game against the Blue Jackets
was a step in the right direction for the trio as they did a phenomenal job maintaining possession and generating several scoring chances. If they continue to play games where they come away with an xGF% of 59.81, the luck will eventually spring back in their favour.
Another option worth considering is making a major shakeup of the line and adding a different element to it.
One idea
that might work is swapping Kerfoot for @Ondrej Kase to provide a better scoring touch that alters the makeup of that combination in a significant way. Sheldon Keefe could also move Nylander off the line and reunite the captain with Marner for a bit to get the former rolling again.
More dramatically would be making a big splash to acquire a new top-six forward to play with Tavares and Nylander. There have been
recent reports
of
the Leafs inquiring
about @Brandon Hagel and @JT Miller, both of whom could be
a significant upgrade over Kerfoot
. With the Leafs set to have roughly $6 million in cap space following @Jake Muzzin being
added to LTIR last night
, it certainly grants them more room to make such an addition should Kyle Dubas and the front office deem it to be necessary.
Whatever direction they end up going in, it will be imperative for the Leafs to get the Tavares line rolling again cause they cannot afford to have it further struggling down the stretch and in the postseason. The @Auston Matthews line has done a phenomenal job of late carrying the burden of the offence and making up for the second line not carrying their load, but they can only do so much to keep the momentum going.
Tavares, Nylander, and Kerfoot have had strong starts to the season but it appears that their luck is balancing out throughout February. They have gotten some quality scoring chances off the rush or via the cycle, but there have also been too many instances of defensive breakdowns that stem from the line being out of sorts lately. The Leafs can either let them figure it out on their own or add a different element to the second line, whether that be internally or by trade.
This slump isn't going to last forever and the second line will eventually return to form. The question is when that will happen and if it will be in its current state or significantly altered.