What the hell is going on with Fred?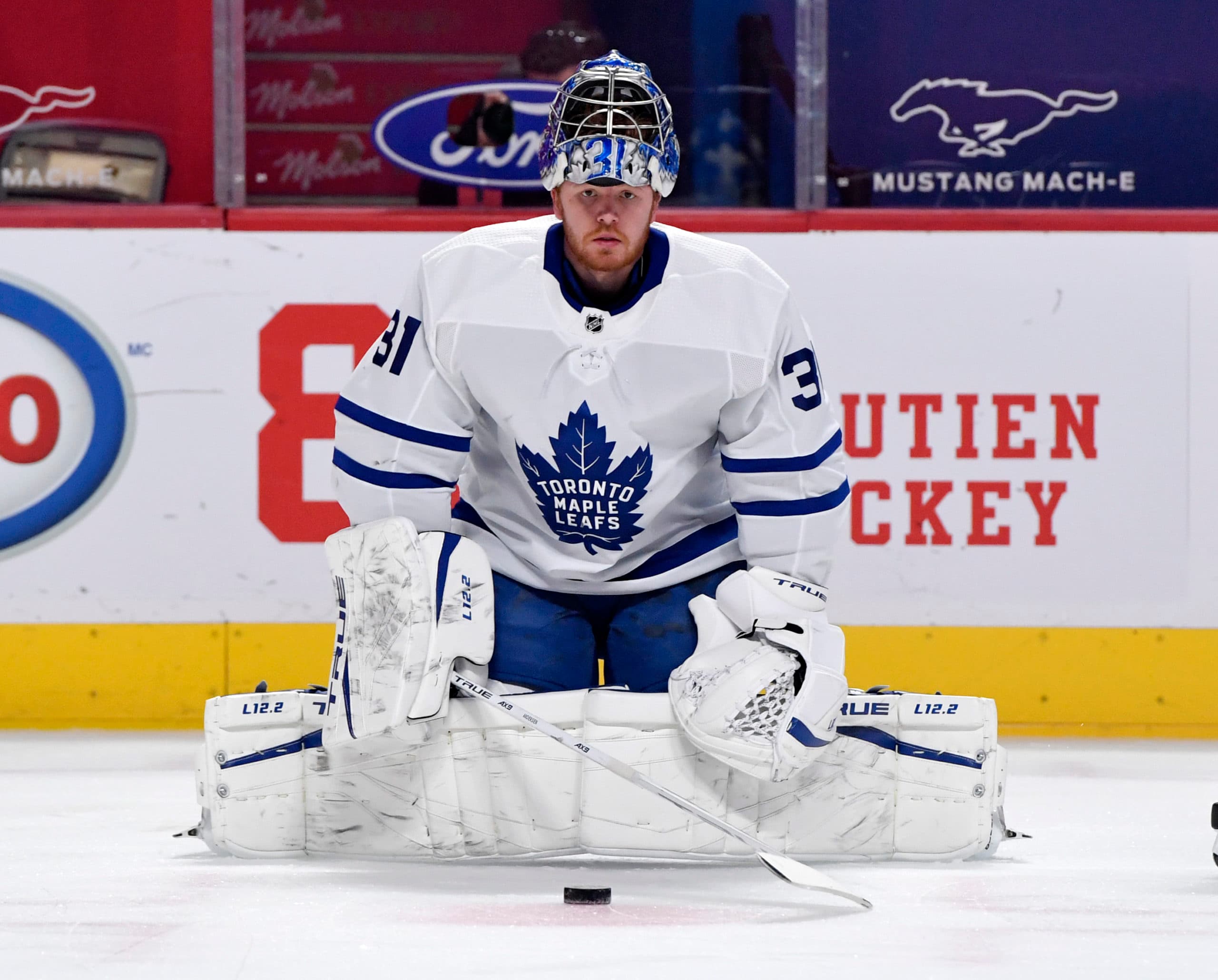 Photo credit:Eric Bolte-USA TODAY Sports
Hello darkness, my old friend.
The Maple Leafs have a starting goalie problem. Again.
What was a seemingly uncatchable lead in the North Division not two weeks ago has been eaten up by porous goaltending over the Leafs' last five matches. In spaces, the team's performance might've been better, Saturday night's game among them. The Jets were the better team in the rubber match, outshooting and outchancing the Leafs rather convincingly.
In the earlier two entries of the three-game series, the Leafs won the Deserve-to-win-o-Meter Championship, as they are wont to do, but conceded one cumulative standings point to a Jets team hot on their tails. In a fairer world, this series would've extended their lead atop the division. "Fairer", I submit, if you don't factor goaltending into your game analysis prior to your discussion of the final result.
There's something far too many analysts ignore: goaltenders are listed on the player roster, count against the salary cap, and are agents in the game as much as skaters are. It's not enough in a post-game analysis to build the crux "the Leafs were the better team, but lost" into a tidy retrospective. The truths of importance here are that the Maple Leafs biggest weakness is goaltending in the starter's spot, and that procuring and then paying a starting goaltender who is actually good is an important aspect of team construction.
Fred Andersen is the starter in Toronto by minutes played, and, without another goalie on the roster who's thus far in their career been able to shoulder a heavy workload, it's tough to imagine his role will be reduced in any meaningful way. In a division with elite, or formerly elite goaltenders tending most nets, Andersen will need to be better for the Maple Leafs to win the requisite series to emerge North Division champions.
THE NUMBERS
Andersen has over his career been a high-end low-danger goalie, and low-end high-danger goalie. He navigates the crease quietly. His standing and butterfly movements are unusually sound. It appears most nights as if Andersen doesn't have to try to make the saves he makes. Part of this should be attributed to his size. He's big, big. And that adds a lot of range. Body size takes pressure off pre-shot setup; it makes up for positional deficiencies during active play. Size and sound movements make easy saves look easy. For smaller goalies of the athletic ilk, these saves can be more difficult.
Per MoneyPuck's GSAx, Fred Andersen ranks second best league-wide in low danger save percentage above expected among goalies with more than 10 games played (Jack Campbell is fourth among all goalies who have played one game, three spots better than Andersen). In this category, Andersen's among elite goaltenders like Andrei Vasilevskiy and Marc-Andre Fleury. These are goaltenders who are excellent watching slow plays develop and who are proprioceptively proficient at slower speeds (they can navigate their body through space). These goaltenders do not overcommit to movements, and so we call them "quiet". Low-danger saves don't require complicated save selection as they're usually straightforward shots from a distance. Most goalies entering the league are capable of making these saves. What differentiates bad goalies from good goalies, and good goalies from elite goalies, is their proficiency making saves made on shots that are more difficult.
Per MoneyPuck's GSAx, Andersen ranks 31st among goalies with more than 10 games played in high danger saves above expected. Framed differently, Fred Andersen is a bottom tier starter against shots that are more difficult to save. This checks out, for a few reasons. First, Andersen often loses position as plays develop quickly. His numbers against rush chances are abysmal, partially contributing to his poor HDSV%. Goaltenders should at all times maintain body position between the midline of the back of the net and the puck. In the Toronto goaltending school where I coached, we'd call this "groin to the post", illustrated below.
The black circles in the above image are puck positions. The lines drawn are the lines on which a goalie should position themselves facing the respective shots. The stars are top of the crease positions for each midline position. A goaltender's ultimate responsibility is to position themselves appropriately to block a shot. Against NHL shooters, reacting from a few feet is difficult. The human body can only move so fast. It's much easier, and requires much less athleticism, to just Be In The Right Place.
Effective skaters are able to make stick angle changes or body positioning changes on isolated chances that make this positioning more difficult. Auston Matthews is routinely among the best skaters at shooting over his expected goals (21 goals on 7.12 ixG, per Natural Stat Trick) for this reason, among others. Against shooters like Auston Matthews, Andersen is a biter: he commits to early looks and he's frequently unable to recover his "groin to the post" (GTTP) position.
In the third installment of the latest Leafs-Jets midseason series, Andersen concedes this goal where he overcommits to the initial shot on the 2-on-1, forcing his left leg backwards to recover with a lateral push to the right, opening his left side. Additionally, Fred overextends on the slide, losing positional GTTP. Rather than maintaining a square stance to the the new shooter in the slide, Fred leaves his trailing left shoulder open, exposing the top left corner.
NHL shooters, at least the effective ones, will eat when given an opportunity like this. This deficiency in position recovery after lateral movement has been a mark of Andersen's career.
Another curious deficiency marking his career, Andersen is uniquely prone to conceding shots along the goal line or at the goal mouth that should be saved by most NHL goaltenders. These shots are typically recorded as high-danger chances because of their proximity to the net, with high xG scores, but in reality most are weak chances.
Here, Andersen is unable to close the VH position properly. The VH position is where a goalie's post-side pad is vertical (V), and back-side leg horizontal (H), closing the post-adjacent holes. This requires a tight V-H cross section where the pads meet. Andersen doesn't close this hole very effectively and so, more than the average goaltender, concedes goals through his five-hole in the VH.
The above is an illustrative example of a goal you "can't stick on the goalie". Only you can. This is where public shot data and the models constructed of public data are ever improving. If they weren't, if the job was done qualifying chances, the modelers wouldn't have jobs!
There's more to come here. The story on Fred Andersen is longer than a brief explanation of his VH and positional deficiencies. Hockey is a mental game as much as physical and goaltending, a solitary position akin to football quarterbacking or baseball pitching, is perhaps more mental than physical. Andersen's mentals are a big part of the story here, and I will get to dissecting them. For now, rest assured: this Leafs team is good. They've dominated the expected goals battle most nights and appear to the naked eye to be the better team in nearly every match. If they are sunk by anything, it's likely to be their goaltending, at least in the starter's net. The issue being, of course, the starter plays more minutes than anyone else.
Recent articles from Jakebeleafs