What the Maple Leafs need Joey Anderson to be next season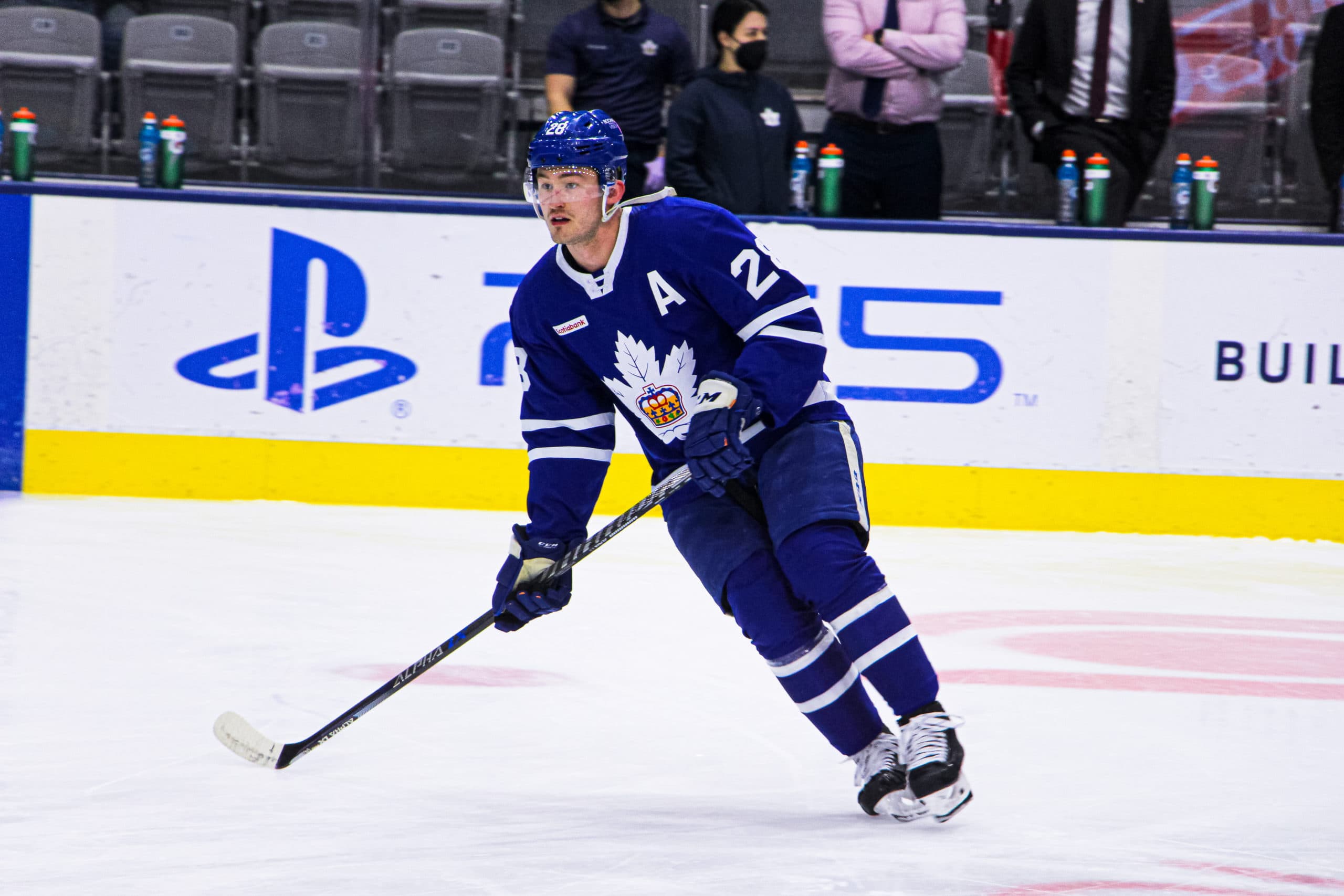 Photo credit:Nick Barden
Joey Anderson was meant to have a bigger role with the Maple Leafs when he arrived back in October 2020, but yet that hasn't happened.
Over the course of two seasons with the Toronto Marlies, Anderson has put up 53 points (33G, 20A) in 72 games. His game has been strong since he arrived in Toronto — the same can be said about his leadership as well.
There's a lot of interesting aspects of the 24-year-old's game that make him such a fascinating player. He's incredibly strong defensively, but also has the offensive capabilities to have been the Marlies' leading goal-scorer last season.
Anderson is incredibly strong with and without the puck, making him the perfect player to sit in front of the net. His goals are rarely flashy as he's usually the one in the crease tapping home the rebound, but there are times where he gets a shot off, too, and scores that way.
His leadership, though, is one of his most important qualities. Looking back at the 2017-18 season, Anderson was the captain of USA's World Junior team, leading them to a bronze medal. He was also a part of Team USA's gold medal-winning team the year prior when the World Juniors were held in Toronto and Montreal.
Anderson even won an NCAA Championship back in College — making him a well-accoladed player in the game of hockey. The way he carries himself, too, makes a lot of people (especially me) think he's a 28-year-old, when he's actually a lot younger than that.
But what do the Maple Leafs need from him and how can he be an important player in the NHL for the upcoming season?
The unfortunate part for him is how crowded Toronto's forward depth is. Maple Leafs GM Kyle Dubas said once the season concluded that he expects a number of players from the Marlies to challenge for a roster spot — Anderson especially.
Along with him, there's the likes of Nick Robertson, Alex Steeves, Pontus Holmberg, and even Bobby McMann who he included in that conversation. I assume there'll be one or two spots for the taking and one of them is likely going to go to Robertson, since he likely has the longest NHL leash among the group.
Putting that together with players such as Adam Guadette, Kyle Clifford, Wayne Simmonds, and Nicolas Aube-Kubel — there are a lot of players playing for bottom-six roles.
For Anderson, though, the perfect fit would be on the Maple Leafs' fourth line. Like I've said, the 24-year-old is very responsible defensively and can often score goals in the dirty areas of the rink. To me, that seems like the perfect fit for a player within the bottom-six of Toronto's lineup.
He also spent a lot of time in front of the net on the Marlies' top power play unit. If there's anything I'd like to see him have — it's to get some second-unit time at the NHL level.
Although he makes sense to be a player who can go up and down, being an effective player on both the Marlies and Maple Leafs, Anderson deserves a longer leash similar to Robertson. He's proven everything he can at the AHL level and it's worth seeing what he has in the NHL.
For the 24-year-old, it's really just a matter of him seizing the opportunity when it's right in front of him and running with it when he gets the chance. If that's not the case this fall, Toronto will have to try and squeeze him through waivers, which will be a risky task.