What's the best all-time Leafs roster where every line's jerseys add up to 67?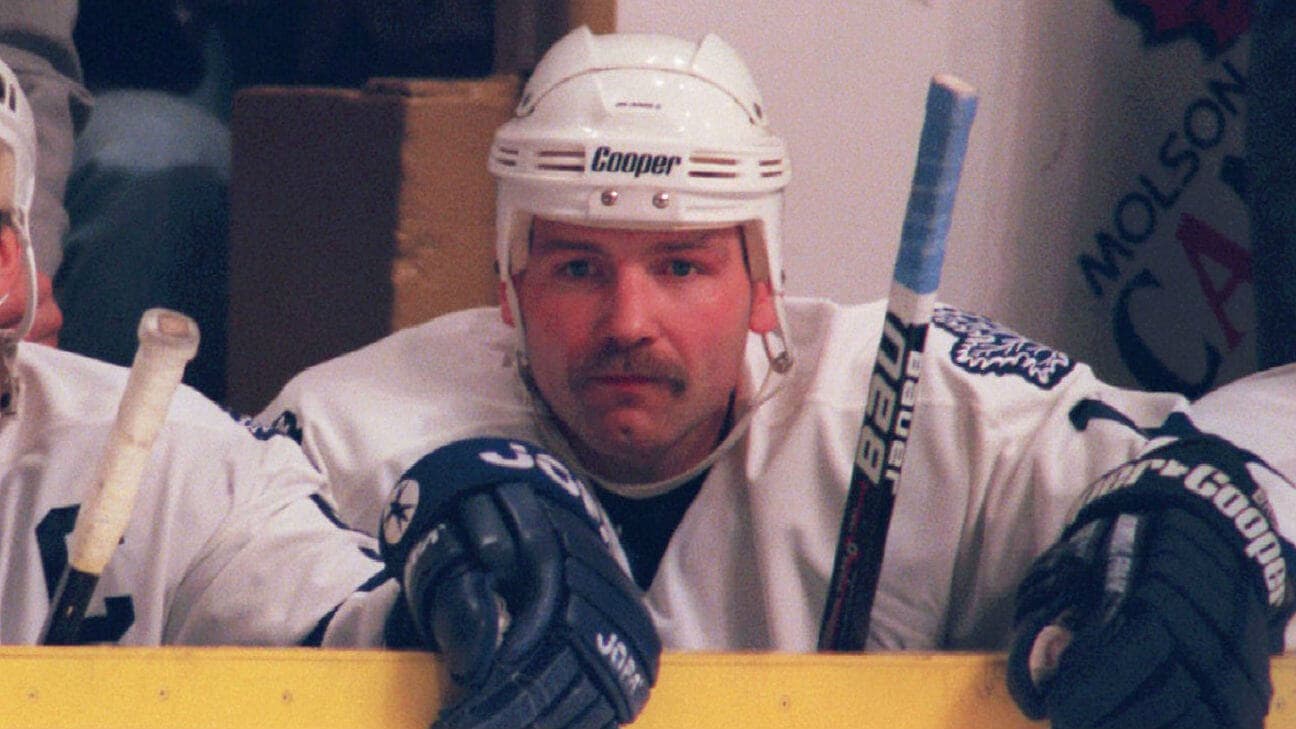 The Toronto Maple Leafs are a storied NHL franchise with dozens of hall of fame players who have donned the blue and white, so creating an impressive roster of its all-time best players isn't something particularly difficult. To make it more difficult, and keep ourselves entertained during the deep-end of the offseason, a new challenge needs to be added. And what challenge do Maple Leafs fans deal with more than seeing the number 67 everywhere?
In this roster construction exercise that no one asked for, every line must have their jersey numbers all add up to 67. This includes forward lines, defensive pairings, and even the goalie tandem. As an added bonus, we'll also say that we cannot repeat jersey numbers throughout the roster and a player's talent will only be evaluated during the time they wore that number for Toronto.
The difficulty of this challenge is apparent immediately. Jersey numbers all needing to add up to exactly 67 means some of the most talented Maple Leafs of all time are automatically excluded from the exercise. Doug Gilmour (93), John Tavares (91), Alex Mogilny (89), and Phil Kessel (81) are all disqualified in an instant despite being defining members of their generations. 
Another less obvious problem is that until only relatively recently, higher jersey numbers were seen as ugly or for less talented players, with most superstars claiming single digits or numbers in the 10-29 range at most. This adds a curveball to the challenge as putting two single-digit wearing players on a line together means that the third must have their number be in the 50s or 60s which is traditionally a deadzone for talent with those numbers often assigned to emergency call-up rookies or career minor leaguers.
With all that in mind, let's work our way from back to front and see what kind of roster can be put together in such a messy way.
The Goalies
Unfortunately, this challenge automatically disqualifies some of the greatest Maple Leaf netminders of all time as Turk Broda, Johnny Bower and Jacques Plante all wore #1, and with no player in Leafs history ever having worn #66, there's no one available to pair them up with. Felix Potvin and Ed Belfour also face similar problems as their #29 and #20 mean they must be paired with a #38 or #47, and no goalie has ever worn those digits for the blue and white.
That being said, needing to find two goalies whose jersey's add up to 67 was surprisingly simple as most goaltenders tend to wear jersey numbers in the 30s meaning we just have to find the right combination of excellent starter and competent backup. 
Goalies: Curtis Joseph (31) – Jack Campbell (36)
The most obvious solution was found in two fan favourites with Curtis Joseph's #31 and Jack Campbell's #36 bringing us right to 67, and giving us one of the greatest starting goalies in Leafs history with CuJo, alongside Campbell showing flashes of brilliance that even lead to him making the all-star team in his final season with Toronto.
The Defence
Defence pairings suffer a similar problem goaltending does in that you have only two players to match up, so the jersey numbers need to be relatively high across the board. This means saying goodbye to Tim Horton, who many consider to be the greatest Leafs defenceman ever, since his #7 leaves him with no partner as goaltender Joseph Woll is the only Maple Leaf to ever wear #60. Other single digit defencemen such as Dion Phaneuf, Jake Muzzin, or even Brian Leetch are also non-options due to a lack of a competent partner. 
Quickly it was discovered that the best way to go about creating defensive pairings was to find an all-time great and check to see if their number aligns with someone who is at least capable of playing second fiddle on a pairing without ruining everything. 
D1: Morgan Rielly (44) – Todd Gill (23)
Morgan Rielly and Todd Gill claim the first pairing with both players being excellent long-time Maple Leafs who were usually the highest scoring blueliner on their team. Morgan's quarterbacking abilities combined with Todd Gill's defensive prowess and meanstreak give the team a first pairing that can get it done on both ends of the ice.
D2: Börje Salming (21) – Roman Polak (46)
Look, we had two options here. We could either put Roman Polak on an all-time Maple Leafs roster, or we could leave Börje Salming, the Leafs' all-time assists leader, off it entirely. If you prefer, you could replace Polak with Ilya Lyubushkin who also wore #46 for Toronto, but Polak's largest problem was coach Mike Babcock's insistence on playing him in critical situations. When taken off the first pairing, Polak often held his own and being partnered with Salming means he will never have to worry about playing the puck and can focus on being the big-body crease clearing dman he is.
D3: Tomas Kaberle (15) – Alexander Karpovstev (52)
Rounding out the defensive pairings are Tomas Kaberle and Alexander Kapovstev, two high-scoring players who received Norris Trophy votes during their time with the Maple Leafs. In fact, the two were even teammates for two seasons before Karpovstev was traded to Chicago in exchange for Kaberle's future longtime partner Bryan McCabe. 
The Forwards
Picking the roster of forwards came with some unique challenges as it involves three players per line. With many all-time great Leafs sharing low jersey numbers it meant that difficult cuts would have to be made in the name of roster balance.
The optimal method of putting the forward group together was discovered to be finding what two star players could be partnered together in a way that the remaining number needed would be someone deserving of a spot on an all-time roster.
F1: Wendel Clark (17) – Auston Matthews (34) – Mitch Marner (16)
Imagine the glee I felt upon realizing that adding together Matthews' and Marner's jersey numbers equaled out to 50 which meant a 17 was needed to reach the goal. Wendel Clark is the ultimate version of the Zach Hyman/Michael Bunting type power forwards that have graced the left side of the Matthews/Marner pair.
With Auston and Mitch seemingly destined for breaking every Maple Leafs record in existence, and Wendel Clark providing that sort of grit, tenacity, and hard hitting energy necessary to open up space for them, this line could very well be the best possible line in Toronto history, even if you were to remove the absurd jersey number restriction.
F2: Nazem Kadri (43) – Dave Keon (14) – George Armstrong (10)
It doesn't get much more "winning culture" than a combined 9 Stanley Cup rings on a line. With Keon and Armstrong already having the chemistry of playing together during the Leafs dynasty of the 60's, Nazem Kadri shifts to the left side as an excellent complimentary piece that can battle for the puck and feed it off to the two Hall of Famers in a role similar to his involvement on the Avalanche power play during his cup winning season.
F3: Steve Thomas (32) – Mats Sundin (13) – Rick Vaive (22)
Mats Sundin is reunited with his former linemate Steve Thomas and even gets the benefit of another point per game Maple Leaf slotting in at right wing with them. Scoring depth won't be an issue on this team as Sundin and Vaive currently sit first and fifth in franchise goalscoring, with Thomas himself often being good enough to score at least 20 of his own on any given season with Toronto.
F4: Gary Leeman (11) – Darryl Sittler (27) – William Nylander (29)
The construction of the fourth line came down to what remaining legend could I fit in with non-disaster linemates. Ultimately, it was decided that leaving Darryl Sittler, who sits top 3 in nearly every major franchise leader category would be too much of a crime against roster construction to commit.
Sittler's #27 meant that we had a sum of 40 left to work with. So the question then shifted to, what remaining players could be included to best make use of that number? As wonderful as it would be to have George Armstrong's #7 on this team, the remaining 33 meant that Bates Battaglia or Frederik Gauthier would take up the last forward spot. Dick Duff's #9 wasn't even an option as no forward has ever worn #31 for Toronto. Then there's secondary guys like Paul Henderson or Tom Fergus who wore #19, but unfortunately for them, #21 is already being used on Salming, and we established at the start that there's no doubling numbers.
Finally, the solution of Gary Leeman was found, whose #11 matches perfectly with the #29 that William Nylander wore for three seasons before switching to #88. With Leeman putting up 407 points across 545 games as a Leaf, and Nylander scoring 149 in 217 while wearing #29, Sittler is gifted two excellent supporting wingers which should serve his dominating playstyle far better than having a hall of famer on one wing and someone who can't keep up on the other.